LU Grad Finishes in Top 40 On "The Voice"

If someone had told 18-year-old Tori Miller when she first applied for the singing competition show "The Voice" that eight years later she would be video chatting Gwen Stefani, she would probably dismiss it as too good to be true, but at 26, this is her reality.
Miller's time on the 19th season of "The Voice" marks a milestone she hoped to achieve since her first application in 2013. Her interest in auditioning for the show began two years prior when she was a 16-year-old Liberty freshman traveling the country with the Sounds of Liberty worship group.
While Miller was two years younger than her peers, Scott Bullman, the director of the troupe, heard something in her voice that warranted the beginning of her collegiate singing journey earlier than she expected.
Miller moved from Siloam Springs, Arkansas, to Lynchburg and pursued her passion for music. After two years with Sounds of Liberty, recruiters from "The Voice" approached the group, and Bullman, with his strong belief in her potential, put Miller's name on the try-out list.
While she was not accepted into the show on her first attempt, Miller is thankful for the process and accredits the years of growth for crucial time she had to work on her artistry and mature as
a vocalist.
"When the door opened (the second time) it just seemed like perfect timing," Miller said.
Miller moved to Los Angeles in mid-July where the show had her and the other hopeful contestants quarantine separately in a hotel a month prior to the blind auditions.
"I would often hear people I now know and love that I did not know at the time prior to my blind audition practicing through the halls. It was like adult choir camp … We were all shut away and didn't see each other unless we were going out for wardrobe or anything like that," Miller said.
Miller said that the audition was one the most nerve-wracking moments of her life. She said that watching her audition can be "frustrating" because she can see her nerves heightened by the weight of the audition.
"The only thing that was running through my mind — I definitely think I blacked out at a certain point — was 'it was meant to be.' While I didn't feel like it was my strongest performance, [Stefani] still heard something in my voice, and when she turned around, I was just like, 'Oh my word I'm in the top 40,'" Miller said.
Just before she performed "When You Say Nothing at All" by Alison Krauss for that first audition, she remembers telling a production assistant backstage that she hoped celebrity coach Gwen Stefani would choose her to be one of her 10 team members.
"She's my queen and I was really hoping that she would recognize something in my voice and turn around, but the teams were filling up so I knew that it was going to be harder to turn a chair, and then she turned really quickly into my song and it was a dream come true," Miller said.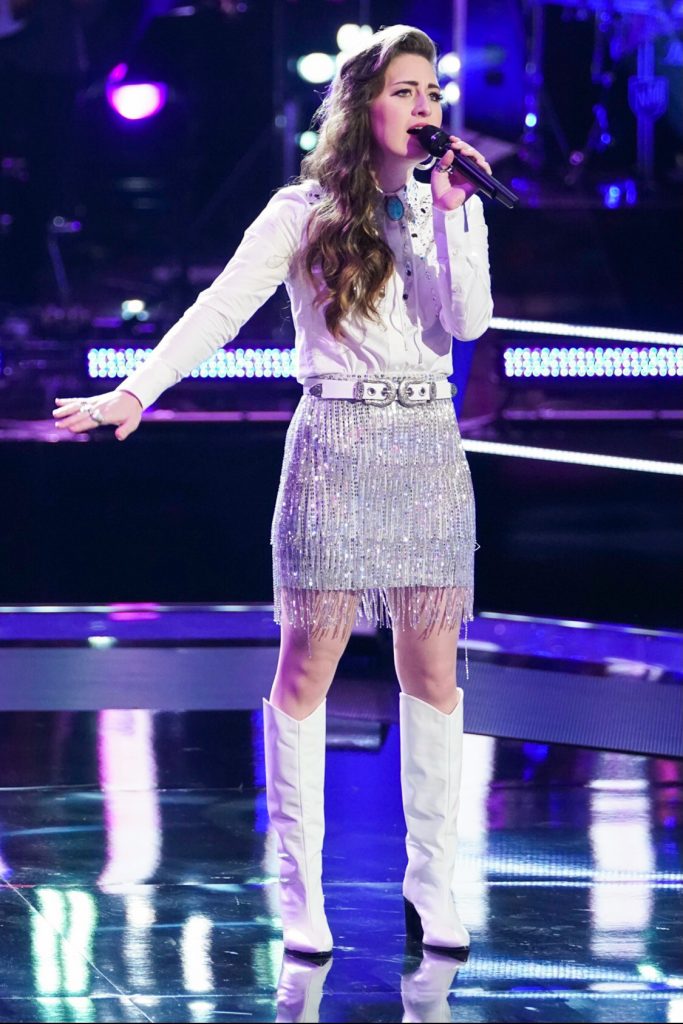 Miller had a month between her blind audition and the battle rounds where two singers face off by singing a duet. Miller was paired up with fellow contestant Van Andrew and the two were given the song "Exile" by Taylor Swift.
She and Andrew rehearsed every day in one of the many practice rooms provided by the show. They were separated by a plastic tarp and even had the opportunity to get feedback from celebrity guest Julia Michaels on their battle practices.
Michaels' presence was a particularly special moment for Miller because she remembered following the artist on Instagram when she had a much smaller following. She calls Michaels one of her idols when it comes to songwriting, and both her and Stefani are women she looks up to as artists.
Despite being eliminated after the battle rounds, Miller said she would not change anything about her experience on the show because it has given her some of her dearest friends.
"I think that was something that was super unique to the situation being on the show. You just feel the energy from all of these other amazing artists that are trying to do and accomplish similar things to what I am trying to do with my life so that's really just inspiring," Miller said.
Miller knows this is only the beginning for her as a performer and is excited for the new wave of music she is ushering in this year. She says it is far truer to her roots and leans into the honesty "The Voice" taught her to have with herself and her audience.
"Coming off the show, I just try to daily remind myself , 'Yes, that did actually happen' and trying to use it catapult my confidence as a singer and as an artist into this next phase of what I want to accomplish with my music," Miller said
Nadia Vires is a Feature Reporter. Follow her on Twitter at @nadiavires.