Lady Flames Sweep Exhibition Series vs. Washington Pride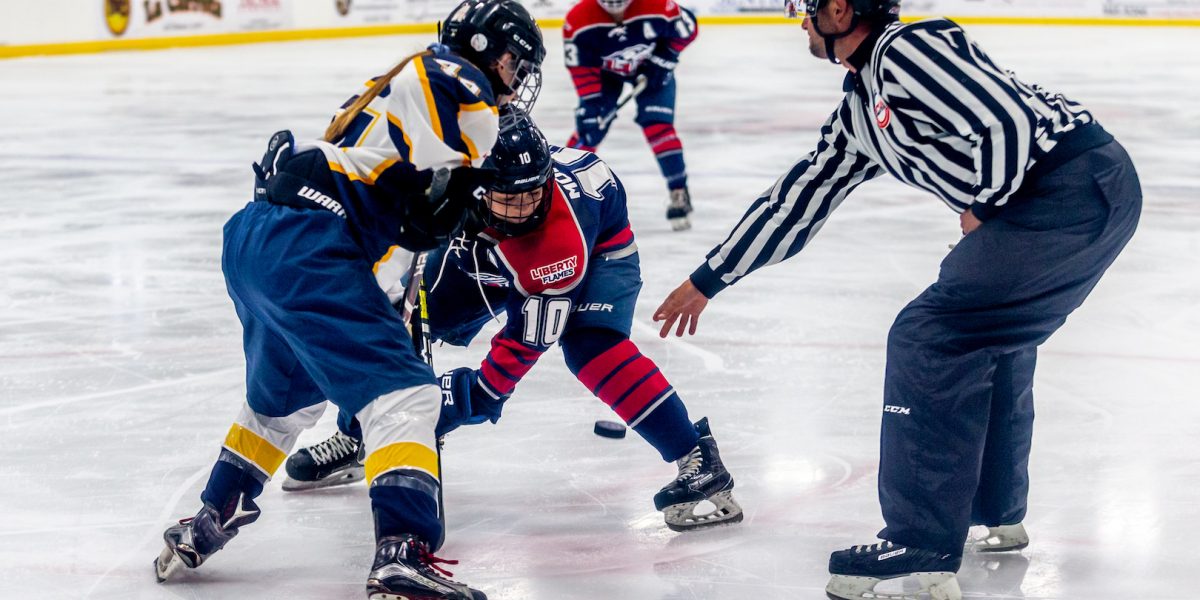 The Liberty Flames women's hockey team returned to the ice after several months out with two victories over the Washington Pride in exhibition games this past weekend, winning 7-0 and 10-2 Saturday and Sunday.
The team began the second gameon a high note with a score by Valeriia Manchak in the first 20 seconds. The Flames continued to dominate as the period wore on, scoring another goal with only two minutes left in the first period. Throughout the rest of the game, the team scored eight more times and allowed one goal in each of the two remaining periods.
Head Coach Chris Lowes expressed excitement that the team was able to finally complete.
"The first time you get to put on the jersey and go out there as a team against an opponent is a big thing," Lowes said.
During the time off, Lowes saw a strong foundation to build on moving forward.
"The talent and the offensive presence – I thought for a (first) game … they were creative and made a lot of things happen and just looked dangerous on the ice," Lowes said.
The Flames, two-time ACHA champions, dominated most of both games, with the Pride rarely getting a touch of the puck. In the second contest, the Lady Flames regularly controlled possession, forcing the puck into the offensive zone with consistent ease and rarely turning the puck over save for a few minor errors.
Venessa DeMerchant, Carlie Foxhoven and Valeriia Manchak all stood out for the Flames, with DeMerchant and Foxhoven each supplying two goals and an assist, while Manchak posted one goal and three assists.
Though the Lady Flames put in a strong performance, Lowes quickly noted a key area in which the team can develop: defense.
"It's a process that we expected was going to be a little bit sloppy and that was the case," Lowes said. "We've done a lot, that's why we play these games. … I didn't love giving up two goals today. We take pride in our zone coverage. Again, that's why we do this."
Lowes also spoke highly of the Washington Pride and their willingness to schedule games and play after a long break.
"I'm really thankful for our relationship with Washington. They give us good games — it's (a) talented young team," Lowes said.
Liberty women's Division I hockey team hopes to continue to build momentum throughout the rest of the semester as it prepares for season play this fall. Its next game is against the Pride for a two-game series in Rockville, Maryland, Oct. 31 and Nov. 1.
Christian Shields is a Sports Reporter.