students use hair-cutting business as opportunity to bless others
When school begins, life gets crazy. Students often push aside haircuts, especially those who do not have their car on campus or are on a restrictive budget.
LU students are using their cosmetology skills to combat this issue by giving their peers haircuts.
"I cut several students hair, guys and girls alike" Jessica Stanley, a Liberty student and licensed cosmetologist, said. "I get business from my close friends, their friends and just word of mouth."
Since new campus rules are in place, Stanley made adjustments to continue her business.
"In the past, I've cut several students hair in the dorm," Stanley said. "But since coronavirus, I've been doing cuts and color in the laundry rooms, outside or really anywhere we can properly social distance."
Students like Stanley juggle schoolwork, a social life and haircutting on the side. Although giving up her time is a sacrifice, Stanley sees her hair business as an opportunity to bless students on campus.
"I do not charge students for the haircuts and colors I give; however, I always say that tips are welcome and so deeply appreciated," Stanley said. "What I do is a gift. It's a chance for guys and girls to just breathe a little bit in the midst of a stressful school season."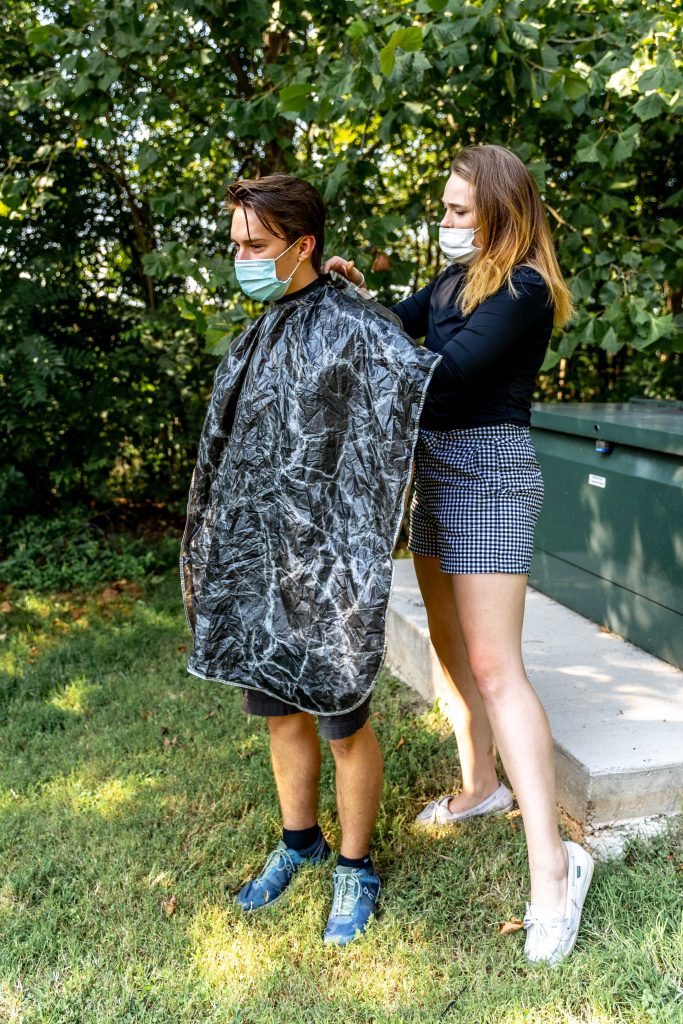 Students who cut hair on campus not only have the unique opportunity to bless other students – they also get time to cultivate relationships with their clients.
"The great thing about a service like cutting hair is that you are given time to learn about other people while you cut their hair," Nahom Hailu, a Liberty graduate, said. "It's a learning experience. I've had the opportunity to cut hair for several different people with different beliefs, which has allowed me to open conversations with these clients about what they believe and why."
Hailu started cutting hair on campus as a freshman to make some extra money and get to know the LU community.
"I would give friends haircuts in my dorm on mainly my guy friends," Hailu said. "They would show up, show me the design they wanted, and I would essentially imitate the design onto their head."
Hailu specializes in fades and designs for men. Although he recently graduated from Liberty, Hailu took part in establishing a campus norm for student haircuts.
"Still to this day I believe the most difficult part of cutting hair as a student is carving out the time to dedicate to my business and simultaneously maintaining excellence academically," Hailu said.
Stanley and Hailu maintain their hair-cutting businesses as full-time students. However, no matter how hectic the school year can become, they are both dedicated to blessing students with their time and abilities.
"My major in computer science information systems has nothing to do with cosmetology," Hailu said. "Yet doing hair is still my passion and the very thing that helped me survive my college years."
Jessica Green is a Feature Reporter. Follow her on Twitter at @Jessica47321580.