Sodexo Employee Serves Liberty Students With Excellence for Nearly 20 Years

Keith Wilson has had a front row seat to Liberty University's growth over the past 18 years. His passion for food and the joy it brings to people led him up the ranks from a student worker to the manager of the Sodexo units at the Tilley Student Center.
Wilson grew up in Concord, Virginia, 20 minutes from LU. He originally planned to take a year off after graduating from Rustburg High School but decided to attend Liberty after some encouragement from his grandmother.
"I was past all the enrollment deadlines for any of the other universities. I'd heard good things (about Liberty), and I am a Christian, so I was like 'I'll give it a shot," Wilson said.
He entered his freshman year at Liberty in 2004 unsure about what he wanted to study. After taking the required general education classes, he decided to major in business with a specialization in management. The principles Wilson learned in classes like business policy, corporate finance, and his capstone courses transferred easily to management positions he would later have with Sodexo.
Wilson started working with Sodexo his freshman year because it was a convenient way to help him pay for his car insurance and student loans. His first position was in the dish room at the Food Court at Reber-Thomas, where he worked 40 hours a week on top of carrying a full course load. After a semester and a half, his manager asked him to apply for the student management program.
"I looked at that and was like, 'Yeah, I'll give that a shot,'" Wilson said. "It was a decent pay raise at the time, and I could learn a whole lot more."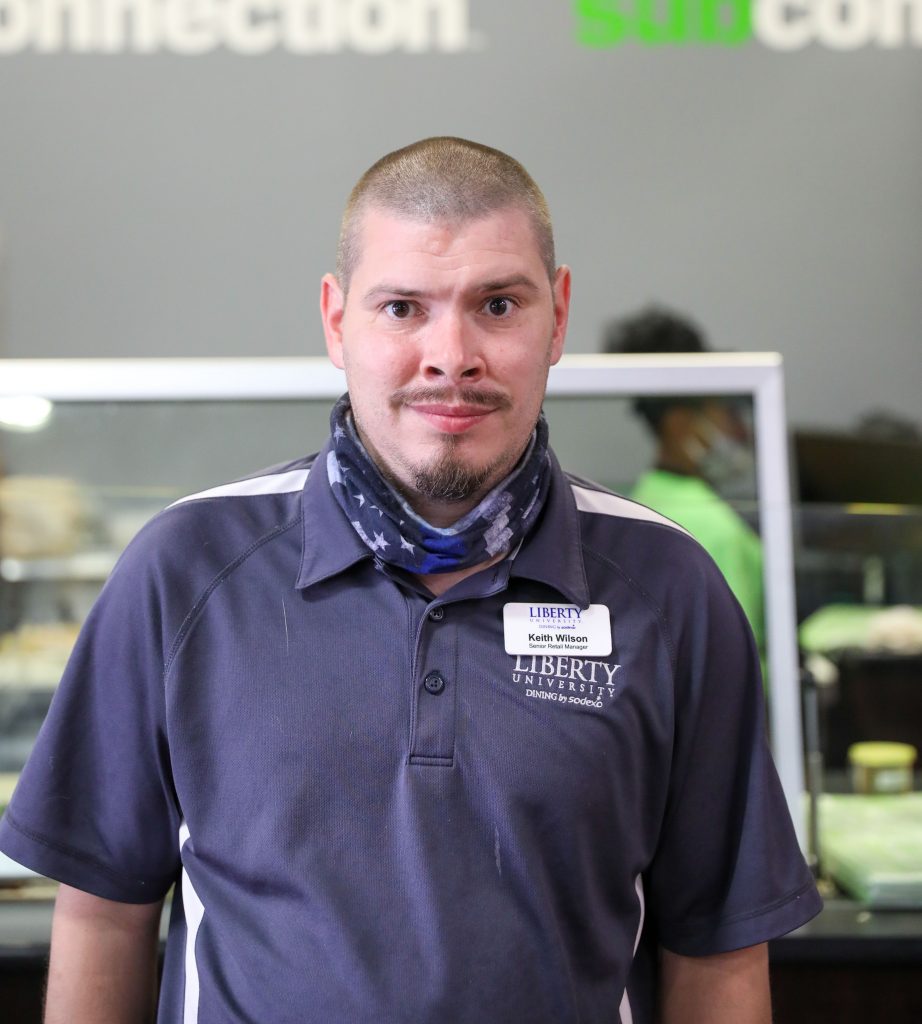 "I already knew how to do the job. I enjoy the job, I enjoy food and I enjoy the joy that it brings to people when they get good service," Wilson said.
After two years in that position, he was moved to retail. He ran smaller units, including convenience stores around campus and Jasmine's Cafe. As time went on, he acquired more units such as Dunkin' and Pizza Hut.
Wilson graduated from Liberty in 2007, just as the recession hit. In the midst of a general job shortage, the position of front manager at the Reber-Thomas Dining Hall opened up, and he took it.
In 2013, Wilson was placed at the Tilley where he oversaw major renovations to the space and redesigns of multiple restaurants.
"I've been up here ever since, and I enjoy it, especially since this is where all the faculty and staff are," Wilson said.
Wilson's workday begins at 8 a.m. On any given day, he is responsible for ensuring the restaurants are staffed, food is in production, inventory is sufficient, customers are satisfied and everything is clean. If everything goes well, he leaves at 6:30 or 7 p.m.
"Pretty much everything changes on the fly, but I have a generalized pattern of management that I do," Wilson said. "However, you could catch a curveball at any time."
A recent curveball, COVID-19, added unexpected challenges to Wilson's job. He completes daily walkthroughs for food safety that include ensuring his staff is following proper procedure, washing their hands, changing their gloves and filling out the proper paperwork.
"Quality of service always, speed of service as best we can, but food safety and the safety of the students and workers is our number one thing more so now than ever," Wilson said.
Wilson is entering his 18th year of working for Sodexo at LU. For him, the best part of working at his alma mater is watching it grow.
"We've got [23] eateries now, all these crazy options, all these new buildings popping up, watching the football team go Division I," Wilson said. "It's just been tremendous watching it change."
While Wilson said the ability to transfer anywhere is a benefit of working for Sodexo, he does not plan on leaving LU anytime soon. He enjoys working with people and the positive feedback he gets from students. He also considers the challenges of teaching, training, and working with different people one of the best parts of his job.
"Food service is hard work, but it can be enjoyable, especially if you work with good people, and we have good people here," Wilson said.
Renee Farmer is a Feature Reporter. Follow her on Twitter at @reneefarmerr.