Powell and Shade rock the Lahaye Event Space

Students spent Tuesday night letting loose and having fun – all while maintaining COVID-19 guidelines – at the Scout Powell and Elijah Shade concert.
Elijah Stanley, an LU senior, opened the Student Activities student concert. Stanley, under his stage name "Elijah Shade," performed a 30-minute set of moody beats that had the crowd swaying.
Before performing, Shade spoke about his beginnings in music.
"My whole family is musical and loves to create," Stanley said. "My two brothers and I would go into our family music room and play with stuff. Then when I got into college, I got into producing my own tracks."
Stanley also spoke about his musical preferences and what influences his writing.
"When it comes to music, I am all over the place," Stanley said. "I definitely key in on certain artists or bands when it comes to creating. If I could give three that are inspirational, it would be Frank Ocean, The 1975, and Alex G."
Stanley's set was comprised of numerous originals and one cover. For his last song of the night, junior Alex Quan joined him for guest vocals.
The main act for the night was the Liberty Worship Collective's Scout Powell, featuring her band comprised of other Worship Collective musicians. This was her first time performing as a solo artist.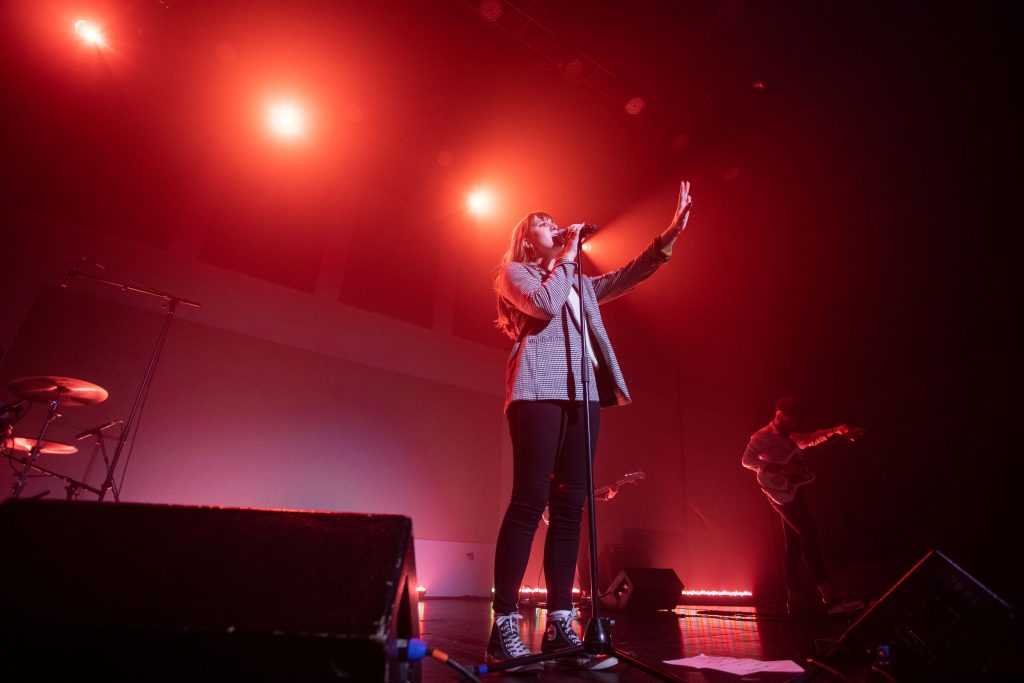 Powell's set was like an electric, arena rock show in a smaller room. She and her band ripped through song after song with power and edge, much like her musical influences.
"My favorite bands are The Black Keys and Led Zeppelin," Powell said. "Vocally, I love Aretha Franklin, Janis Joplin, and Amy Winehouse. They are my biggest influences."
Powell got her start in music through her parents , who met in the marching band in high school.
Her father, Mac Powell, was the lead singer for the popular Christian band 'Third Day', and a convocation guest last year.
Growing up in Atlanta and being involved in Theater gave her many opportunities to perform during high school.
"I started out as a theater kid, but soon moved over to rock music with my band Lemon's Episode," Powell said. "I was the bassist, lead vocalist, and frontwoman of that band. That is where I began writing and learning how to write music."
During her time at LU, Powell adjusted to the differences between leading a rock band and leading worship.
"It was strange at first to be on the Collective because I went from performer to worship leader," Powell said. "I never want to be seen as performing while on the Collective, so it is an aspect I have had to learn to turn off. For events like tonight, I get to perform more. I've been learning how to balance the two since joining the Collective."
Both Stanley and Powell have music on Spotify. Powell's music can be found under her band Lemon's Episode. Stanley's music can be found under Elijah Shade.
Daniel Ellis is a Feature Reporter. Follow him on Twitter at @dnaieltyler.