Strong Passing Game Propels the Flames to a 36-34 Victory Over FIU

The Liberty Flames produced another strong offensive performance Saturday, this time leaning on their passing game to scrape past the Florida International University Panthers 36-34 in a back-and-forth contest.
After opening the season against WKU last week, it was Liberty's turn to enter the game without prior knowledge of their opponent, with the Panthers making their latest season debut in history against the Flames. Even though the Flames solved the Panthers defense to the tune of 36 points and 527 total yards, Liberty's defense often looked bewildered and a step behind FIU.
"It was an uncomfortable week for me. We didn't have a feel for what we were going to see in the game," Head Coach Hugh Freeze said. "We did not play well on special teams or defense, but I'm thrilled for our program and happy to be 2-0."
From the onset, it was clear the matchup would be entertaining. Panthers running back Lexington Joseph received the opening kickoff and blazed around the Flames defense for a 100-yard return to give the visitors a 7-0 lead.
The Flames responded immediately, as quarterback Malik Willis ran an up-tempo five-play, 75-yard drive that resulted in a 24-yard touchdown catch by wide receiver Noah Frith – Willis' first passing touchdown in a Liberty uniform. In contrast to Liberty's run-heavy offensive strategy against Western Kentucky, the Flames relied heavily on their passing game to generate offense, with 308 passing yards and 219 rushing yards.
Liberty prioritized getting the ball out of Willis' hands quickly, and he found D.J. Stubbs often. The offense ran several sweep plays out of the shotgun formation to isolate Stubbs downfield – and he rewarded their trust throughout the game by catching eight passes for 119 yards and a touchdown.
"Every time I got the ball, I wanted to show my team that I could do whatever they needed from me," Stubbs said.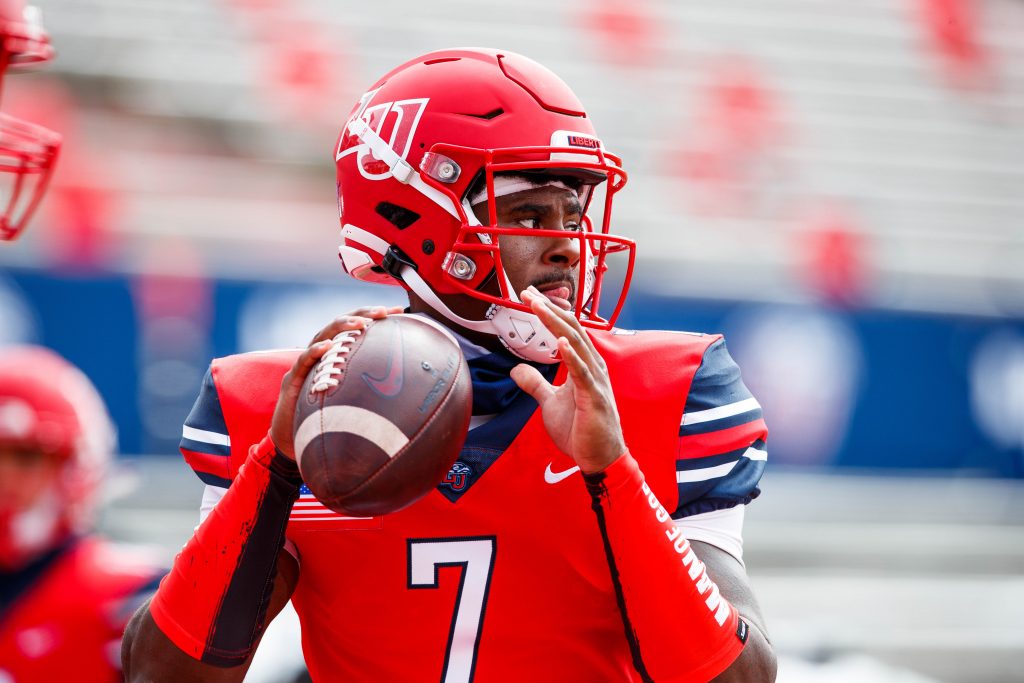 Liberty extended its lead to 14-7 on the ensuing drive thanks to a 2-yard rushing touchdown from running back Peytton Pickett. Not to be outdone, Panthers running back D'vonte Price scampered for a 30-yard score to close out the scoring in the first quarter.
Price's lengthy rush would be the first of many big plays surrendered by Liberty's defense, an unsettling trend that continued for the entire game. Of Florida International's five scoring plays, four of them went for 30 yards or more.
Through the first three quarters, the Panthers played all three quarterbacks on their depth chart, further contributing to the Flames confusion on the defensive side. Max Bortenschlager and Kaylan Wiggins were a combined two-for-seven with 16 yards and no touchdowns. Freshman Stone Norton took over in the third quarter and supplied stability in the air attack, racking up 120 yards and two touchdowns on nine-for-13 passing.
"It was difficult to make adjustments on the fly with all the unknowns," Flames defensive end Durrell Johnson said. "We just had to trust our coaches and what they were saying to us in the moment."
The highlight of the game came in the third quarter in the form of a miraculous catch from Stubbs. With Liberty clinging to a 17-14 lead with just under nine minutes in the third quarter, Willis stood in the pocket and threw to Stubbs in the corner of the endzone.
With Panthers defensive back Rishard Dames draped on him like a blanket, Stubbs dove, extended his right hand and corralled the pass just before sliding out of bounds, igniting the crowd of 1,000 at Williams Stadium.
"It was one of the most exciting plays of my life," Stubbs said. "I felt like AGG for a moment. I just wanted to make that big play for my team."
"That catch was special, it should be on SportsCenter this weekend," Freeze said.
Freeze's prediction was correct, as SportsCenter featured Stubbs' catch as the No. 2 play on the Top 10 plays Sunday morning.
In the third quarter, both offenses exploded to score 27 points, but even with the electrifying play from Stubbs, the Flames found themselves trailing 28-27 by the end of the quarter. But Liberty put together a gritty nine-play, 75-yard drive, capped off by a 2-yard burst up the middle by Joshua Mack – and the Flames were back on top, leading 33-28 after missing a two-point conversion.
However, Willis would be unable to finish the day on the field. After pirouetting away from a defender on his way to a 67-yard rush to put the Flames in field goal range, Willis tried to stiff arm his way up field on the next play and injured his left arm.
Willis would leave the game after going 24-for-30 with 285 yards and two touchdowns in what Freeze considered a step forward for his young gunslinger.
"We didn't ask him to throw a lot last week, but he functioned well in the passing game today and hopefully that will build his confidence going forward," Freeze said.
With their starting quarterback out and clinging to a 36-34 lead after the Panthers struck back with another TD and missed two-point conversion, Chris Ferguson stepped in to guide the Flames offense. He converted a key third-and-12 to wind the clock down, but the Flames ultimately had to punt with just over 2 minutes left, giving the Panthers one last chance with the ball .
On a day where offense took center stage, however, the Flames defense made the key play to close the game out. On fourth-and-12, defensive end Jayod Sanders sacked Norton to ensure Liberty's victory.
"I made up my mind on that play, I was like, 'I got to get to him before he makes his progression,'" Sanders said.
For Johnson, that play showed that the Flames have what it takes to win down-to-the wire games in the future.
"As a defense on that drive, we were like, 'The offense has picked us up, now we are going to pick them up,'" Johnson said. "It was an ugly win, but one thing is for sure – we finished the game."
Liberty faces North Alabama at home next weekend. Kickoff against the Lions is at 1 p.m. at Williams Stadium.
John Simmons is the Web Manager. Follow him on Twitter at @JohnSimmonsJr7.