The Lynchburg Restaurant Owner's Coalition has been formed, and here is how the group is battling empty dining rooms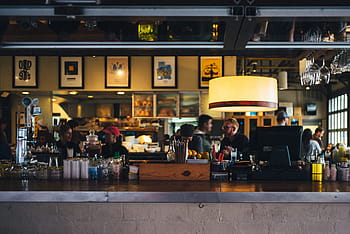 Silence has replaced the regular chatter, laughter and sizzling food at local restaurants. The silence of restaurants in Lynchburg echoes that found in restaurants, businesses, music halls and other venues across the country, a problem that has spurred a new coalition to form.
"Right now, we are just a shell of ourselves," Dave Henderson, owner of The Water Dog, said. "The heart of what makes The Water Dog truly special isn't necessarily the food … it's the people, and we are missing that."

With those empty restaurants across Lynchburg, Henderson knew businesses needed to band together, deciding to invite 20 local restaurant owners to a meeting behind the temporarily-shut doors of his restaurant. The day after President Trump announced the 15 Days to Slow the Spread campaign on March 16, the owners formed the Lynchburg Restaurant Owners Coalition. The 20 restaurant owners in the group have now grown to 60 from all over Lynchburg.

Because of statewide measures due to the coronavirus, restaurants can only offer takeout and delivery services. Josh Davies, owner of Nomad Coffee Co., said that with events being canceled, food trucks like his own must find new ways to bring customers in. According to local restaurant owners, this shift has brought an almost flatline in sales.
"How do we continue to turn a profit right now, or get close to (breaking) even at this point?" Tommy Clark, owner of Mission House Coffee, said of the problem he and other local restaurant owners are battling.
But the impact goes beyond restaurant owners and into the employees, with restaurants like The Water Dog having to drop its staff from over 45 workers to a mere seven.
"To know that there's nothing I can do right now to make those individuals' lives much better, other than trying to give them all the access to resources I can, it's just heartbreaking," Henderson said.
Though restaurant owners continue to create ways to support themselves and their employees, the help they are receiving from other local businesses is unprecedented.


"We are competitors by nature, and that is going to naturally happen because we are offering the same kind of services, but outside of that, we all believe that this community is more important than any one business," Clark said.

The group now communicates on a Facebook page, allowing restaurant owners to connect with and encourage one another. It provides a way to share recent updates and information. Henderson, who is a group administrator, said that the coalition also provides the restaurant owners a collective voice in the government's decision-making.

"One little meal does make a difference," Henderson said. "One meal ordered by someone allows us to keep an employee employed just a little bit longer, and that's what we are striving for."

Dave Henderson
Despite the dining rooms being closed, the community can still support local businesses.. According to Henderson, March 30 to April 3 is "Virginia is for Restaurant Lovers Takeout Week," a statewide effort to encourage Virginians to order takeout from their local restaurants.
"One little meal does make a difference," Henderson said. "One meal ordered by someone allows us to keep an employee employed just a little bit longer, and that's what we are striving for."
This effort and others have developed a strong bond between customers and owners despite the physical limitations.
At Mission House Coffee, customers have not only been able to still get their coffee fix, but they can also partake in the coffee shop atmosphere online with events like the Boy Meets World Trivia Night March 27.
"In this time, a lot of people are going to feel separated and feel alone and a lot of the norms that we have are no longer an option, so we wanted to bring a sense of normalcy and a sense of community in whatever way we could," Clark said.
Henderson has even seen new customers come to The Water Dog.
"That is definitely refreshing for us to know that there are people who just want to help, and that they're willing to try a new restaurant in the middle of all of this chaos," Henderson said.
For these owners, it is their customers, whether through online or takeout, that will carry them through.
"We are extremely appreciative of all of our customers who continue to support us during this time," Davies wrote. "And that support doesn't just look like selling a cup of coffee – the encouragement, checking in, etc. means more to us than they know."
The ending to this story is unclear. The chatter and laughter brought by restaurant patrons may not return for some time, but the impact of this uncertainty may be more positive than the currently empty chairs make it seem.
"The reality is that this is going to change businesses for the better for the future," Clark said. "Businesses coming together like this, the community coming together like this, is going to be something that benefits us in the long term."
More information about what each restaurant is offering can be found on their websites and Facebook pages. A directory of what downtown Lynchburg businesses are open and closed is listed at https://downtownlynchburg.com/support-safely.
Hale is a feature reporter.