How a Liberty University Student and powerlifter Duncan Hundley overcame ACL tear to compete again

After tearing his meniscus and ACL at a powerlifting competition last May, Duncan Hundley spent the rest of the summer hobbling up and down the sidelines of his former high school's football field. 
It was during that time confined to crutches when the always-active and passionate powerlifter wrote down one big dream: represent Team USA at the Bench Press World Championship.
On May 17, one year after tearing his knee, that dream will become a reality.
In December 2019, the Liberty University junior was chosen to represent Team USA as the top 20-23-year-old, 264-pound bench presser in the country at the International Powerlifting Federation Bench Press World Championships in the Czech Republic.
Hundley's massive arms can bench press 500 pounds – in other words, he can lift a Harley-Davidson Street Rod over his chest while lying on a weight-training bench. His eyes grow with delight when he talks about the sport he loves and describes the people and the God who have carried him to where he is today.
"It's not a fluke. This is destiny," Hundley said of being chosen for the competition. "God put you here, but it's not about you. It's about God, and it's about glorifying him. It's almost like a second chance because last year at nationals it was all about me. But it isn't nationals anymore. It's in Pilsen, Czech Republic."
The calm he felt after tearing his leg was a turning point in his walk with God.
"I feel like I was wrestling with God in a way. Not wanting to turn to him, but in a way turn towards myself. It literally felt like a flick," Hundley said of the moment he felt his leg tear. "I was like, 'Man, that was probably God's finger.'"
The injury opened a door to refocus himself and catalyze growth in the sport he has been competing in since his sophomore year of high school.
Hundley's love for powerlifting began during football practice at his high school in Knoxville, Tennessee. Hundley would lift at practice and then go to a nearby gym and lift more. When his mom told him to go to bed, Hundley would instead do 300 pushups in the bathroom. 
When his football coach introduced him to Maxed Out Gym, he found a family and an environment he fit into and something he excelled at doing.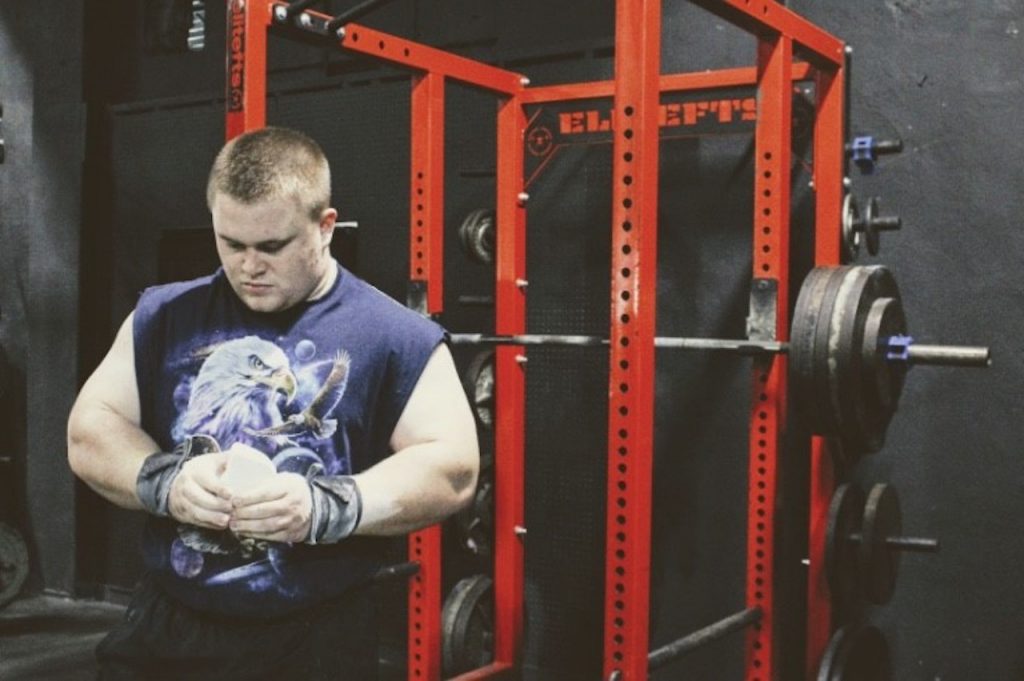 "I walked in, and I was so scared, and they all took me in, and they were all nice to me," Hundley said. "Men with tattoos, they all looked scary, and they are the nicest dudes in the world. The big guys are all just teddy bears."
The community he began to build in high school at Maxed Out Gym has now raised the $1,300 for him to fly to Czech Republic for the championship.
Whether it is his freshman roommate, Noah Marrera, who leaves encouraging notes on his truck, or his middle school football coach, Jeff Heckel, who still cheers him on, Hundley's successes stem from the support of others.
"God put a lot of people in my life, just random people that believed in me, and is still doing it now," Hundley said.
Liberty was Hundley's dream school, but it was not until he met Bill Gillespie, Liberty's former strength and conditioning coach, at a competition the summer after his senior year that the purpose of that dream began to come to life. Gillespie saw Hundley lift and invited him to lift and offered him an internship with the football team as soon as he got to Liberty.
Hundley now works as a strength and conditioning intern with Liberty Club Sports under Kirk Handy, Chris Kerr and Ross Garner.
"Those are the three men at Club Sports that believe in me and have taken me under (their wings) and know me as more than a lifter," Hundley said. "They know me as more than a coach, and they believe in me as a man."
As a physical education major, Hundley hopes to be a role model for young students in the same way others have been for him.
"You live, learn, pass on, whether that's knowledge, equipment, faith, everything," Hundley said. "Everything needs to be passed on. It's like a chain reaction."
Hundley said that looking at the numbers, he believes he has a good chance of winning the competition in May, but he knows the outcome rests in God's hands.
"I believe God will guide me. If that means I tear my arm and I have to refocus again, I'll do it," Hundley said.
Hale is a feature reporter. Follow her on Twitter.