Liberty's Turning Point USA chapter is hopeful for their second semester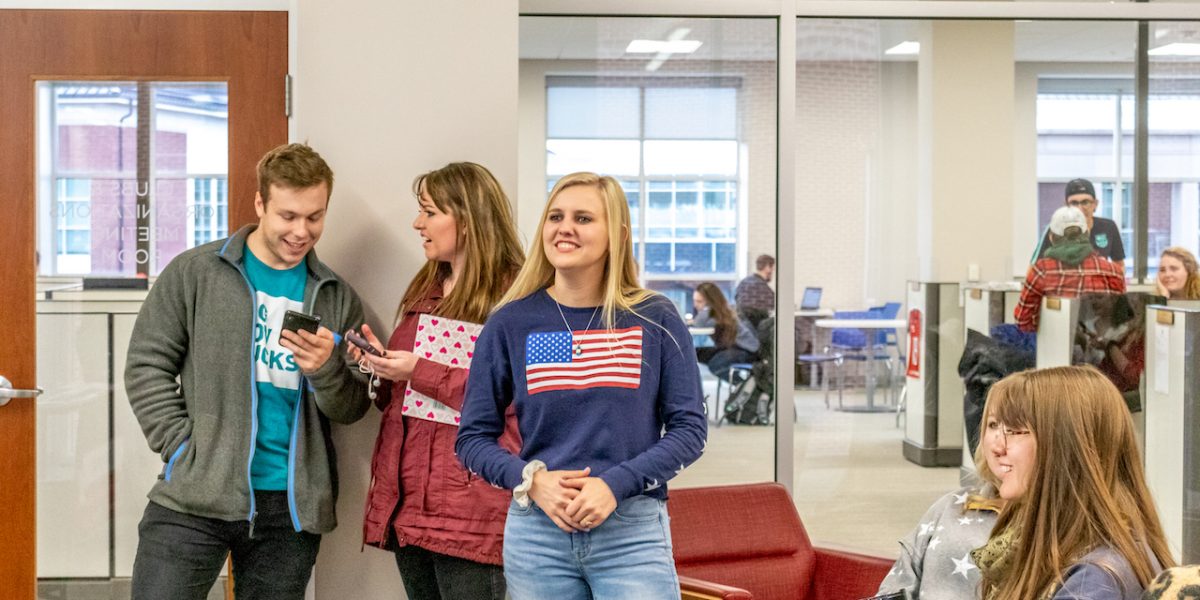 The fall 2019 semester was Turning Point USA's debut on campus. The club focused on planning, organizing and establishing the club, but it is hitting the ground running with speakers and events this spring.
The TPUSA chapter at Liberty kicked off the semester with its first meeting Thursday, Jan. 30, when the leadership announced the lineup of speakers they will bring to campus.
Liberty Turning Point President Anna Kelchner is particularly excited about the opportunity to bring Jaco Booyens to campus, a fighter against sex-trafficking and fellow of the newly established Falkirk Center.
"He is such a man of God," Kelchner said. "I am so excited to host him."
On March 5, they will host speaker and YouTuber Austin Fletcher of "Fleccas Talks." April 13's event will feature former Antifa member, now conservative, Gade Nadales. All events will take place at 6 p.m.
The events coordinator for the club, Kaylee Adelsberger, said they are able to host speakers from Convocation, as well as organizations they partner with.
"We are fortunate and blessed enough that we do have some great speakers on campus through Convocation and various other outlets," Adelsberger said. "So, of course we reach out and utilize those recourses. But what we also do is take our own interests and connections that we have through Turning Point or other organizations such as the Leadership Institute and bring in other speakers."
Last semester, they hosted conservative political activist and TV personality Cabot Phillips, several chapter meetings, and NRA University who presented interactive presentations to educate students on the history of the Second Amendment.
"I look at last semester as really getting our foot in the door," Kelchner said. "Our vision this semester is to actually make it known that we are doing something on campus."
Adelsberger said it is more important to have Christian speakers than political ones.
"As Turning Point, we do want to pick speakers that can speak to a specific area that we want to inform college students about," Adelsberger said. "Also, as Christians, our primary focus is we want to bring speakers, when we can, that align with not only our conservative values but our Christian values."
Secretary Addison Smith said bringing speakers can be difficult, but the members of the club and the board provide great help.
"It's no easy task. Everyone in the chapter has to be all hands on," Smith said. "This semester especially, the bigger (the) name (of) the speaker, the harder it is to get in contact with them. However, everyone in the chapter has done their part in making it happen."
Kelchner said the focus of the club is not partisan politics, but policy.
"We really like to put policies over parties," Kelchner said. "Liberty is really well-known to be very pro-Trump, whereas we want to bring something different to campus where we're not pro any person, we're pro-policies — what policies you should look for in a person, not what person you
should look for."
Though TPUSA was founded by Charlie Kirk, the Turning Point chapter is not connected to the Falkirk Center directly Kelchner said. 
"I really hope that we will be able to come together and co-host things (with the Falkirk Center) and really bring in Christian values along with the political value on campus," Kelchner said
Adelsberger said she enjoys her job because it offers her the opportunity to make a difference.
"I really like that I get to do something that brings awareness or just helps to inform people," Adelsberger said. "You don't know what you don't know until you realize you don't know it."
Slaughter is a news reporter. Follow her on Twitter.