The story behind the two-sport freshman who competes both on volleyball court and in high jump
Abby Phillips was already a star volleyball player when her high school track and field coach recognized her athleticism at one of her volleyball matches. He convinced her to join the track team, and Phillips did not look back.
"Originally, one of the big reasons I wanted to do track and high jump was for the cross-training and to help with my vertical (jump) and athleticism in general," Phillips said. "But once I started actually doing track, I was like 'Why don't I just (excel) in track and volleyball?'"
Phillips not only outpaced her competitors on the track, but her dominance in both sports gave her the rare ability to become a two-sport DI athlete in volleyball and high jump, an opportunity she currently flourishes in at Liberty University.
The second of four siblings, Phillips grew up in an athletic family and attended a small Christian school in Encinitas, California. Her older brother, Caleb, who now plays football at Stanford University, provided a role model for Phillips as both an athlete and leader.
"I have always looked up to (my brother) and how well he does in athletics, especially his leadership," Phillips said. "Having him as an example for me, I feel like I have grown a ton as an athlete."
In high school, Phillips dominated as an outside hitter. She helped lead her team to three California State Championships, highlighted during her junior season when she led her team with 309 kills and 32 aces.
Despite standing at only 5 feet, 8 inches, Phillips used her all-around athleticism to achieve success in both sports. She broke three school records in high school, including setting a personal best 5-6 ½ high jump.
Liberty Head Volleyball Coach Trevor Johnson saw Phillips play at a tournament in Georgia while she was in high school, and her athletic ability caught his attention. Being from the West Coast, Phillips knew little about Liberty University, but the more she learned, the more she felt compelled to come.
"(Liberty) had every single thing I wanted," Phillips said. "I wanted a Christian school, but I also wanted it to be DI and competitive. I also wanted a football team and a lot of people, and that is just not super common to find. (Liberty) marked every single thing on my list."
After committing to Liberty to play volleyball, Phillips opted not to run track her senior year of high school, but her passion for high jump remained. She asked Johnson about the possibility of doing both sports and personally reached out to the track and field team to inquire about trying out.
"She asked me if (playing two sports) was a possibility early on and I was like, 'Yes, absolutely,'" Johnson said. "When you have an athlete like that, it is awesome you can share, and it does not conflict with both sports. If it helps (the track team), great."
When Phillips spoke with Shawn Venable, the recruiting coordinator and jump coach for Liberty, Venable had a lot of optimism about her joining the track and field team for the Flames.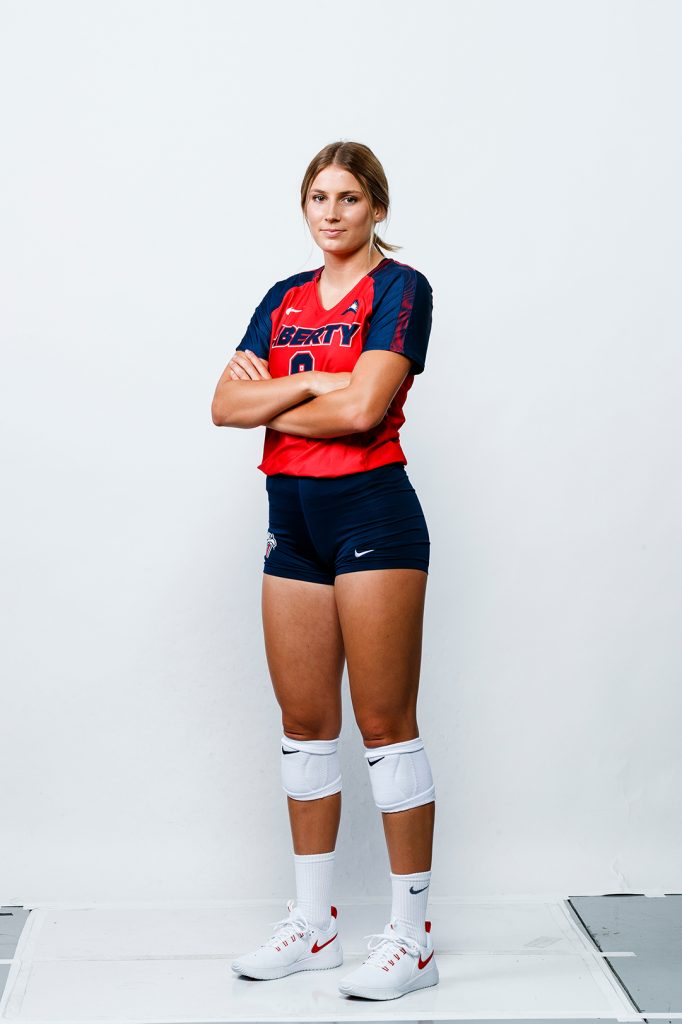 "Being on (the coaching) side of things, it was a no-brainer," Venable said.
Although neither Venable nor Johnson had coached two-sport athletes during their tenures at Liberty, they were both open to the idea of "sharing" Phillips.
"(Working with) Coach Johnson, it has been incredible with him," Venable said. "Most Division I coaches are not great at sharing (athletes). There is a lot invested here and so Coach Johnson's willingness to share Abby has been incredible. I tell him thanks every day, every time I see him."
Phillips, now more than halfway through her freshman year in Lynchburg and thousands of miles away from her family, acknowledges the challenge of the schedule required for a two-sport athlete in the NCAA.
On weekdays, Phillips typically wakes up for volleyball weight training at 6 a.m. before class. She attends track practice two to three times a week in the afternoons and then competes at most weekend meets.
"The first week (of the semester) was hard," Phillips said. "I saw my (volleyball) teammates coming back to the dorm and they were on the couch, watching TV or going out and doing things and I do not come back until later because
I have track."
But Phillips has already found success during the indoor track and field season. She won her first collegiate high jump competition at the Liberty Invitational meet Feb. 1 with a 5-5 ¾ jump that tied her for eighth-best in Liberty's program history, not far off from Liberty's recordholder Abby Thorpe who jumped 5-7 ¾ in May 2019.
Venable praised Phillips for her recent victory and expressed his confidence in her ability to compete at the ASUN conference meet in several weeks.
"She can definitely score at our conference meet and probably be top three in our conference," Venable said. "If things go well, she would have a shot to win the conference meet, which to me, it blows your mind. She is really talented."
For the talented freshman, managing the stress of school and sports comes down to focusing on the tasks at hand and not getting overwhelmed. Johnson has observed Phillips' strong ability to compartmentalize her responsibilities as an athlete and student.
"She does a good job of not worrying too much about other stuff," Johnson said. "She does a really good job of being where her feet are, regardless of what circumstance she is in."
Phillips connects well with her teammates on both the track and field and volleyball teams. The relationships she has built and the encouragement of her friends and coaches drive her to perform well in volleyball and high jump.
Johnson and a number of his staff and players attended Phillips' recent track meets to cheer her on and show
their support.
"I think we were probably the loudest fans," Johnson said. "It goes a long way for her for us to be there, and my whole mission for our program is to make sure people feel valued."
Phillips said her parents are the biggest encouragers in her athletic career. They have not traveled to Lynchburg to see her compete yet, but having the support of her teammates helps to fill the gap in their absence.
"(Having them come) has been nice because they kind of take the place (of my parents)," Phillips said. "Usually my dad is that one dad that is super loud and obnoxious, but it is also not the same not having him right there while I am high jumping. It is nice having my teammates there instead."
While Phillips still misses seeing and hearing her parents on the sidelines for her meets and matches, the volleyball team has formed a community around her that spurs her on, whether on the court or the track.
"There is something about volleyball," Venable said. "All of her volleyball girls come to watch her, and it is like a cheering section. That is not as prevalent in track and field."
Though volleyball remains Phillips' primary sport and her first passion, now that she has the opportunity to compete in high jump, she has answered her own question every day.
Why not excel in two sports? Done.
Weaner is a sports reporter. Follow him on Twitter.