Trump Jr. 'Triggered': Convocation panelists discuss new book, politics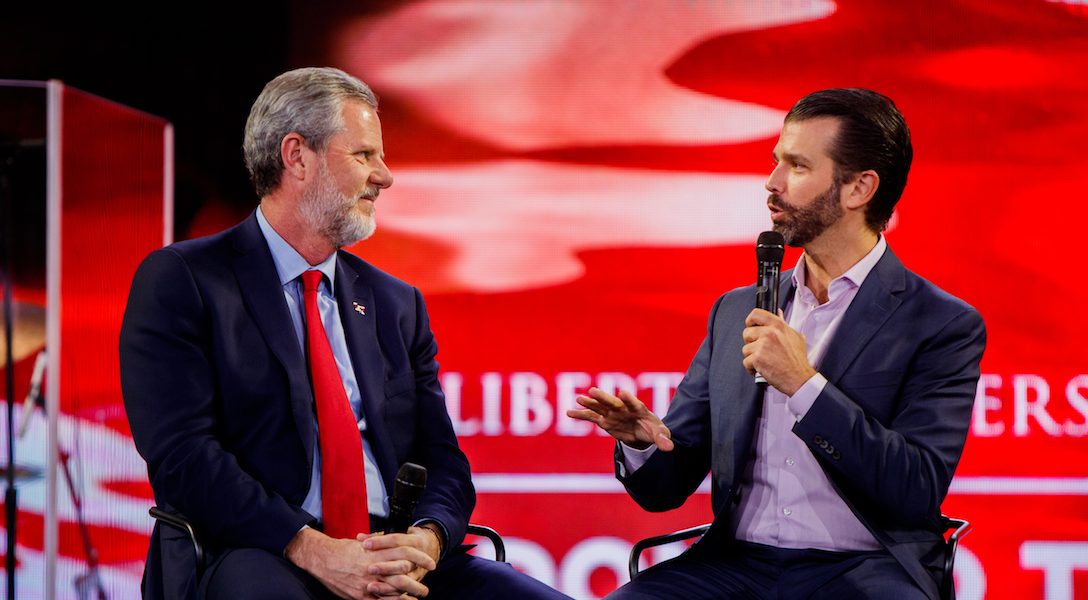 Liberty University welcomed Donald Trump Jr. to Convocation Nov. 13 to participate in a panel with other notable conservative influencers, including TV news personality Kimberly Guilfoyle and Turning Point USA Founder Charlie Kirk. Liberty University President Jerry Falwell Jr. led the discussion and was joined by his wife, Becki Falwell, and Liberty Senior Vice President for Spiritual Development David Nasser.
The panel addressed topics ranging from the pro-life movement, supporting the U.S. military, the conservative drive to preserve traditional family values and the success of the Trump administration despite the
media's pushback.
"The last four years have been an incredible experience," Trump Jr. said in front of over 12,000 Liberty students. "Such a roller coaster, both ups and downs."
He shared many of the themes from his new book, "Triggered: How the Left Thrives on Hate and Wants to Silence Us," an autobiography detailing his personal experiences with liberal bias throughout his father's campaign
and presidency.
The book released Nov. 12 and debuted at No. 1 on The New York Times nonfiction bestseller list by Nov. 13. Trump Jr. said he dedicated the book to the "deplorables," a term coined by then-presidential candidate Hillary Clinton to describe President Trump's middle-class voter base, who supported the conservative cause despite the media's desperate pushback.
"The (political) Left will latch onto anything to try to make it a negative against Trump," Trump Jr. said. "Anything they can contort, they will. … (The deplorables) are the people who were there from day one. They are the people who did not waver throughout the three years of this witch hunt."
Falwell talked about President Trump's perseverance that often overshadows his personable disposition.
"(Trump) treats people so well," Falwell said. "But he's a fighter."
Falwell pointed out that Jesus' teachings about turning the other cheek do not prohibit perseverance.
"When Jesus said turn the other cheek, he was talking about personal relationships," Falwell said. "He didn't mean for soldiers and the Roman army to turn the other cheek. That's what I think a lot of Christians have failed to understand over the last 50 years about Jesus' teaching."
Kirk discussed some of his recent speaking engagements at colleges across the country, touching on the hostility he occasionally faces on left-leaning campuses. Kirk also said how wonderful it felt to visit Liberty's campus,
saying it's free from intolerant, disruptive protestors.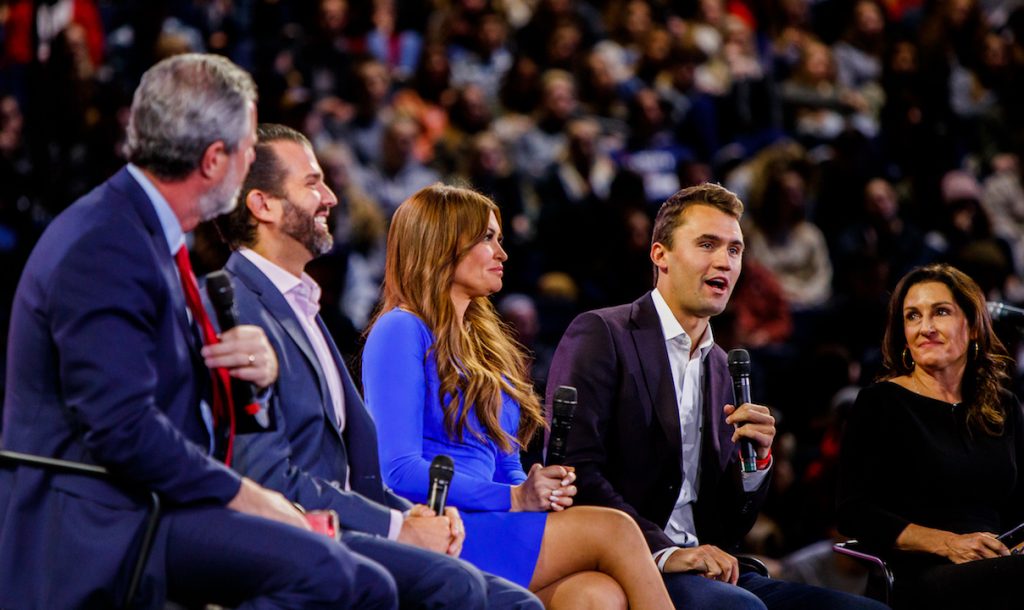 "It's so nice to go to a college campus and not have protestors all over the place," Kirk said. "As Christians, we are called to have tough conversations. … As Christians, we have to go out into the world, and Liberty is a great training ground for this."
Immediately following Convocation, Kirk attended a speaking conference at N.C. State.
Liberty students recently launched a Turning Point USA chapter on campus, which educates students involved about limited government, free markets and capitalism, and Kirk invited more students to become active in the group.
The panel complimented Trump Jr. and Guilfoyle for the gracious, yet bold, behavior the dating couple displayed during their recent appearance on the daytime talk show "The View." The 5,000th episode, which aired Nov. 9, attracted roughly 3 million views and the most hits since Joe Biden appeared on the show in April, according to Fox News.
This was Donald Trump Jr. and Guilfoyle's second appearance at Liberty this year; they participated in the Conservative Political Action Conference held in the Vines Center in March. Kirk also participated in CPAC and has made regular visits to campus.
Members of the panel also praised the Trump administration's support of veterans and treatment of current service members.
"Our president … stands for the men and women who serve, and they're better taken care of, including our veterans, than ever before," Guilfoyle said. "So, thanks be to God for that."
The panel joined the student body in honoring evangelist and decorated Vietnam War veteran Tim Lee. Lee led the crowd in prayer for the Trump family and for the country's leadership and he spoke to students about showing support for the nation's veterans. Lee spoke in Convo Select the next day, Nov. 14.
The convocation also featured alumnus Zach Radcliff, who performed his single "I'll Stand," a song honoring veterans and the American flag, along with other special music at the beginning and end of the Convocation.