Student Kaley Brock seeks interest in diplomacy through acceptance into the Peace Corps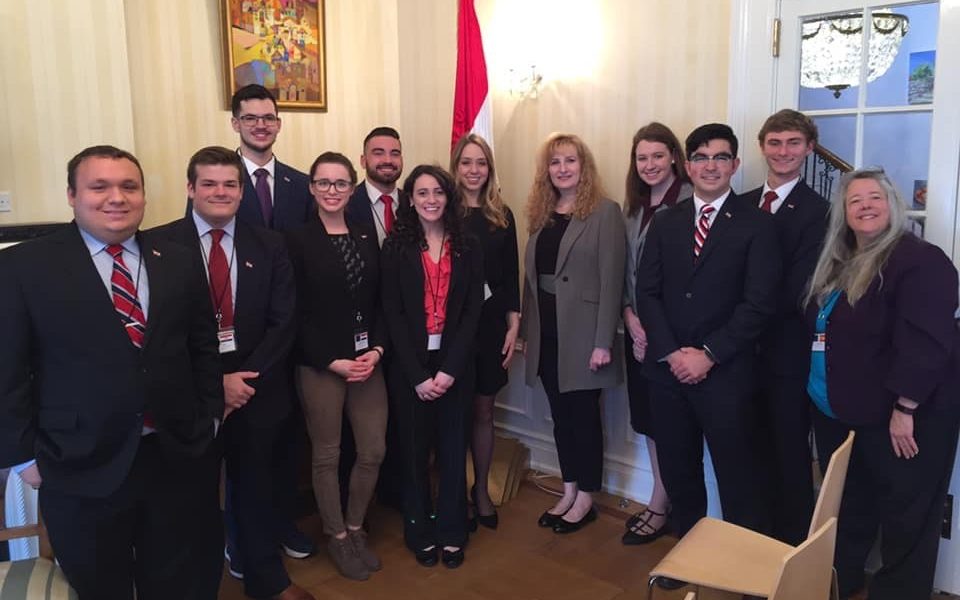 After growing up overseas, one Liberty student plans to carry out her diplomatic career by joining the Peace Corps following graduation in May 2020.
Born in Venezuela to missionary parents, Kaley Brock spent her childhood living in Venezuela, Peru and the United States. Brock completed high school through Liberty University Online Academy and Liberty University's dual-enrollment program. After graduating, she spent a year in Argentina studying at Word of Life Bible College before transferring to Liberty University as a junior. She is set to graduate with the class of 2020.
After spending most of her life in South America, transferring to Liberty University was a change for Brock, not only geographically, but socially.
"Coming to Liberty was a huge stepping stone for me. It's been amazing," Brock said. "I've had great teachers, which is really important to me. And learning about government from a Christian standpoint has been absolutely amazing because your faith is the foundation of why you do what you do; it's super important, and I'm grateful to Liberty for that."
Brock soon realized her interest in pursuing a career in diplomacy due to her experience living overseas. Dr. Mary Prentice, an associate professor of government, encouraged Brock to look into joining the Peace Corps.
"One excellent way in the path to a diplomatic career is the Peace Corps because it equips students with essential language skills, service, and international living experience in a vital country; and, in addition, students that complete Peace Corps for two years can get on-the-ground language training and get money to pay for graduate school," Prentice said.
Taking Prentice's advice, Brock began speaking with an advisor from the Peace Corps. She soon received news of her acceptance into the Peace Corps, and after graduation she will be going to Kosovo in southeastern Europe, which was Brock's first choice.
"Specifically, I want to work as a diplomat, and I'm going the route of the Peace Corps to get there at some point," Brock said. "I realize that a lot of my job will not be preaching the gospel with my words, but you can still live your life for Christ and preach the gospel with your actions by being an ethical policy-maker or an ethical politician, or whatever route you choose
to go."
Brock is also a member of the Helms School of Government's European Union Simulation team, which gives students practical experience through simulated meetings, debates and decision making in Washington, D.C., for three days in November every year. Students are divided into teams and each team represents a country.
Brock was a leader of the Croatian team, which is a country near Kosovo. Other students in her major were able to interact with Spanish, Finnish, Croation and EU diplomats.
"If other students are interested in studying international relations and having excellent diplomatic experiences, I encourage them to meet with myself, Edna Udobong or Tom Metallo who are all professors and instructors of international relations in the Helms School of Government," Prentice said. "Students can check our excellent LU Send study abroad opportunities and join our Alexander Hamilton Society Club."
Peace Corps volunteers serve in over 141 countries, according to their website. Volunteers decide which of six sectors they would like to work under, including opportunities such as education, health, environment and agriculture. These provide valuable experience to hopeful diplomats such as Brock.
The Alexander Hamilton Society provides students interested in national security, foreign relations and economics a non-partisan organization that educates students on American leadership in the world. Students interested in learning more about joining the Peace Corps can contact msprentice@liberty.edu for more information.