California native kickstarts bed-and-breakfast in Nelson County based on classic television show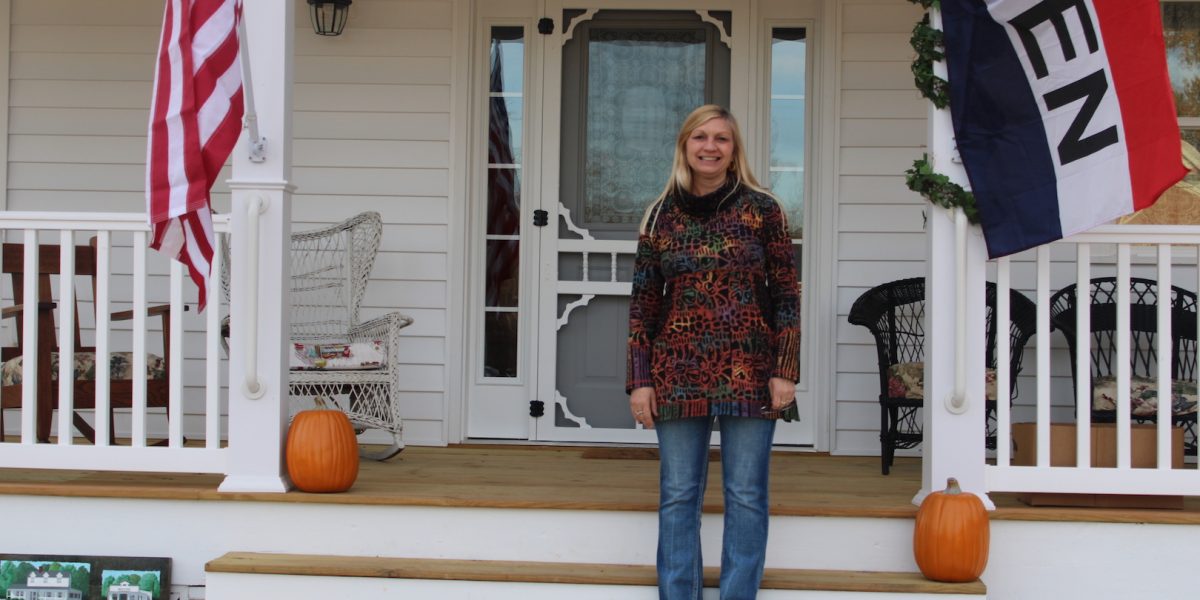 Every month, Carole Johnson and her kids awaited the arrival of VHS tapes carrying a couple of episodes of "The Waltons." The VHS subscription service cost $25 per month, but it was worth the price for the enjoyment it brought.
Time passed, and Johnson continued to enjoy "The Waltons." She even began collecting items similar to those in the show, but she never expected that she was about to go from enjoying the show's history to
creating it.
Four years ago, the Waltons' Hamner house went up for sale in Schuyler,
Virginia, a tiny town just south of Charlottesville. Waltons creator Earl Hamner grew up in the house, that served as inspiration for the house for the TV show. 
Though Johnson lived in California and her husband had previously convinced her not to buy property around Schuyler, the Hamner house and another property nearby represented a once-in-a-lifetime opportunity. 
"He said, 'We're not moving to Virginia,' and I listened to him," Johnson said. "But when Earl's house came up for sale, there was no discussion in our house. He just knew I was having it, and that was it. Right away, the matching property was going up for sale, and I thought that would make a great bed-and-breakfast."
Her intuition proved to be correct – and four years later, they held the grand opening for John and Olivia's Bed-and-Breakfast, named after the mother and father of the Walton family. The quaint new business opened Oct. 26, right up the road from the Hamner house.
Johnson filled the rooms of the B&B with accessories that remind guests of the show's characters. She supplied all of the interior design pieces, many of which she already owned.
"It kind of became a treasure hunt," Johnson said. "Next door at the Hamner house is the little green truck the dad used on the show. I bought that on eBay. When I bought the house, two other fans and I drove up most of the stuff."
Construction on the B&B, which sits on a previously empty property, finished just before the opening.
"It was hard to market because nothing was here," Johnson said. "Even when I got my reservation system in July and we started taking bookings, we had nothing to show. If you went to book the Hilton right now, you'd see pictures of everything inside, but we didn't have any of that."
But the bookings rolled in, and guests love the experience the B&B offers, with multiple guests already scheduling return visits.
Johnson says guests have scheduled stays as far in advance as next November. 
"I had one lady tell me it was like Christmas morning," Johnson said. "Another lady told me she didn't even have the words to describe it. People are really excited. It's really not about making money. It's that this is a really special place."
CBS's "The Waltons" ran for nine seasons from 1972 to 1981 and spawned several movies. Despite its age, Johnson says quite a few young people are still enjoying the show and coming to the B&B.
"You'd think it would be older fans, but we've had a lot of kids come," Johnson said. "Because you can stream it all online, a lot of religious parents play their kids the show because there's nothing good for kids on television. I think we're experiencing a revival of young fans, if anything."
Johnson still lives in California, bouncing back and forth between her home and Schuyler. She says she does not know how much time she will be spending in Virginia over the next year.
The B&B showcases five different rooms that give guests the feeling of life with the Waltons. Reservations can be made at
www.thewaltonhamnerhouse.com/john-olivias-bnb-inn/.