Profile: Liberty Senior climber quickly rises to the top of the rock climbing team
Many athletes work their whole lives to fulfill their dreams of performing at a high level. They dedicate countless hours to their craft from a young age to excel at the collegiate level one day.
Senior Joseph Liederbach was never one of these athletes.
Growing up, Liederbach never participated in sports. He arrived at Liberty University from his home in Sheboygan Falls, Wisconsin, just wanting to focus on his aeronautics degree. But his life would take a dramatic turn when his friend invited him to go to Liberty's climbing wall about two years ago – Liederbach formed an instant connection.
"I just loved it," Liederbach said. "The community at the wall is really awesome, and I love the mental challenge of climbing."
Liederbach's passion continued to grow as he ventured outdoors, where he began to hone his skills. Elliott Gaunt, Liberty's rock climbing coach, noticed Liederbach's potential early on.
"It was within the first couple months," Gaunt said. "You can tell pretty quickly when you watch somebody move whether they know how to move their body efficiently or constructively. There's this kind of effortlessness to moving that some people just have. Joe has that coupled with his passion, and you can grow and get strong quickly just dueto passion."
Liederbach started seriously training for climbing around a year and a half ago, and he has rapidly progressed ever since.
Bouldering, a form of climbing done without ropes with the use of crash pads, operates on a V0-V16 scale – the higher the number, the harder the climb. Climbs exist in short, rigorous bursts designed to test a climber's power and mental fortitude.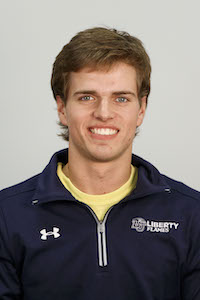 Most casual climbers will not ever surpass the first few V grades, reaching a peak normally in the V2 to V4 range. But Liederbach has smashed through this imaginary boundary, recently completing his first V8 boulder problem.
"Climbing at that level is mostly about just climbing a lot," Liederbach said. "Besides that, great training advice and coaching from the people around me has
really helped."
Liederbach shows no signs of stopping that progression, as he says he looks to continue training and projecting hard climbs outdoors to
avoid stagnation.
"Everyone reaches a point where they'll eventually plateau," Gaunt said. "You can only progress so fast for so long until it starts to become nitpicky and detailed in order to progress to a higher level. Luckily Joe hasn't reached that point yet, and he's gone through the early stages of climbing very quickly."
As the year progresses, Liederbach is preparing to face the biggest obstacle to his
climbing: graduation.
Liederbach will walk in May, and after that, his climbing future remains unknown, but he insists that climbing is not going away any time soon.
"Who knows what will happen after graduation with potential career stuff, but I'm going to be climbing for the rest of my life," Liederbach said. "I love it. I'll probably climb less due to a job, but I won't quit altogether."