Mallary Hope, American country singer, records a live Christmas show at Liberty's Center for Music Hall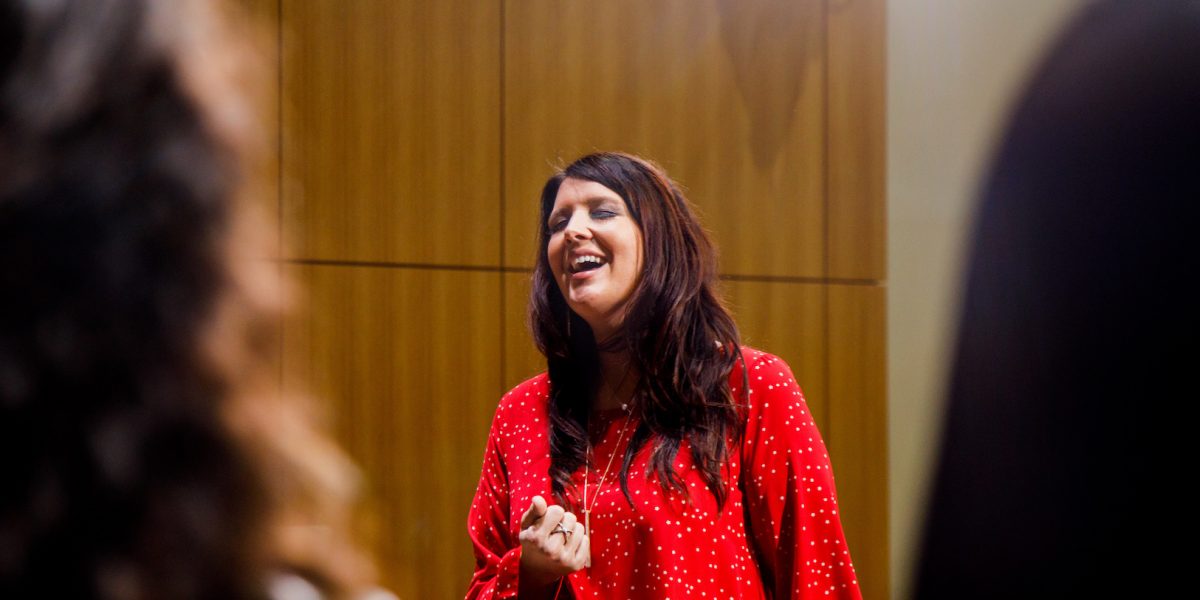 The Christmas spirit was in the air at Liberty University as country music singer-songwriter Mallary Hope performed Oct. 28 at Liberty's Concert Hall. Singing two originals and three classic carols, Hope inspired the School of Music students and guests as she filled the hall with contagious Christmas cheer. 
But this event wasn't just a unique holiday event – Hope's performance was recorded live and will be televised in the coming month on Country Music Television and the Hallmark Channel.
Upon entering the Concert Hall, students were greeted with a grand display of Christmas trees adorning the stage. Former Christian recording artist and current Liberty Commercial Music Industry Facilitator Al Denson introduced the evening.
"Welcome! We are so appreciative that you all are here – it's going to be a great night," Denson said.
He continued to explain the rarity of the Monday night concert, thanking the Michael W. Smith Center for Commercial Music at Liberty for making the evening possible. 
Along with Hope's band, a string choir from Nashville and four Liberty students
accompanied the country artist. 
The crowd erupted with cheers as Hope entered the stage in a glittering red Christmas dress.
"Thank you so much for coming out tonight," Hope said. "Christmas is my favorite time of the year, and I'm so excited to share a few of my favorite holiday songs with you."
Monday night, gathered in the Concert Hall, was no ordinary concert. Not only were the students simply enjoying Hope's music, but they were inundated with the atmosphere of commercial music. Songs were recorded twice, even three times, to have the perfect effect for television. Students were able to participate, with recorded applause and filmed standing ovations.
"I thought it was a great learning experience for those who are heading into commercial music," Hannah Bruckner, a Liberty School of Music student, said. "We got to see the 'behind-the-scenes' of the business and the professionalism that Mallary Hope displayed in her performance."  
Mallary sang an original song, "Christmas Is All About You," as well as a powerful rendition of "Mary Did You Know." Before singing "Just a Baby," Hope's song inspired by her daughter, she spoke of its significance.
"Writing a Christmas song can be challenging," Hope said. "What can you say that hasn't already been said in the classics? Yet one day, I was looking at my 8-year-old daughter, and I was reminded of Mary and the things she must have experienced. I think it's special to sing about Mary and the thoughts she must have been thinking when delivering Jesus, the Son of God."
When singing her fourth song, "A Baby Changes Everything," Hope teared up at the lyrics. "Every time I sing, 'I'm lost but then found,' I cry every time. It's crazy to think about," Hope said. "Because Jesus was just a little baby, and he grew up to save the whole world. It's a miracle, and I'm so thankful."
"It has been such an honor to sing for you all," Hope said, in closing. "I could not leave without singing my all-time favorite song: 'O Holy Night.'"
As the night's concert ended, students left the music hall filled with Christmas joy.
"I loved tonight," freshman Olivia Baum said. "It was a very good production, and it really helped me get into the Christmas spirit."