Love Luggage, a new love language — Unclaimed Baggage hosts a Love Luggage event during Campus Community Nov. 6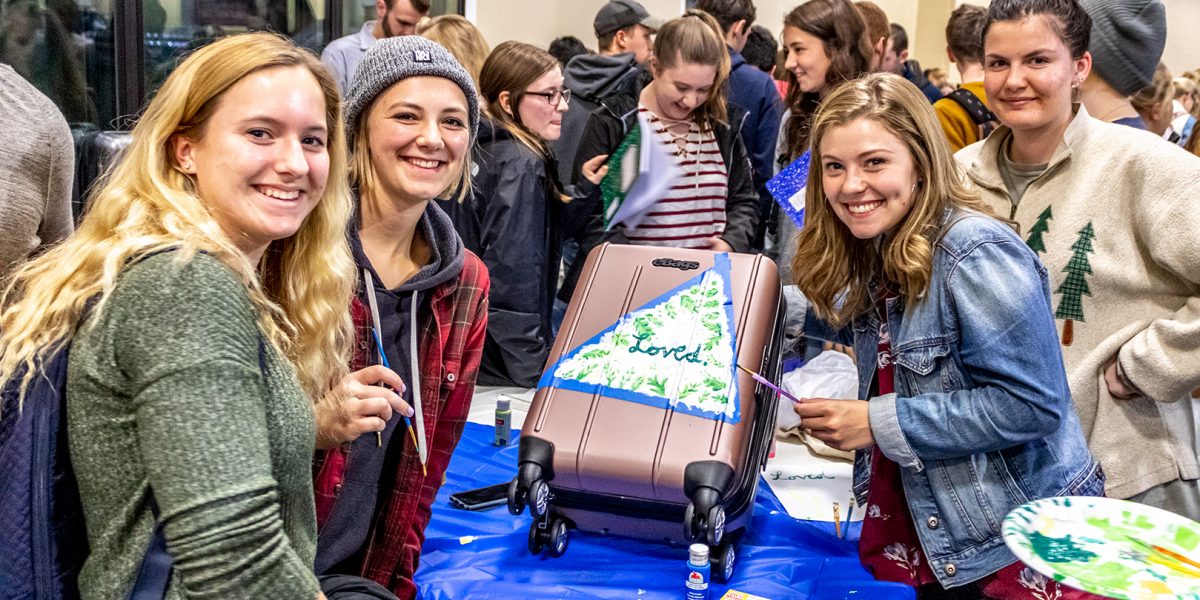 Losing luggage at the airport brings stress and frustration. But Unclaimed Baggage uses that lost luggage to drastically impact the lives of foster children through its Love Luggage foundation.
Standing as the only brick-and-mortar store in the U.S. that sells unclaimed airline luggage, the Unclaimed Baggage Center, started in Scottsboro, Alabama, holds strong to a mission of "reclaiming for good" what was once unclaimed. Through this mission, Brenda Catrell, the media relations director for Unclaimed Baggage Center, had an idea to help the lives of children living in the foster care system.
Through Cantrell's work, the Love Luggage foundation works to provide children in foster care with their own personalized suitcase, filled with various supplies they are not guaranteed when they move from house to house.
But Cantrell took Love Luggage's mission to a larger scale through its partnership with Liberty University, hosting a Love Luggage packing event on Liberty's campus Nov. 6. According to Cantrell, the event held during Wednesday night's Campus Community stands as the biggest packing event they have been a part of.
"Love Luggage on this scale absolutely blows my mind," Cantrell said. "To bring a community together on a campus to help kids that they are never going to meet and see their faces – they are putting so much love, care and thought into something that will change a child's life in some
small capacity."
While Kanye West's "Jesus Is King" played in the background, students packed around 300 suitcases with items for different age ranges and personalized the bags by painting designs on them. With the bags packed and painted, foster children in the Lynchburg area will receive a piece of luggage that they can call their own.
"It's such an uncertain world that these kids (in foster care) live in, for they don't know how long they will be with that foster family or if they are going back with their parents," Cantrell said. "They get to own this suitcase, and no one can take that away from them."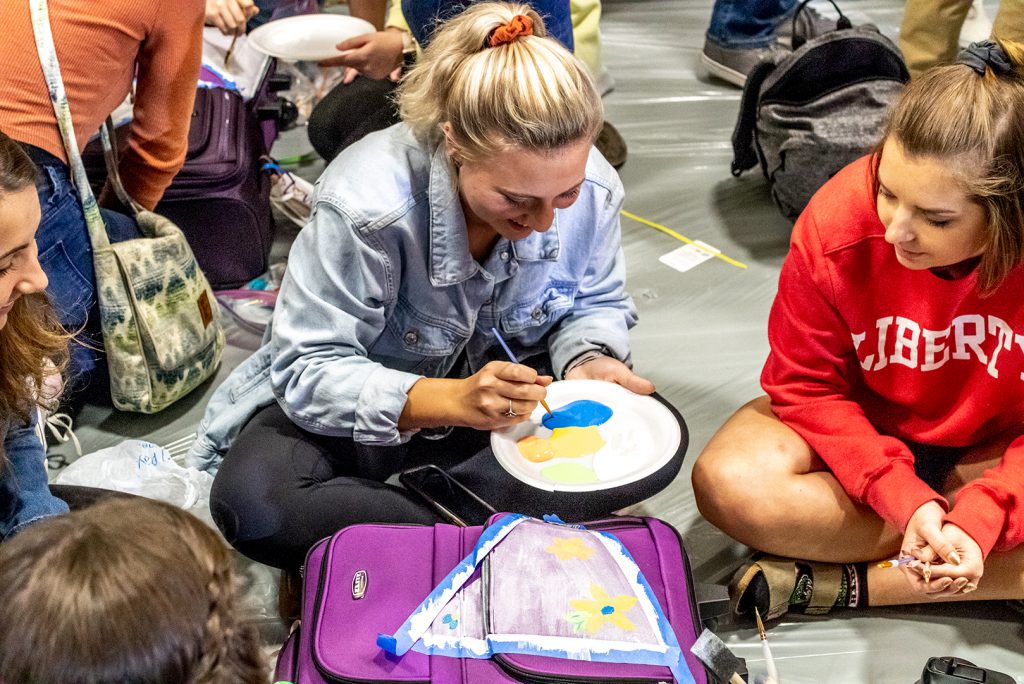 Ashley Lison, executive director for LU Stages, worked alongside Cantrell, making sure Liberty's side of the event ran smoothly. After hearing that around 300 foster children reside in Lynchburg and the surrounding areas, Lison took on this project in hopes of bringing a sense of independence and self-worth to these children. 
"We want them to know that they are not forgotten in the system but are special and uniquely created and loved by God," Lison said.
Unclaimed Baggage donated half of the suitcases used for the event while Liberty purchased the other half. Students then purchased several items from a list that foster children said they wished they owned, varying from everyday hygiene essentials to notebooks and card games. 
"To see so much enthusiasm behind an event they knew nothing about a week ago blew my mind, and how you embrace it and do it with love and you know it's done to honor God," Cantrell said.
Lison said she hopes events like this bring awareness to the need for loving, Christian foster families to open their doors to children in the Lynchburg area.
"We knew they would see the value of serving underprivileged children in our area, and would jump at the chance to donate items, decorate and pray over suitcases to make a small difference in the life of a child,"
Lison said.
Cantrell said many social workers attend her church along with families that foster children, allowing her to see and hear about the needs within the foster care system. 
"To see these social workers that we knew handle these cases with a heart bigger than anyone could ask for to care for these kids as they are going through this process and to know some of these children that came through our church made my desire to help through Love Luggage grow even more," Cantrell said.
Unclaimed Baggage uses their platform and resources, not just for the Love Luggage Foundation, but for several other organizations they partner with. According to Cantrell, the company sells only one-third of the luggage they receive, donating the rest of the luggage to partner businesses.
"The whole name behind Love Luggage is all about the love that goes into it — not just the love that you hope they feel when they receive it, but the love that goes into it before it ever gets to their home," Cantrell said.