Creating for the Creator — Russian designer Aleona Isakova shares story with fashion students
Her gowns appear on runways in some of the most beautiful and most spiritually dark cities in the world. The intricacies of the beading and the yards of delicate lace and buttery silk do not just represent Russian designer Aleona Isakova's hours of labor and talent – they represent the gospel in a way that often brings those who behold her work to tears. 
Fashion design students welcomed world-renowned designer Isakova to Liberty University Nov. 4 where she shared her story and encouraged students to pursue the talents God gave them.
"Creativity with God is the biggest testimony, because the secular world cares about that," Isakova said. 
Growing up in Latvia under communism, Isakova did not know freedom until she met Jesus in her 20s. But she treasures the freedom from fear she has now. Today, she uses that freedom to create. 
In the early 1990s while at a conference in Moscow, Isakova's mind flashed with visions of gowns that represented creation, the crucifixion and the resurrection. The gowns were so stunning and the material so luxurious that Isakova knew the vision was a calling from God. 
She did not have the money to pay for the materials she saw in her vision. In the meantime, she started a modeling school and used what materials she could afford for fashion shows. 
"Very often we're waiting. We have a calling from God and we're waiting. We have a dream from God and we're waiting," Isakova said. "Just make a little step. When you make your little step, God will make his big step – be brave."
In 1994, a Swiss businessman from France reached out to Isakova because he felt God had been speaking to him about her for months – he knew he was supposed to help her somehow.
She needed fabrics to create the gowns from her vision, so he took her to a factory in Lyon where the most expensive materials in the world were made for high fashion, and within four years, her collection was complete.
Her collections display not only events in Scripture such as the crucifixion and resurrection, but some of the most beloved characteristics of God. Isakova recalled one man at a show in a private club in Moscow saying her models looked like angels.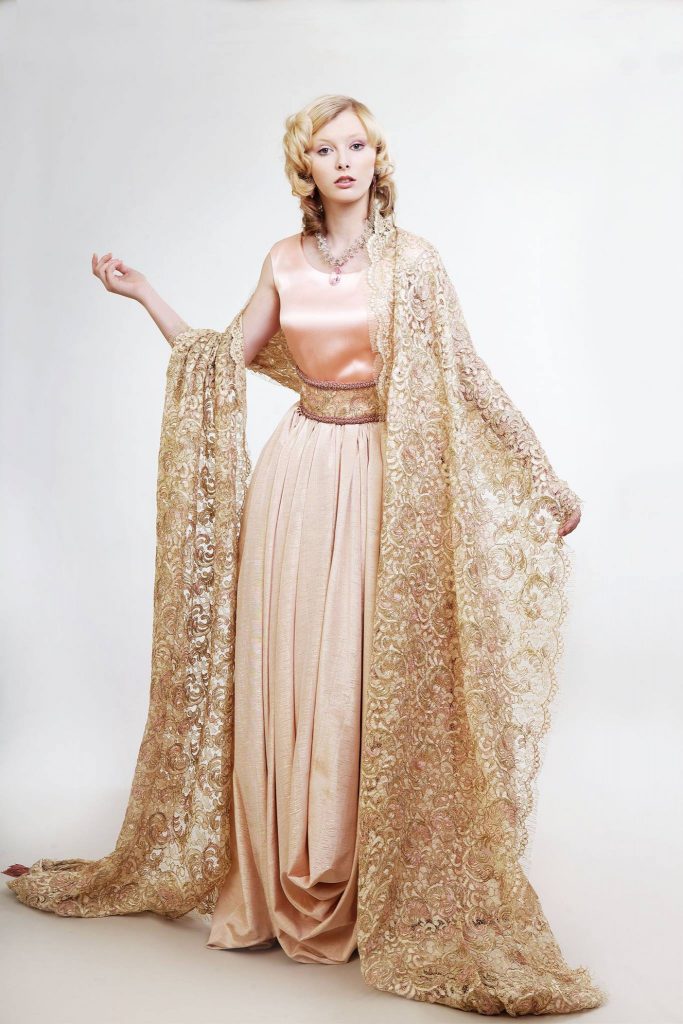 Isakova believes the reason her models left such an impression during shows was the presence of God shining through them. Isakova touched the lives of her models as she preached the gospel to them, using her gowns as testimony. 
For Isakova, creativity is freedom. But during the years before she met Jesus, the fear of rejection stifled her art.
"We hear and read of so many designers and artists who are addicted to drugs and even suicidal . . . and I believe it's because of this fear," Isakova said.
For students who question their dreams, Isakova encouraged them to be confident in what their hearts cannot let go of.
"I believe that dreams come from God," Isakova said. "The fire in you, what brings you here (to Liberty) is from God – it's no mistake."
Shannon Woodland, a producer for Christian Broadcasting Network, captured Aleona's story in a video piece for the "700 Club." She was present for Isakova's event at Liberty. 
"The greatest thing about Aleona is her passion – it's infectious," Woodland said. "When I interviewed her, I knew there was something special about her."
Isakova points to Jesus as the source of her powerful creations.
"What I can do without God is boring," Isakova said. "But when I create with him, it is like an open gate of talent, an open gate to create something more. I believe if we know him more, we can create better."
At the end of the event, Isakova encouraged design students to submit pieces inspired by the Bible to the Beauty by God Fashion Show that will be hosted in Venice March 22-28. Designers can register at www.BeautybyGod.us.