Profile: Women's hockey captain leads her team in her final season on the ice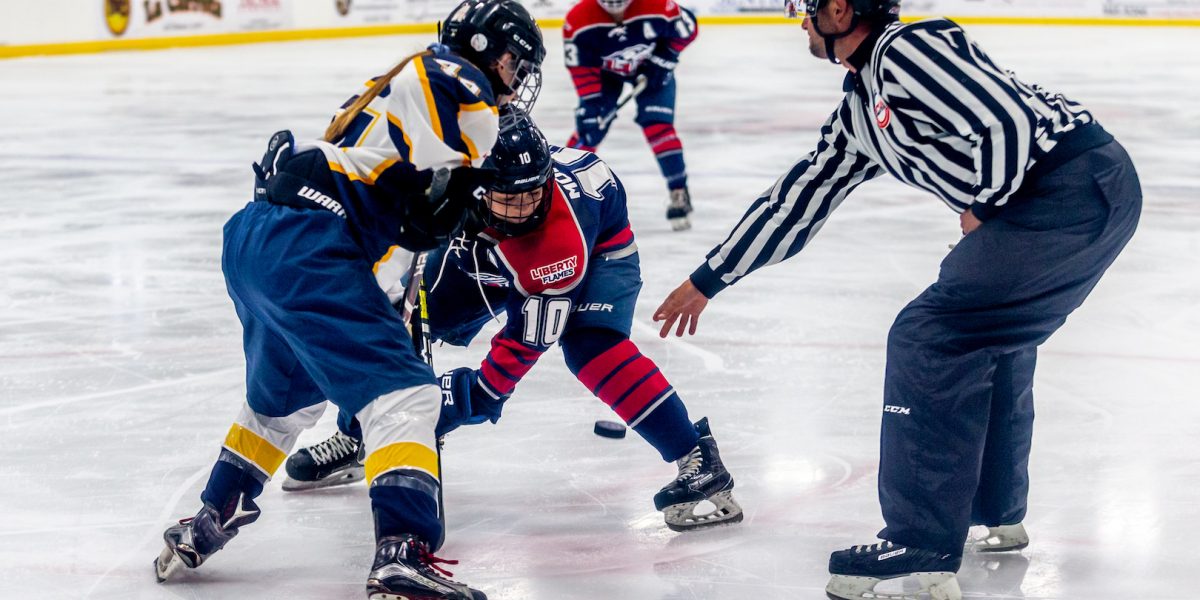 Even though senior hockey player Aly Morris is from from Ontario, Canada, and grew up on ice skates, her first experience in skates did not involve hockey.
"I started with figure skating when I was 3 years old, and then when I was 4, I wanted to play hockey," Morris said. "(My parents) put me in figure skating and I would always see the guys after me playing hockey, and I would be like, 'No I want to play hockey!'"
One of Aly's role models, her father Kurt, played a major role in shifting his daughter's passion.
"I watched my dad play in men's league," Aly said. "He's just one of those crazy guys who's always watching hockey every night. I was always around that
atmosphere."
Kurt continues to remain a steady support for his daughter during her time on the Liberty women's Division I hockey team.
"My dad actually hasn't missed one of my games the past four years, and that's travelling from Canada," Aly said. "It really means a lot to me."
During that stretch, Aly has been a mainstay for a Liberty team that has won back-to-back ACHA championships. Playing the crucial role of centerman, Morris stabilizes a Flames offense that averages nearly five goals a game this year. Morris has not produced many points thus far, but is still finding ways to put her teammates in the best position to succeed.
"She is one of the more consistent players," Head Coach Chris Lowes said. "We know what we are going to get from her. Night in and night out, she is very consistent. Against some top teams we've seen in the last couple of years at nationals, she is reliable."
Lowes' staff named Aly Morris one of the squad's four captains this year in the first season that the coaches nominated player leadership – captaining the team is a first-time honor for the senior.
"That says a lot about what we as a coaching staff think about her," Lowes said. "We've come to trust her in every situation. … She understands what culture we are looking for."
Part of that culture includes winning, and plenty of it. The Flames have won at least 20 regular season games every season Morris has been on the team, positioning themselves to become the first ACHA women's team to win three consecutive championships since Lindenwood-Belleville University from 2008 to 10. However, perennial powerhouses such as Lindenwood and Adrian will present a stiff challenge moving forward.
This year, Liberty is also one of six founding members of Women's Midwest College Hockey conference, marking the first year that the Flames will be affiliated with a conference. They will join Lindenwood-Belleville, Minnesota, McKendree, Midland and Minot State, which immediately present a tougher challenge to Liberty's three-peat aspirations that the Flames are meeting head-on.
"Teams are better – we're not just coming in and winning by a ton of goals," Morris said. "That just means we'll have to be stronger too. It will give us another opportunity for competitiveness. We have something else to
work for."
Even though these challenges could upend Liberty's title defense, this team has Morris confident in the Flames chances.
"From the minute this team came together, I felt a connection that I had never felt before," Morris said. "This team really clicks, and there really is not a gap between seniors and freshman. Everyone is on the same page."
Liberty continues its run towards history with a weekend series at the University of Massachusetts. The Flames square off Thursday, Oct. 17 and Friday, Oct. 18, and the puck drops at 7:50 p.m. for both games.