Profile: Freshman Victoria Hendrix has her sights set on Olympic gold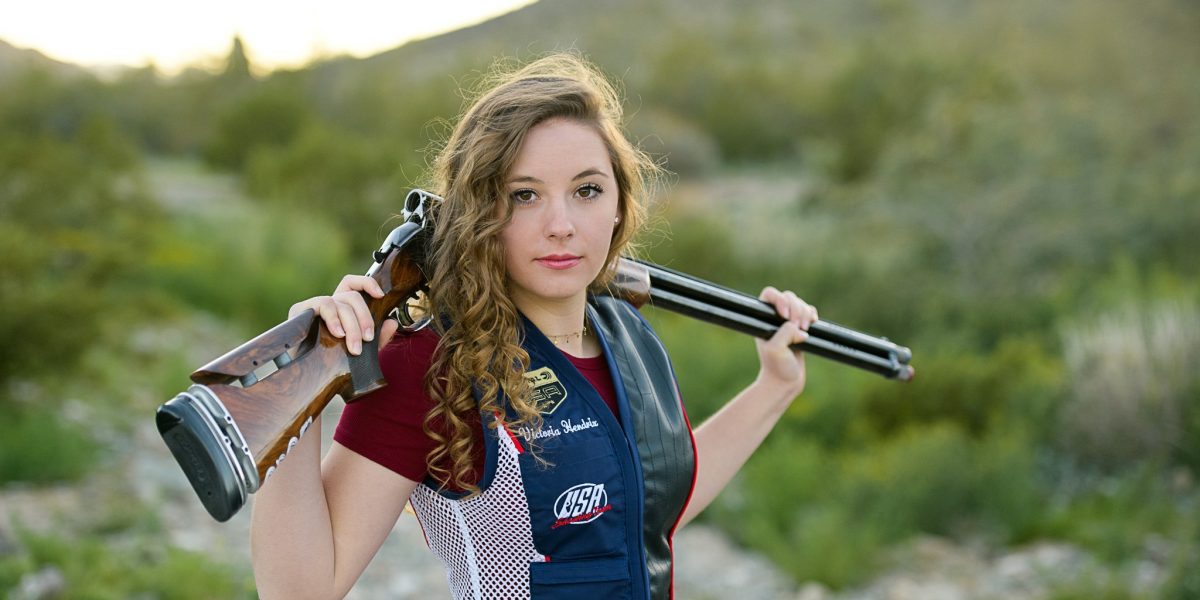 For many kids, representing their nation at the Olympics is the greatest dream imaginable. For those more academically-minded, getting a doctorate in neuroscience is the height of academic achievement. Victoria Hendrix not only has both goals, but a good chance of accomplishing both.
Victoria, 18, is a freshman on Liberty's shooting team. She came to Liberty as the reigning Junior Ladies Bunker Trap National Champion and Junior Olympic Champion. She also arrived on campus as a National Merit Scholar with a 4.0 GPA. Coach Dave Hartman first met Victoria at a shooting event in Tucson, Arizona, and immediately knew that she could be an important member of the team.
"She has everything that I want in a team member," Hartman said. "She is a very hard worker, very bright, studious and she is easily coachable. She
listens well."
Victoria has helped lead Liberty to early success this fall season. Liberty took second overall in the Scholastic Clay Target Program College National Championship Oct. 18-20, with Victoria finishing first in bunker trap at the event. But Liberty isn't the only team Victoria hopes to represent through shooting.
Victoria began shooting when she was nine and competed in her first tournament when she was 11. But she didn't begin to seriously dream of the Olympics until her freshman year of high school.
"Freshman year I got the opportunity to attend the Junior Olympic Training Camp in Colorado," Victoria said. "I fought God on that, because I didn't know if I wanted to do it, but it was really cool. Being on campus at the training center, being around the athletes and practicing with everybody was a really unique experience."
Victoria dedicated her life to shooting at that point, averaging more than 30 hours a week in the range and sometimes shooting for as many as 50 hours some weeks. Her hard work paid off. Victoria proceeded to win both skeet and bunker two consecutive years in the Junior Olympic State Championships, and then won skeet at the national championship when she was 17.
When she came to Liberty, Victoria had two goals: earn a degree in either neuroscience or neurology, and qualify for the 2020 Olympic team. She took a large step toward the second goal in September, when she traveled to Texas for the USA Shooting Olympic Trials. While she failed to qualify at that event, Victoria has gained experienced and refocused on earning her spot on the 2024 Olympic Team.
"The second you lose passion for it and it becomes about the cool experience rather than trying to win, you definitely do slack off a bit," Victoria said. "That's what happened at this competition. I went into it thinking about the cool experience, rather than really committing to going 100% and trying to win."
Victoria's mom, Kellene Hendrix, was with her at the trials, like she has been at every important shooting event for her daughter.
"I've always been her biggest fan," Kellene said. "God has given me a job where I can travel with her and work from wherever I'm at. It has given me a comfort level that if I can't be with her always, I can be with her to support her in the high-stress times."
Coming up soon for Victoria is the Junior World Championships in February, back in her home state of Arizona. Long-term, she has her eyes set on the 2024 Olympics in Paris. Her work ethic and talent have enabled her to realistically achieve any goal she sets for herself.
"She has the talent to go as far as her desire to will take her," Hartman said, "She has the ability to go all the way."
According to Hartman, Victoria has the talent and the internal motivation to work hard for what she wants.
"She doesn't pursue perfection – she pursues excellence," Kellene said. "She has always been that way. We have a very driven family and that is just part of who she is. God asks us to be the best servants we can be, and that is what she does."
Victoria knows that shooting may not always be part of her future, and she is open to whatever God leads her to. But for now she is happy where she's at, and feels blessed to be able to honor God with her abilities.
"You have to have the passion," Victoria said. "You cannot treat it like a job. When I wake up, I just try to be excited for what God has in store for me that day, and I try to honor him and bless the people that he puts in my path."