Girls freeing girls — Liberty students join the fight against sex trafficking in an unconventional way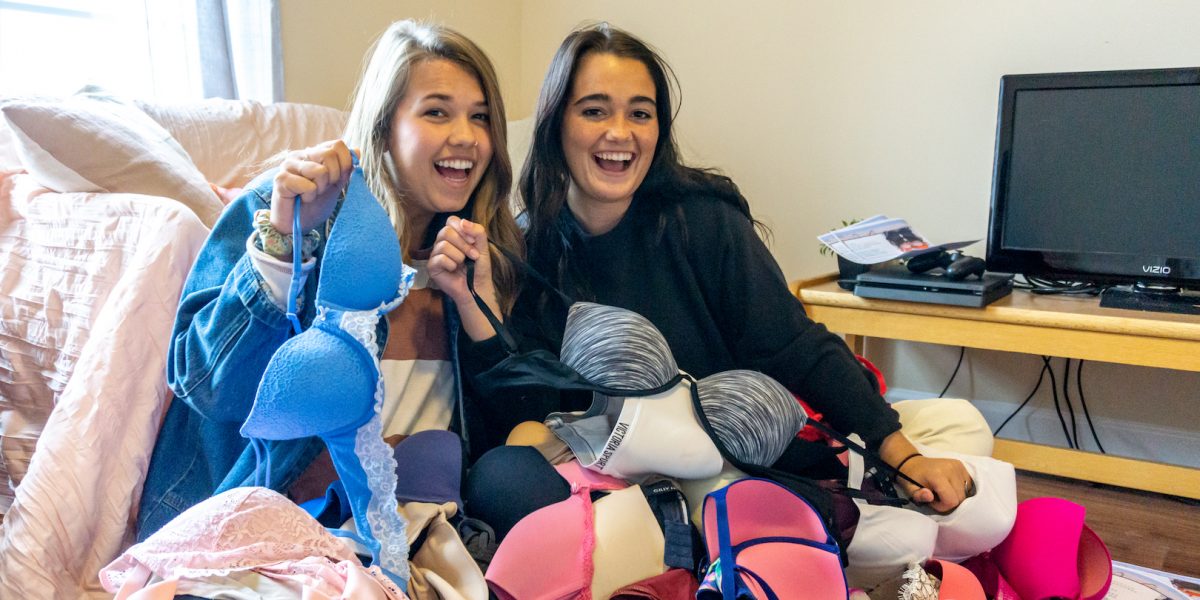 For the month of October, Liberty students Kelley Duvall and Natalie Barsamian are taking on the fight against human trafficking in an unusual way. Duvall and Barsamian are asking for donations in the form of funds, time and bras.
The two juniors are hoping to bring in 1,000 bras for a movement called Girls Free Girls. Girls Free Girls is a movement stemmed off the organization Free the Girls, which "exists to help women rescued from sex trafficking reintegrate into their communities," according to their website.
Free The Girls provides the opportunity for women who have previously been enslaved in sex trafficking to have a safe economic opportunity. Through donations collected by the nonprofit, women can receive donated bras to sell in the second-hand market, giving them an entrepreneurial chance to better their lives, according to freethegirls.org. The women retain the profits from their bra sales in their local markets.
One of Free The Girls' main goals is to provide freedom in all areas of life. The organization's desire is for these women to experience "wholeness" physically, financially, emotionally, mentally and spiritually. According to the organization's website, "By receiving a starting inventory from Free The Girls, the women are able to begin their business and become an entrepreneur in their own communities. This income allows them a safe economic opportunity…"
"The bras provide hope and a fresh start. They provide opportunity for these women to provide for themselves," Barsamian said.
Barsamian credited Duvall as the one who started the movement on campus and got her involved.
"I first heard about Free the Girls about this time last year, and instantly fell in love with their mission and wanted to play a part in it," Duvall said. "I had, what seemed like 'too big' of a dream to make Free the Girls a school-wide fundraiser, so I decided to step back and start praying about what the Lord wanted me to do in playing my part."
Duvall sought a partner to help her in her dream of hosting a fundraiser on campus for the organization she fell in love with.
"A year later I met Natalie, whose heart is on fire for seeing women free of injustice, and I asked her if she would like to take on this fundraiser with me and host a month-long bra drive within our university and circles of people through social media," Duvall said.
The two girls have created a social media campaign, growing their account from zero to over 600 followers in just a few weeks.
"We believe in a big God who sees every person and utilizes each one of them for the good of his kingdom," Barsamian said. "I am fully trusting that God will provide us the resources and ability to donate exactly the number of bras needed (for) these women. For the sake of tangibility and having a goal, we decided on 1,000 bras."
They have already reached 259 bras out of their 1,000 bras goal.
"This is a cause that needs to be shared and fought together," Duvall said.
They encourage all to join in their efforts, and Barsamian mentioned that some men have joined their fight against sex trafficking by donating or promoting
their message.  
The girls are accepting bras and financial donations in a drop-off box outside of room 402 on East 84, Floor 4, along with Venmo for donations. They also ask that people follow the Instagram page @girlsfreegirls, share the page and get the word out.