The Liberty swim team looks to start another championship season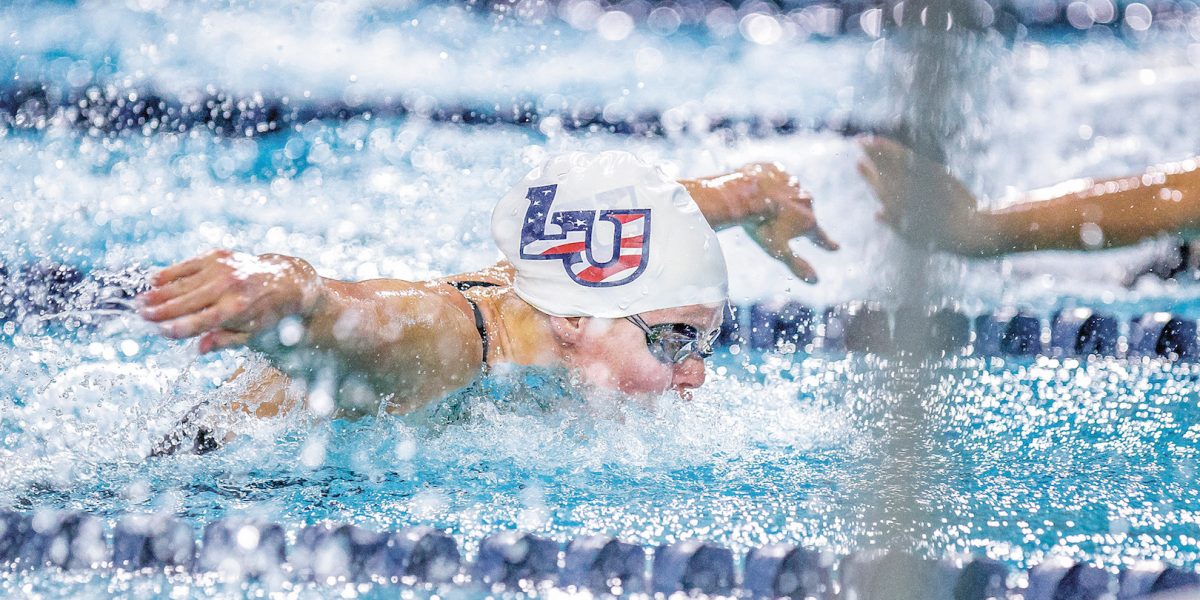 Coaching a team that finished last season undefeated, culminating in a CCSA title, could make some coaches complacent because of previous success. Instead, Head Coach Jake Shellenberger and the Liberty Lady Flames swim team remain locked in while integrating nine new freshmen into the team.
Last year, Liberty went 15-0 on its way to its second CCSA swimming and diving championship under Shellenberger. However, with freshmen as almost a third of this year's team, the previous year plays only a small part of the upcoming season.
"Last year was special, especially being the first CCSA team to host the championships," Shellenberger said. "But as far as refocusing, it always helps when you bring in a large new class. A lot of our swimmers weren't here last year. When you have that many newcomers, it is pretty easy to make the jump. Having a separate summer season in between helps too."
Liberty's recruiting system ensures that swimmers are a match for the university.
"It isn't that hard of a transition because we typically don't let people swim or dive here unless they're a good fit for the university," Shellenberger said. "We don't shy away from the rules. You come here, there's a curfew, a dress code and you're not going to drink alcohol. We'll take our chances on people who maybe aren't as good initially, and we'll coach them to get better if they're a good fit."
Senior Colleen Donlin, who won the 50-meter freestyle in eight meets last year, thinks that upperclassmen can pick up any slack on helping the freshmen transition.
"We're just trying to get them to understand how the team operates, and buy into it fully," Donlin said. "We're all-in, all the time, and freshmen are a big part of that. So we want them to be able to fit in and succeed."
The Lady Flames posted the highest GPA of any collegiate swimming and diving program last fall with a 3.79, according to Liberty's website. While Shellenberger wants his swimmers to keep excelling in the classroom, he acknowledges that may not happen again.
"Academically we want to keep rocking and rolling, but I don't (think) we'll have the highest GPA in the country again this year," Shellenberger said. "That's a special thing, and your chances of doing that are pretty slim. There are some really good programs out there academically, and over 200 programs to compete with."
But Shellenberger identified one area he would like to see improved this year.
"Academically, athletically, socially and spiritually we did great, but we didn't send anybody to the NCAA Championship meet," Shellenberger said. "That's really the only area where we could've improved, so we're looking to get back to the NCAA Championship meet this year."
Liberty participates in its first meet of the year Friday, Oct. 4, at Penn State University. The Lady Flames look to continue an active 23-meet winning streak, which is the current second-longest in Division I women's swimming and diving.