The city of Lynchburg gears up for the eleventh annual Get Downtown festival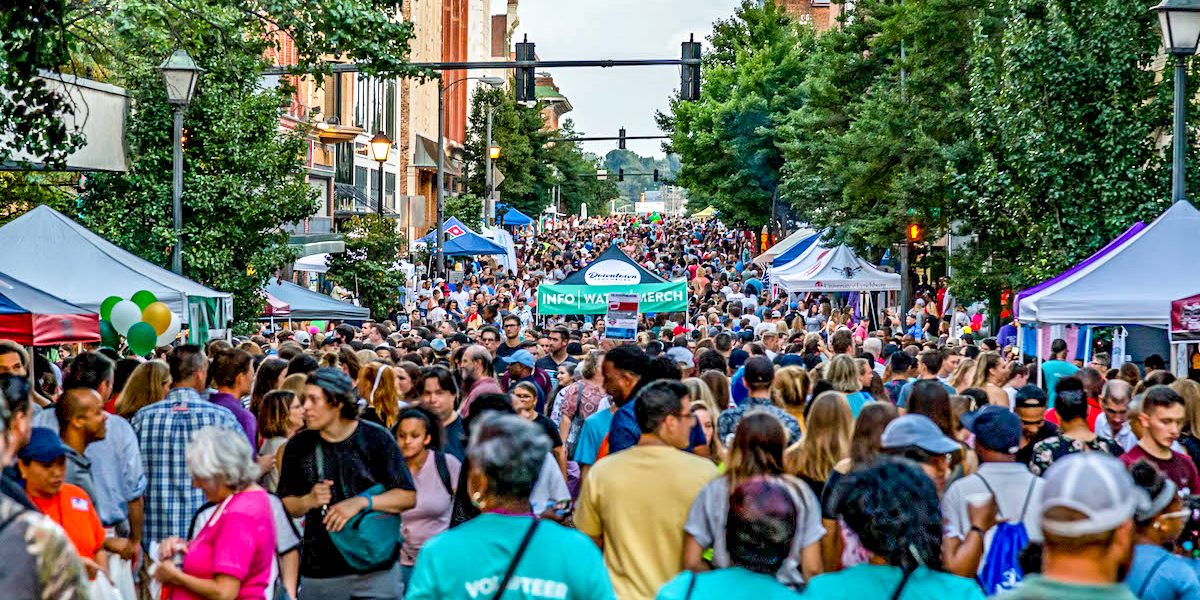 Entertainers and vendors alike will take to the streets for the 11th annual Get Downtown festival on Main Street, which will feature activities for community members of all ages and welcome college students back to
the area.
The event will be held Sept. 6 from 6:30 to 10 p.m. and will showcase over 150 vendors, businesses, organizations and entertainers from the Lynchburg area, according to an online press release. Various local bands, including Good Dog Nigel and The Dundies, will perform at three different stages on Main Street throughout the night. The festival's sponsor, Pacific Life, will also be hosting a "karaoke beach party" in front of the business establishment starting at 9 p.m.
Program Director for the Downtown Lynchburg Association Susan Brown has seen the festival evolve since attending her first Get Downtown in 2010. This year, 10,000 to 12,000 visitors are expected to attend the event, Brown said. 
"The growth has been tremendous," Brown said. "Personally, my first experience of Get Downtown (prior to being with Downtown Lynchburg Association) was in 2010 when I traveled here to interview for my first job. It only ran a few blocks long, but it was a perfect introduction to Lynchburg for someone who was not very familiar with the city."
The festival began in 2009 as a way to celebrate the return of college students to the Lynchburg area and expose them to the opportunities available in the city. The event has experienced many changes since its inauguration, and visitors will experience new vendors and entertainment even this year.
According to Brown, the Downtown Lynchburg Association is "excited" to welcome an axe throwing booth during this festival, courtesy of Power Play. The event also sees a number of street performers and talent every festival, and this year stilt walkers will take the streets dressed in costumes "ranging from glitter unicorns to a ninja transformer," Brown said.
A number of food truck vendors will be available on the City Center Parking Deck at 10th and Main Street during the event. Featured vendors include Off the Grid Waffles, Tali's Grill, Homestead Creamery and Nomad Coffee, among others.
For Brown, one of the most rewarding parts of hosting the festival is working with sponsors each year.
"We love working with our event sponsors," Brown said. "It's very heartening to see local businesses and colleges place their value on our downtown."
Parking for the event is free and open to the public and information can be found online at www.getdowntownlynchburg.com/parking. Shuttle parking is also available at satellite lots at Central Virginia Community College, Randolph College, University of Lynchburg and the Goodwill Job Center parking lot in Madison Heights. Free parking shuttles will offer transportation to the event from 6 to 8:30 p.m. and return trips from the event to satellite parking from 6 to 10:30 p.m.
Additional event information can be found at www.getdowntownlynchburg.com.