Liberty women's soccer defeats William and Mary University 4-2
Still without a goal after two games and 43 minutes of the season, Liberty women's soccer needed a spark against William & Mary Thursday night.
That spark came when senior Kailey Neef tucked home a loose ball at the back post to score the Lady Flames first goal of the season, kickstarting a 4-2 win that saw the Lady Flames find their clinical edge in their first home game of the year Aug. 29.
Though a scrappy first half saw the William & Mary Tribe get the best of the opportunities on the counterattack, Neef's first career goal just before halftime shook the Tribe's focus as defensive mistakes multiplied.
Three second-half goals within 20 minutes of each other solidified a 4-0 lead for the Lady Flames, but defensive lapses allowed William & Mary to pull two goals back late in the game, leaving Head Coach Lang Wedemeyer determined to iron out those issues before ASUN competition begins Sep. 26.
"Tonight was a little bit of a flashback of last year, because we were in several of these games, including (against) William & Mary, where we lost right at the end or we allowed teams to tie us up, and that's a problem we haven't quite solved yet," Wedemeyer said. "We're relying on some of the maturity of the players out there, but this was a good game to deal with and feel that pressure, and hopefully they'll learn from it."
Though the floodgates opened for the Lady Flames in the second half, William & Mary started the game on the front foot, creating the first real chance of the game 20 minutes into the half. A fast break and low cross into the box set up Tribe forward Courtney Miles with a clear shot, but she scuffed it straight at Liberty goalkeeper Melody Jayroe, who made seven saves throughout the game.
Both teams struggled to impose their rhythm, with possession regularly changing hands and the Lady Flames battling to play around the Tribe's pressure and create a quality chance.
But Lady Flames senior forward Gabrielle Farrell looked increasingly dangerous, heading a promising cross straight at the goalkeeper for Liberty's first shot on target. Farrell was the team's top scorer last year with three goals and two assists, and Wedemeyer believes Farrell will be key to a successful season for the Lady Flames.
"Gabby is certainly a dynamic player who's very dangerous whenever she steps on the field," Wedemeyer said. "She started off really hot as a freshman, but I think the last couple years she felt this weight and pressure to try to get goals, and I think that's counterproductive for her. I think she's trying to play with a little more freedom."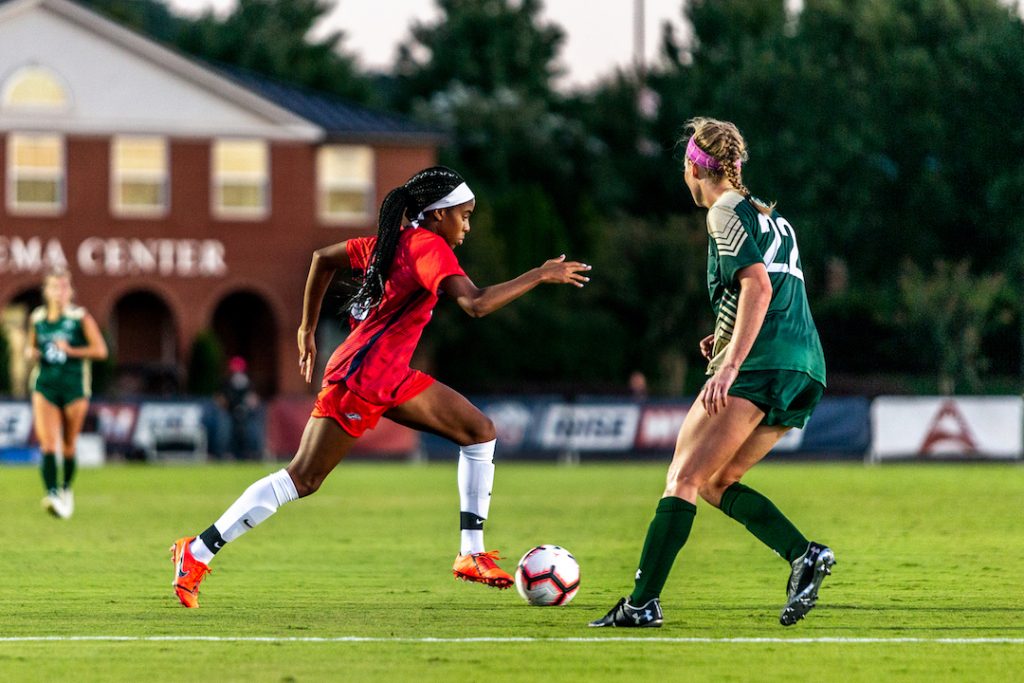 Neef's goal at the stroke of halftime changed the pace of the game, sparking William & Mary into action and leaving the midfield open to Liberty attacks after some halftime adjustments, Neef said.
"Our team is very good at adapting to different situations, and I thought we read the game really well," Neef said. "We just had to adjust to what we needed defensively to make a stronger pocket, close down quicker and take better touches."
Determined to extend their advantage, the Lady Flames jumped into the second half with aggression, and five minutes into the half William & Mary duly provided them with an opportunity when Tribe goalkeeper Maisy Fling missed a punch from a corner, letting the ball slip under her into the net for 2-0.
Almost straight from the kickoff, Farrell capitalized on a mix-up between Fling and her defender to tap into an empty net for Liberty's third (and Farrell's first of the season).
"Being able to get that (first) goal boosted our confidence a little bit going into the second half," Farrell said. "It pushed our momentum going forward, having confidence to score and take people on – I think it was really big for us going into the second half."
When Zoe Gaffney's cushioned shot rippled the net in the 70th minute for 4-0 thanks to another defensive error from William & Mary from a free kick, the game seemed over.
But the scoring was not, and Wedemeyer soon stood frustrated on the sidelines as his players began leaving defensive gaps. The Tribe threatened twice before midfielder Renee Kohler whipped a cross across the box for forward Alex Kuhnle to poke past Jayroe for 4-1 in the 75th minute.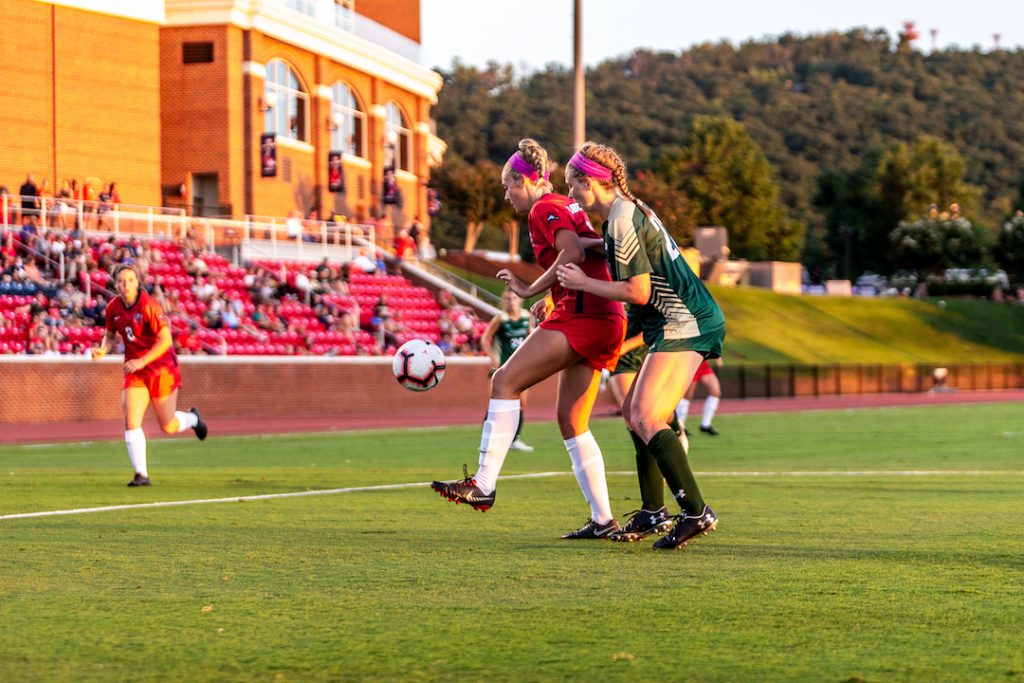 A simple finish at the near post from forward Kayleigh Shackford pulled another goal back for the Tribe just before fulltime, but the referee blew his whistle before more damage could be dealt. Though the Lady Flames ultimately won by two goals, Wedemeyer knows that in late-season games against punishing ASUN teams like Lipscomb and FGCU, Liberty will need to tighten up in high-pressure situations. 
"I think it comes down to leadership, just being composed and leading in certain moments, and for players to take a breath and play a little bit faster and more precise to solve some of those problems," Wedemeyer said. "In the end they know what to do – they just have to find a way to execute under pressure." 
The Lady Flames tied 1-1 against Old Dominion Sunday in their second home game of the season after two periods of overtime. Farrell added her second goal of the season to score Liberty's only goal of the game.
Liberty's next game will be against George Washington Thursday, Sep. 5.