Liberty University student section dresses up in red for the football season opener
In a night that made history, the Liberty University football team faced off against Syracuse for the first time with the newly-named Liberty LUnatics student section joining the crowd of 21,000 cheeringthem on.  
This marks Liberty football's first match up with a top 25 team, and students came out in record numbers. 
"Yesterday we had the largest student attendance in school history for a tailgate," Matt Grady, Liberty's student director of athletics and Liberty LUnatics president, said. "Even though the game didn't go as well as we would've wished, the students still made Saturday an absolute party."
It was a sweltering day for college football, but nothing stopped the mass of students from congregating on the Academic Lawn for the first tailgate of this kind thanks to the efforts of the Student Government Association (SGA) and the new Liberty LUnatics.
"The idea (of the LUnatics) came from Derek Rockey, the (student body president)," Grady said. "(Rockey) just really wanted to see a student-led organized student section and try to start a culture here."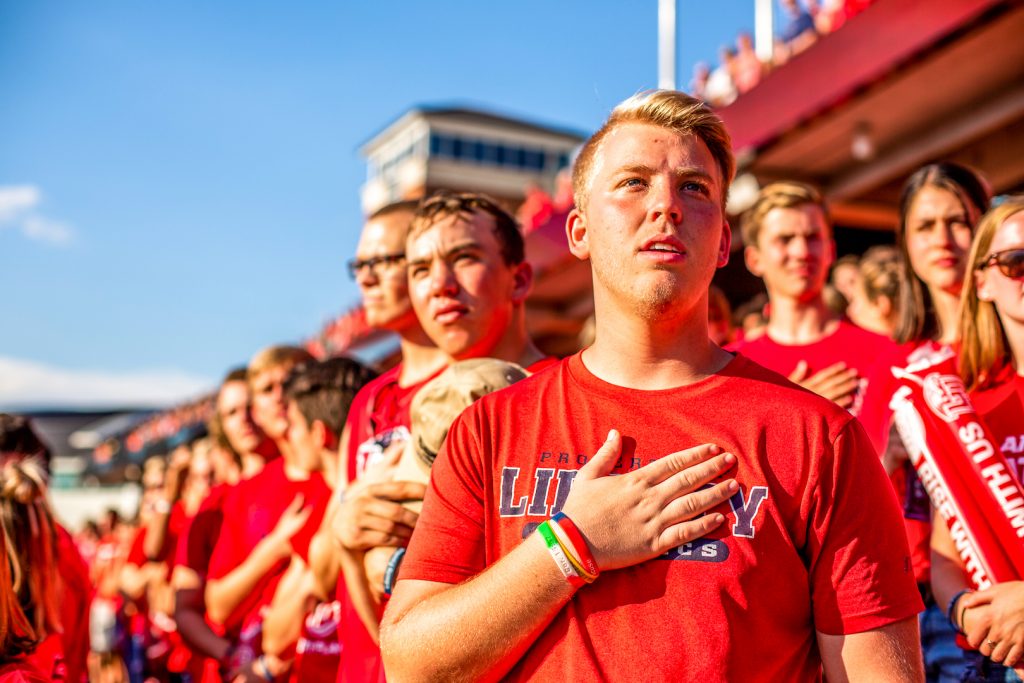 Despite gaining inspiration from SGA, the Liberty LUnatics student section is an entity of its own. Their leaders function independently and coordinate with the residence halls on campus, SGA and Liberty Athletics to put together what they hope is the best gameday experience.
SGA provided the layout and atmosphere for residence halls to host their own tailgates, fostering a more unified tailgating experience.
"We listened to all the RA responses, and they said that they really wanted to do their own tailgate," Grady said. "We think it's really cool at Liberty how we have hall unity, and that's a super rare thing for a school. So, we're just trying to capitalize on that."
The tailgate on Saturday hosted all the halls on campus on the Academic Lawn, and students came together for a car smash. This offered the students a home-base tailgate to start the afternoon and also the ability to circulate to old halls and new friends.
"I love it," Liberty student Jacob Creedle said. "It's awesome having all the students together and much better than how it used to be when everyone was divided. I'm on the Circle and we're (tailgating) right beside my friends on East (campus), which wasn't really possible before."
After the tailgates wrapped up around 4 p.m. and the doors opened to the stadium, the red sea of students migrated across campus to Williams Stadium together. Jerry's Jokers were front and center with their painted arms and legs dangling over the stadium rails and the student section jam-packed behind them chanting "Fan the Flames."
"It was so cool seeing students grilling, playing spike ball and meeting people from all over campus," Grady said. "Then seeing all the students go to the game early and build hype and sell out the student section was so awesome. The Jokers were louder than ever, and it was so cool seeing every student decked out in Liberty red."