Liberty students pitch original business ideas at Spark! Tank to win $1,000
Five student-run companies pitched their original business ideas Thursday, April 25 at Spark! Tank, culminating with one student winning $1,000 for his idea of swimming trunks with waterproof pockets.
Alan Sexten, founder of Vortix Apparel, won the prize for best pitch. The other competitors were Eric Garland and Gage Payne with Voici, Hannah Thompson with Llamas and Lullabies, Lillian McSweeney with Happy Lilies Crochet, and Brady Bortka with Brainchild.
There was also a marketing video competition for a chance to win $500, which Maurice Victor won with his company Seven x Seventy.
These companies participated in the eight-week Spark! Incubator program, where they were able to work through their ideas and turn them into a reality.
"The key to this program is really the mentorship, and so it's taking your ideas, it's taking everything that you've learned in college, it's taking everything as you've grown up and executing," Alex Barker, the assistant director at the Center for Entrepreneurship and leader of this program, said.
This year, the incubator program began with 32 applicants and ended with 17 students in the program. The top five student-created companies were chosen at a pre-pitch event to be featured at Spark! Tank.
At the event, each company was given five minutes to pitch their idea and five minutes to answer questions from the four judges.
Each of the companies also earned a percentage of $1,000 from a community vote, which audience members voted for using tokens.
The judges this year were Abigail Daniels of Dawn and Dusk Donuts, Jack Edma of Rendez-Vous, Rusty Goodwin of Carol's Place and Jonathan Brake of Market Hope.
The judges chose Sexten's company as the winner because of its scalability and the progress he has made in making the company a strong reality.
"He has taken his idea all the way from (simply) an idea to getting sourcing, manufacturing, getting everything from the ins and outs of what does the prototype look like," Barker said. "He has created a prototype and actually demonstrated it (at the event)."
Sexten's idea of waterproof pockets began when he was a lifeguard over the summer.
"As a lifeguard, I heard reports pretty much every day of people losing their phones or their phones being stolen," Sexten said.
Then when his sister's phone was stolen, he knew he had to come up with a solution.
He heard about Spark! Tank and the incubator program and got in contact with Barker in the fall. Between his initial conversation with Barker and when he joined the program, Sexten was able to develop the prototype.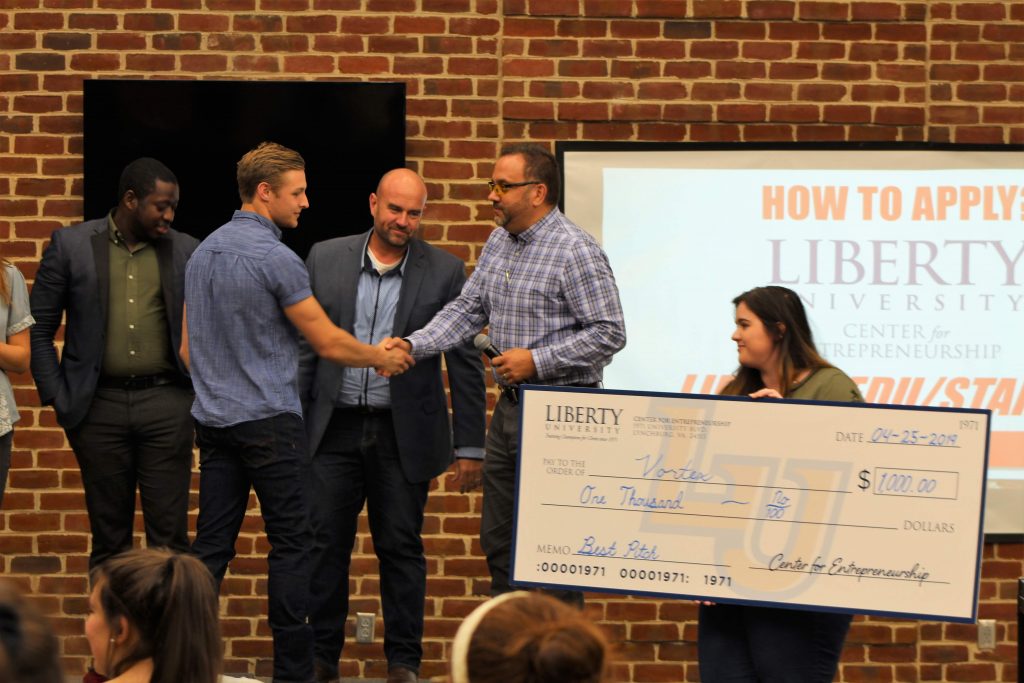 Through the program, Sexten was mentored by Edward Giard, former vice president of licensing and accessories for Under Armor, and Michael Lovell, a patent lawyer and attorney in Lynchburg. He also spoke with professors in the School of Engineering, who helped him design the prototype.
During the incubator program, Sexten performed 370 surveys around campus and back home to gauge what people would want in the product.
Working with Clothier Design Source in Minnesota, he will have a finalized prototype by Aug. 1, and will start a 90-day Kickstarter May 31.
He hopes to use the prize money for the Kickstarter for marketing, shooting promotional videos and giveaways.
In the future, Sexten hopes to incorporate waterproof pockets into fanny packs, fishing vests, adventure shorts and more.
Sexten encourages anyone with an idea to be bold and put it out there.
"A lot of people are too afraid to share their ideas, whether it be they think they are just stupid or, more specifically, they think people are going to steal their idea," Sexten said. "So, I would just tell people to get out of their comfort zone."
Barker has loved seeing the impact the program has on all students who take part and the lessons it teaches.
"At the end of the program, some will continue their businesses, some won't, and that's totally fine because at least during these eight weeks we've helped them grow personally, spiritually, mentally and grow the person so that no matter what they do, they will be successful," Barker said.
The Center for Entrepreneurship encourages students of all majors and fields of studies to seek mentorship for business endeavors.
"We deal with all students across campus," Barker said. "Whether it's just an idea, we are here to talk with (students) and really kind of push (students) into the right direction."
Sexten has been putting in the work, but ultimately, he is reliant on God.
"If God wants me to do it, he'll let me do it," Sexten said.