Liberty flames lacrosse team defeats Arizona State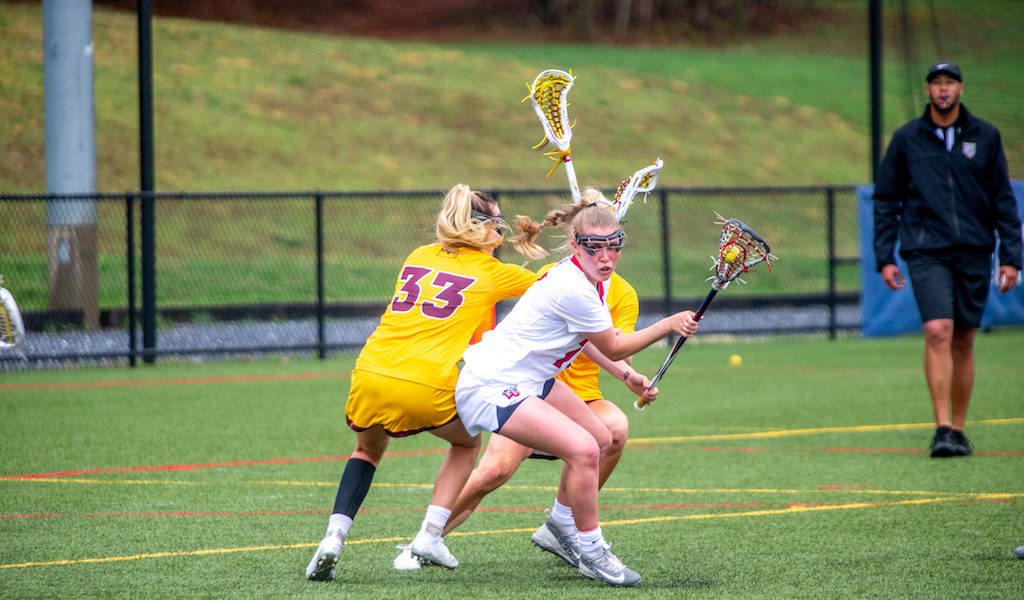 Three Liberty players left the field with hat tricks Friday afternoon, April 12, as the Flames women's lacrosse team showed its attacking depth, outscoring Arizona State 6-2 in the second half to pull away for a comfortable 14-7 win.
With their seventh consecutive win, the Lady Flames improved to 11-2 (3-0 in conference) for the first time in program history.
Though ASU (4-10) threatened a comeback early in the second half, Liberty attacker Kayla Foster responded with two crucial goals within three minutes after scoring her 100th goal for Liberty earlier in the game, handing the Lady Flames a four-goal buffer they would hold for the rest of the afternoon.
"We went into halftime talking about how they were winning all the 50-50 balls and getting all the hustle plays, and that's not usually what we do — we don't give those up," Foster said. "I just wanted to kick (the game) into the next gear."
The Sun Devils restricted Liberty to only 13 shots in the first half, but the Lady Flames clinical shooting edge catapulted them into a scoring streak ASU struggled to match.
Attacker Anna Keebler completed the game's first hat trick within 11 minutes of the opening whistle, scoring three of Liberty's first four goals. Drifting into the 12-meter fan with less than 10 seconds left on the shot clock, Foster played a simple pass for Keebler to smash home her third goal
for a 4-1 lead.
Though ASU won nine of 14 draw controls in the first half, the Lady Flames scored eight of their 13 first-half shots to carry an 8-5 lead into halftime. Sloppiness in possession concerned Head Coach Kelly Nangle throughout the half, but she knew her players held an edge going into halftime.
"Our shooting this year has been kind of up and down, and we didn't get a lot of shooting opportunities in the first half because we weren't really being smart with our possessions," Nangle said. "So, I'm proud of how we shot – (if) we don't shoot well in that first half, they're winning at halftime. I'm excited that we were able to take advantage of the few opportunities we had."
Coming into Friday's game, ASU attacker Kerri Clayton had scored 11 goals in three games according to ASU's website. But Liberty goalie Katherine Widrick proved equal to everything Clayton sent her way, keeping Clayton scoreless and making a career-high 13 saves, according to Liberty's website.
"I think I was just seeing the ball well," Widrick said. "My coaches have been working with me outside of practice, and some of the girls have been coming out and shooting on me, taking extra reps, and (I've) just been putting in the work."
Coming out of halftime, however, the Sun Devils struck first, taking the score to 8-6 four minutes into the period. Liberty's hold on the game seemed in danger until Foster surged up the field 26 seconds later, blasting a shot past ASU goalie Berkeley Bonneau with an upward flick of her wrists to restore Liberty's three-goal advantage.
Three minutes later, Foster added her third of the night to effectively put the game beyond ASU, highlighting the importance of upperclassmen like Foster to Nangle's growing program.
"I can't say enough about Kayla," Nangle said. "She has this really calm confidence about her that oozes onto the rest of our team and especially some of our underclassmen, and I think we have a lot of upperclassmen that play these really consistent roles … that are very consistent and can make big plays for us. We don't just rely on one person to do that, and I think her (Foster's) quiet confidence makes everybody around her better and calmer."
After Liberty midfielder Brianna McCaffrey scored a minute later, the game's pace began to slow and fouls increased.
ASU's Olivia Hood received a red card late in the second half, and by the end of the game, Liberty had collected five yellow cards to ASU's two. Nangle is willing to accept the risk that the Lady Flames physical style
carries, however.
"We're very aggressive; we push the pace, and it also causes our team to be a little out of control, and we have to work on that – just being a little smarter in the moment," Nangle said. "I think we were slower, and that created more fouls, and like I said it's just our style — but we have to clean it up a little bit."
As the game's action closed out, ASU added one more goal while up two players on Liberty. Midfielder Carly White scored her third goal of the afternoon from a free possession shot to complete Liberty's third hat trick of the day, and McCaffrey and Emily Browne both tallied to
round off the scoring at 14-7.
Foster knew that keeping the mental edge from their performance would be crucial to a victory in their ASUN first-place duel with Jacksonville Sunday, April 14.
"The first half we started off slow, and we can't do that anymore," Foster said. "The season's coming down to the wire, and we just have to go play for a full 60 minutes. It was good to have this win under our belts. … I think we can use that momentum and take it into the weekend."
The Lady Flames went on to a 19-6 loss at Jacksonville Sunday, April 15. Their next and final home game will be Friday, April 26, when the Lady Flames host Howard University.