At only 5'7", men's lacrosse senior stands tall and dominates the competition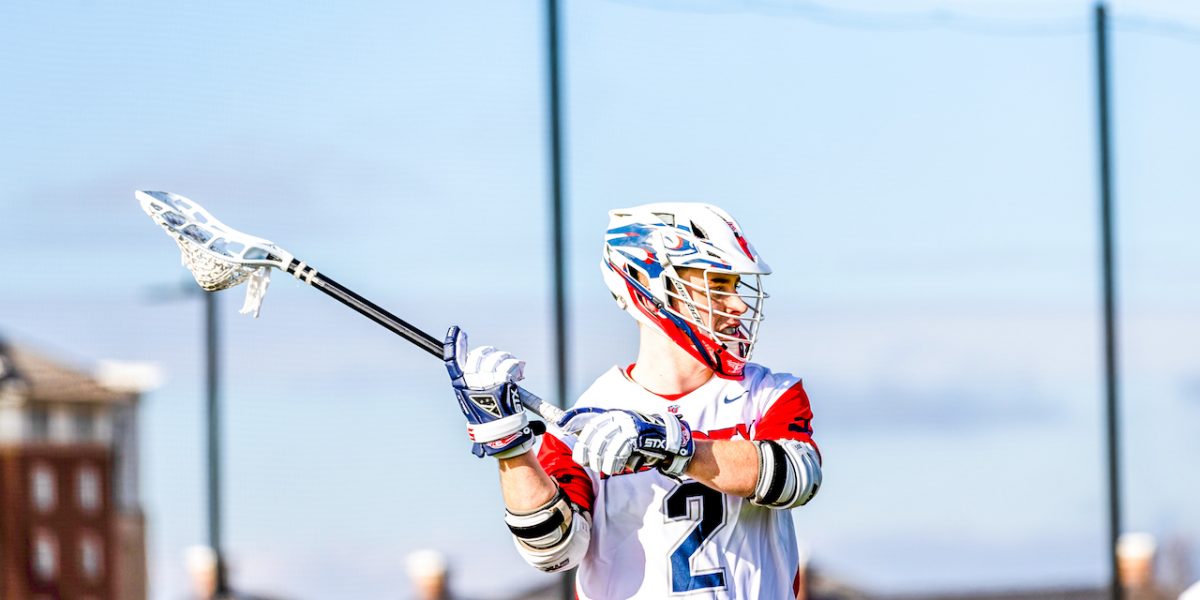 At 5-foot-7, senior attackman Sam Gregory is shorter than all but one of his Liberty University Flames men's lacrosse teammates.
But his diminutive stature has not prevented Gregory from standing tall in crucial moments for the Flames over the past four years.
The most recent example: Gregory scored twice, including an instrumental second-half goal, in a hard-fought 9-8 victory at the Virginia Tech University Hokies Saturday, April 20.
"Sam's always been a clutch performer for us," Liberty Head Coach Kyle McQuillan said. "He's just been one of those guys where, when we need a goal, when we need somebody to step up, especially in game-time situations, he's been that guy for us."
The win over the rival Hokies clinched the men's lacrosse program's first-ever undefeated regular season at 14-0.
The Flames, ranked No. 3 in the Men's Collegiate Lacrosse Association, compete in the South Eastern Lacrosse Conference playoffs April 26-28. Depending on the results, Liberty may advance to the MCLA National Championships May 6-11 in Salt Lake City, Utah.
It would be the second consecutive trip to nationals for the Flames, who defeated No. 8 seed Concordia University in the first round last year and then lost to No. 1 Chapman University 11-10 in overtime in the 2018 quarterfinals.
"It's definitely kind of left a bitter taste in our mouth over the course of the year," McQuillan said of the close loss. "But I thought last year was a great
opportunity because it encouraged the guys and reminded them … we can be successful at a national level."
Since falling to Chapman, Liberty started a win streak that has lasted almost an entire calendar year.
Gregory's contributions have been key to Liberty maintaining an unblemished record in the regular season, as he was the team's second-leading scorer with 33 goals and 27 assists in 14 games.
"He's definitely one of the lynchpins in terms of our success," McQuillan said. "Not only this season, but in the past four years."
Gregory, who is majoring in business administration and finance, joined the Flames with leading scorer and senior midfielder C.J. Nichols four years ago. The duo, along with the rest of that freshman class, developed into the core that propelled this year's squad to an undefeated regular season.
"We've got a big senior class, but they've all played a significant role this season in what we've been able to accomplish," McQuillan said. "But it's taken some years to build up toward this and every season's gotten better and better."
The Flames narrowly missed the 16-team field for nationals twice with records of 9-4 in 2015-16 and 8-7 in 2016-17. Last year's edition of Liberty men's lacrosse finished with an overall mark of 9-6, including the postseason.
While remaining unbeaten in 2018-19, Gregory said that team chemistry has been especially crucial as the Flames have handled deficits and other moments of adversity as a mature, cohesive unit.
"Team bonding has been one of the areas as a lacrosse team … we've been able to improve a lot as we had a young class coming in here (with) a lot of sophomores and freshmen," Gregory said. "We've played together now for about three years, so that's really helped us play well."
Liberty has escaped with four wins decided by two goals or less, including an intense 12-11 home win over the University of South Carolina
Saturday, March 30.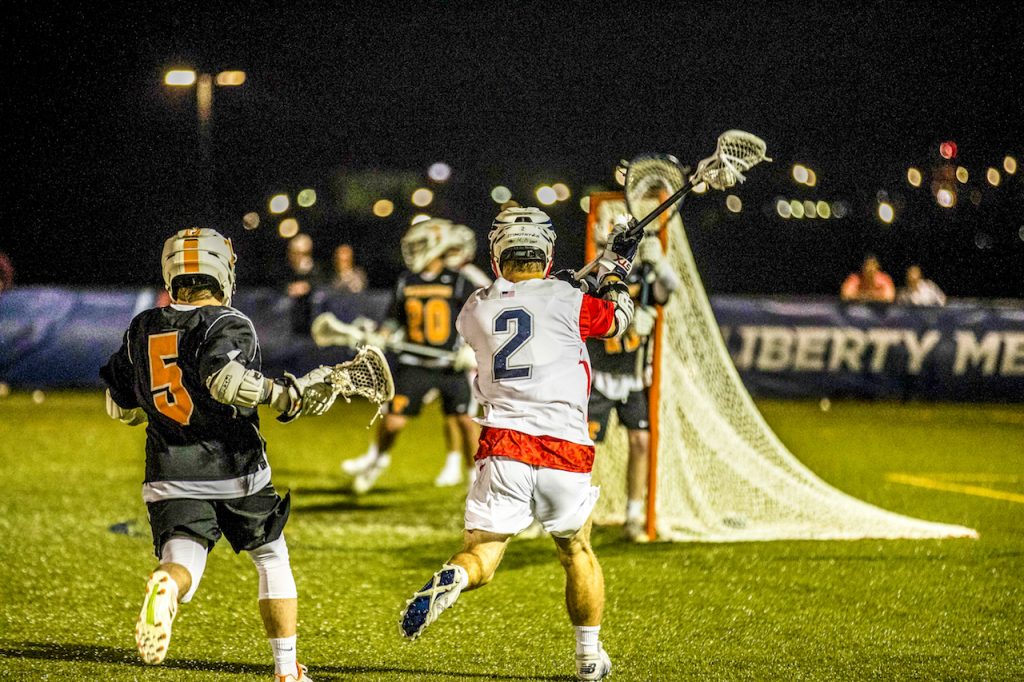 Gregory netted late goals that tied the game at 10-10 and 11-11 before Nichols scored the game-winner with nine seconds left. Gregory called the victory a season highlight.
"We've lost to them the past couple of seasons, so having a late, dramatic comeback is always really fun," Gregory said. "It's why you play the game. To get that win on home field is really special."
In addition to involving himself in the most critical moments on the field, the Flames have come to rely on Gregory as a team leader leaving a positive impact on the program.
McQuillan said that while he is proud of the strides Gregory has made as a playmaker, he is more impressed with Gregory's maturity and growth since the 5-foot-7 attackman first put on a Flames uniform.
"We're happy that his lacrosse abilities have increased over the past four years," McQuillan said. "But we're more impressed with the man that he's become over the last four years."