Liberty University brings in veterans and political speakers for conference

Actor Gary Sinise, who played Lieutenant Dan in "Forrest Gump," fought back tears as he expressed his gratitude for veterans and active military during the Conservative Political Action Conference (CPAC) March 1 in the Vines Center at Liberty University.
"God bless our service members," Sinise said after a long pause. "We could never do enough for the men and women (in our military)." 
Sinise is the founder of the Gary Sinise Foundation, an organization that serves veterans, first responders and their families, according to its website.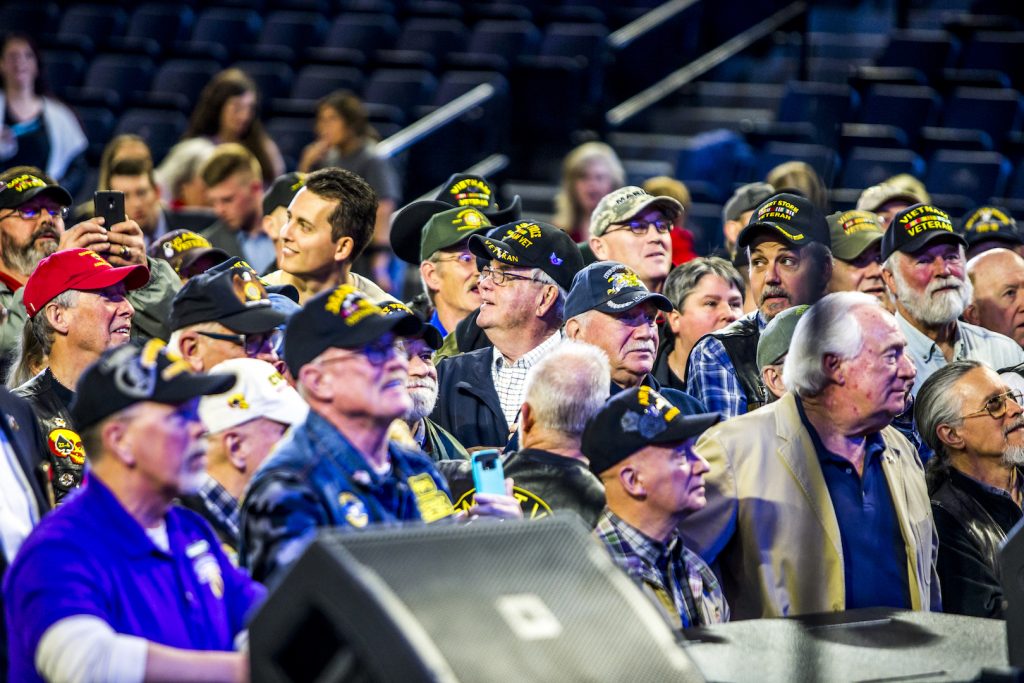 Although political in nature, CPAC at Liberty dedicated the second of two segments to veterans and active military. Steve Chealander, retired colonel and former Military Aide to Ronald Regan, and Sergeant Edgar Harrell, one of the last survivors of the USS Indianapolis, made appearances prior to Sinise.
"I have read some books before on the sinking of the USS Indianapolis, so I was generally aware of the story," Liberty junior James Nyberg said. "However, hearing the perspective of Edgar Harrell … was incredibly insightful and inspirational."
Harrell, 94, detailed his formidable experience after Japanese torpedoes struck and sank the USS Indianapolis in 1945. Harrell was among the few who survived hunger, dehydration and preying sharks for five days in wide-open sea.
"It was much easier to die than to live," Harrell said at the podium. "We were desperate."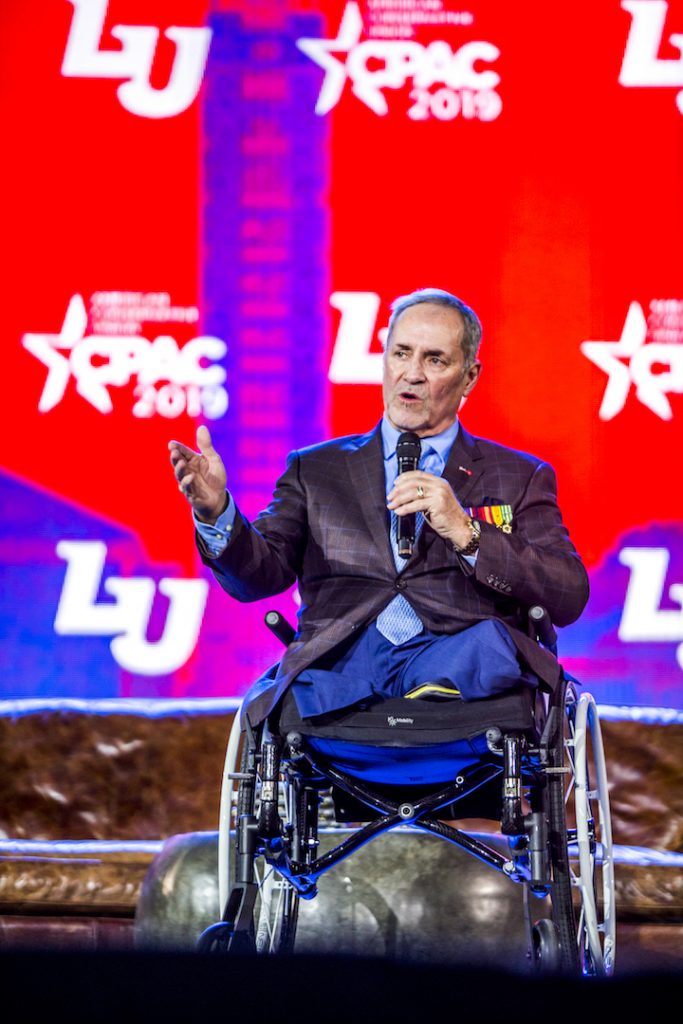 More than 800 sailors had survived the Japanese attack, but that number slowly narrowed to 317 when over the next four days, hungry sharks circled and attacked the struggling survivors.
Several sailors suffered salt water poisoning after trying to quench their thirst with ocean water. Many hallucinated and swam away, only to get torn apart by sharks.
"I was so inspired by (Harrell's) leadership, strength through adversity and beyond anything else, his knowledge of God's presence that allowed him to go through such an ordeal," Nyberg said. "I could tell he was a Marine."
Local veterans were invited to the front of the stage for pictures, following Sinise's segment. Marine veteran Laron D'Shannon said he was impressed by all the college students in attendance who patiently listened to the veterans' speeches.
"I think they should just be young, (happy) college students, that's part of why we fought," D'Shannon said. "At the same time, it's important not to be dismissive. These are ordinary people who've done extraordinary things. It's hard for a 19-year-old to grasp that." 
To open Liberty's CPAC, Donald Trump Jr., Political Commentator Charlie Kirk and a special live-stream appearance from Vice President Mike Pence greeted Liberty's Convocation.
Pence's speech was live-streamed from Washington D.C., at CPAC's main venue, where he announced he would be Liberty's 46th Commencement speaker.
"I thought it was very important that (Pence) echoed what the president said: that America will never be a socialist country," T. Sutton Roberts, a sophomore government politics and policy student, said. "I'm also excited for him to come to Commencement."
As its name implies, CPAC was also a conservative political conference. Liberty's CPAC, however, was divided into two segments: political engagement and honoring veterans and active military. Each segment lasted 3-4 hours.
"I am grateful that Liberty has committed itself to standing for conservative politics and providing opportunities such as this," Nyberg said. "I thoroughly enjoyed hearing from all of the speakers Liberty brought in."
Former Press Secretary Sean Spicer, Virginia Representatives Ben Cline and Denver Riggleman, and Kentucky Governor Matt Bevin all made appearances during the first segment.
Musical guest Zachary Radcliff performed his new song "I'll Stand" twice during the event. Several local veterans saluted in appreciation and respect while the music played.
Attendees also received tickets for door prizes upon entering. Numerous scholarships were given, and a lucky winner took home a new car.
"There are very few places, universities especially, that would even have an event like this, and that's a shame." D'Shannon said. "I still am not quite sure what to do when somebody says, 'Thank you for your service.' Seeing so many of the young kids coming up to me today was really special."