Liberty University's Forensics Speech Team competes in last regional tournament of the season Feb 8-9
The Liberty Forensics Speech Team competed in the last regional tournament of the season at Gaston Day School Feb. 8-9, bringing home 11 individual awards and clinching the third-place spot.
With 84 awards already under their feet, the team has two national tournaments on the schedule for March.
Sharpe, Evan Young, Lily Mathes and Kay Wills will be attending the National Christian College Forensics Invitational at Kansas Wesleyan University March 13-16. Junior Peter Lundrigan will be attending the Phi Kappa Delta National Tournament at Hofstra University March 20-24, which will be the school's first appearance at this tournament.
However, their successes go far beyond their results in tournaments. While their February performance closed out many senior seasons, the win proved the seniors have passed along the torch to a qualified group. 
Sharpe, an oral interpretation speaker, expressed excitement for the future of the team, saying the seniors will be "leaving the team in capable hands."
One of the newest members, Amber Lambie, placed first in poetry interpretation at Gaston Day School. This was only her second tournament with the team.
Coach Denise Thomas said the team is "really a wonderful, healthy, strong community," explaining how the students challenge one another to grow as speakers and as children of God. She beamed as she said, "I love watching it happen."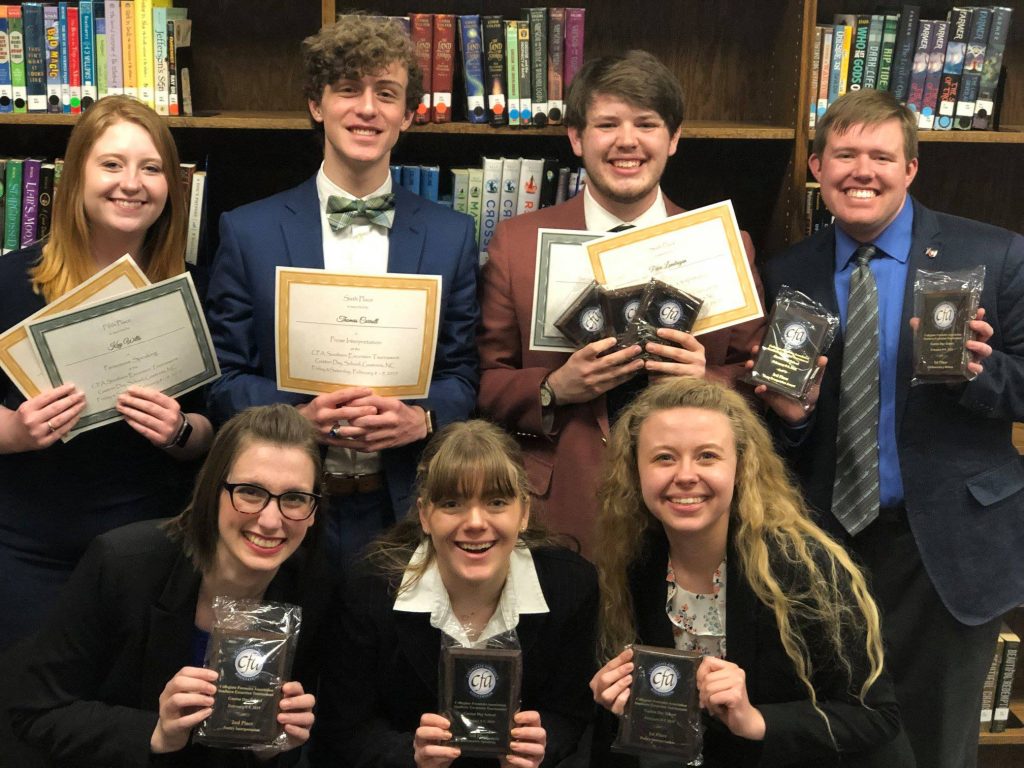 "We do better as a family," Lundrigan, a limited preparation and platform speaker, said in response to the successes of the team.
Team members use the platform to discuss issues that are important to them. This season, topics have included Amelia Earhart, the use of music and art to reach people with dementia, finding forgiveness and compassion in a divided nation, Dungeons and Dragons therapy, and others. 
"(Forensics) gives me this small window of time to tell (the audience) that there is just genuinely something out there that I would love for them to know about," Lundrigan said.  
Beyond that, the team feels they are able to spread the love of Christ in some unusual ways. In speeches, team members have been able to share gospel messages.
Even if they do not directly state the gospel in their performances, Sharpe said the team is "encouraged to find pieces with truth and light so that we can share a message that is unique in forensics culture."
Even when talking about the darkest subjects and stories, they try to find a light to give a hope that secular schools tend to leave out.
In order to share these messages, it is really all about the relationships they form with other teams.
"Because we come in and just befriend them, (other teams are) willing to listen to us in a way they would never listen to anyone else," Lundrigan said.
The Forensics Team will be hosting events on campus for anyone interested in learning more about the group.
The team also meets on Tuesdays at 5:15 p.m. in Green Hall 1346, and all are welcome to join, regardless of major or experience.  
More information about the team's upcoming events can be found on its Facebook page, @luspeech.