Female veterans gather at annual Empowering Female Veterans event Feb 23

It was a patriotic day Feb. 23 as female veterans of all ages and backgrounds gathered at the American Legion Post 16 for the fourth annual Empowering Female Veterans event, hosted by The American Legion Post 16 of Lynchburg.
A time dedicated to honor each other, share experiences and build relationships, the event was filled with laughs, tears and newly-made memories.
Local veterans, families and care givers, began to file in for the event at 9 a.m. and sat at tables decorated with patriotic artwork, wrist bands, notebooks and poppy corsages.
The opening ceremony began at 10 a.m. with a posting of colors and Pledge of Allegiance by the Heritage High School JROTC, followed by a greeting to the women from Gordon Farmer, the Commander at the American Legion Post 16.
"All of you are special," Farmer said. "You are veterans. Today is your day."
The morning continued with a word from former U.S. Army Reserve Force Colonel and current Army Reserve Ambassador Lettie Bien. Bien, whose military career spans over 30 years, was asked to share her story of how she enrolled.
Mikaela Stiner | Liberty Champion
"It isn't so much about my experience, but our collective experience as women," Bien said.
The women laughed as Bien told a story of how she entered the military on a dare given to her by a coworker who was a former medical technician in Vietnam.
"She said, 'You know Lettie, I really could have used you when I was in Vietnam. You would have made it so much more okay,'" Bien said. "I said, 'You know what? Maybe I'll join the Army,' and she said, 'Lettie, I dare you.' I am here to tell you that I went into the Army on a dare."
After sharing her own experience, Bien asked the women to stand and share some of their own stories.
The rest of the morning included a mindfulness session led by Nenden Stillman-Runyon from the Salem Virginia Medical Center. All women were asked to close their eyes and relax.
Before lunch, there was a recognition ceremony where women from each branch were called up to the front of the room, as well as a POW/MIA toast of remembrance to pay tribute to prisoners of war and those who are still missing in action.
A buffet-style lunch and time of fellowship was followed by a quilt of valor ceremony that recognized five veterans, including Lynchburg Mayor Treney Tweedy, a veteran of the U.S. Navy.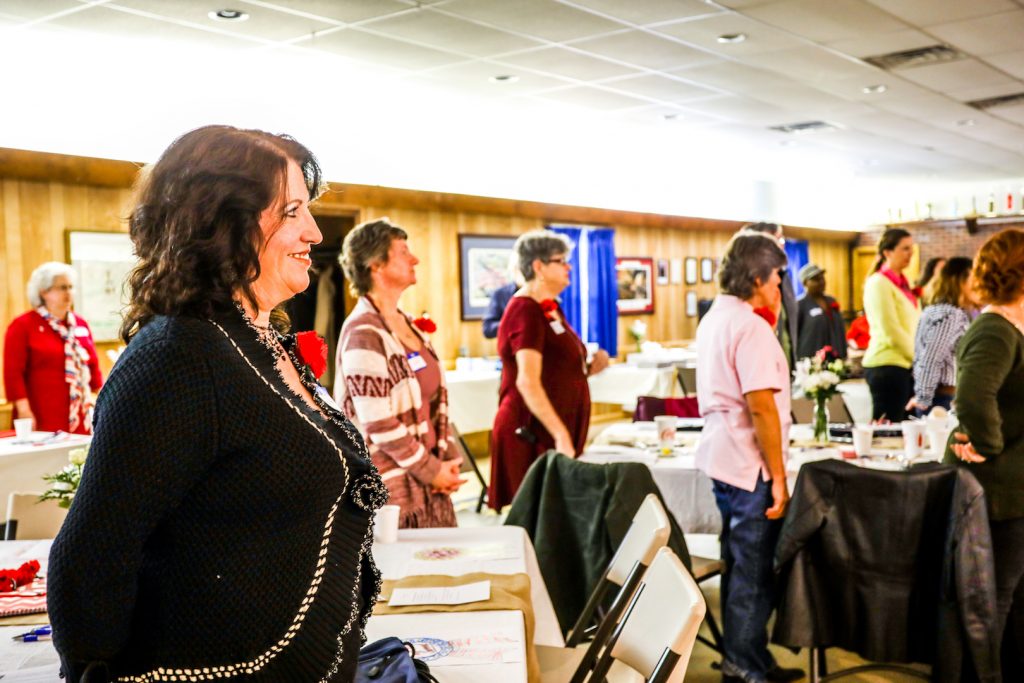 Tweedy later spoke about her experience in the military and the quality of teamwork that comes along with having served.
"In the military, it is survival to get along," Tweedy said. "I think we bring so much to the table."
She also took the time to recognize black female veterans, in honor of Black History Month.
To wrap up the afternoon, Longwood professor Dr. Michael Lund, the director of Home and Abroad, a free writing instruction program, came up to speak about a special opportunity for the veterans to write stories of their experiences.
"The story is in you, and however it comes out, I am thrilled," Lund said.
Each packet the women received on their way in included a blank sheet of paper on which Lund encouraged them to begin writing their stories.
The event closed with the distributing of raffle prizes, as well as a final prayer.