Men's basketball team features players ranging from 5'9" to 7'2"

The Liberty Men's Basketball team opened its season Thursday, Nov. 8 against the University of Maine at Fort Kent. During that game, something that struck the eye was the size difference between a couple players on the team. Between their tallest player and shortest players is nearly a foot-and-a-half difference.
Brendan Newton, a redshirt freshman center, is listed at 7-foot-2, 235 pounds. Zach Farquhar is a senior guard listed at 5-foot-9 and Darius McGhee is a freshman guard listed at 5-foot-9, though Head Coach Ritchie McKay says he is 5-foot-8.
"They compete every play and they work hard," Newton said of Farquhar and McGhee.
He said their heart and hustle make up for their size. Newton said they can run and they work their hearts out. Because of this, sometimes you don't even notice the size difference because they are making their presence felt on the court despite their size.
Diving on the floor, taking charges – things that can change the nature of the game – is how McGhee and Farquhar adds to the dynamic of the team, according to Farquhar. While they lack in size, the Flames can use that to their advantage, using McGhee and Farquhar as decoys and for the scrappy plays needed at certain points in their games.
"I'm trying to mainly lead by example" Farquhar said. "I think for a lot of people it's easy to tell younger guys how to do it and what to do, but it's another thing to be able to show them how to do it, just by your habits every day, how you live your life on and off the court."
Farquhar does not let his size be a burden but uses it to his advantage in everything he does. He wants to be an example on the court, showing hustle and good habits, being a light in everyday life. Farquhar played for Cincinnati and came to Liberty his
sophomore year.
On the taller side of the spectrum, Newton is one of the taller men's basketball players in the country, and he said his size can be an intimidating factor, but it can also be used to be a tall, physical force.
"I'm only able to strike fear if I'm able to compete and get play time," Newton said. " … That's all up to me – it's not the coaches – it's up to my buy-in and how well I'm competing. So, I think if I'm able to do that, I definitely think that's going to make an impact."
Newton, whose parents were both liberty graduates, redshirted last year, so he had a year on the bench, being able to sit back and learn from the team. He said he learned a lot and that it helped him out mentally.
"For me, sometimes, it's just slowing down," Newton said. "That's the biggest thing I had to learn… One play at a time. Don't let everything come to you so fast. You know, just let the game come to you."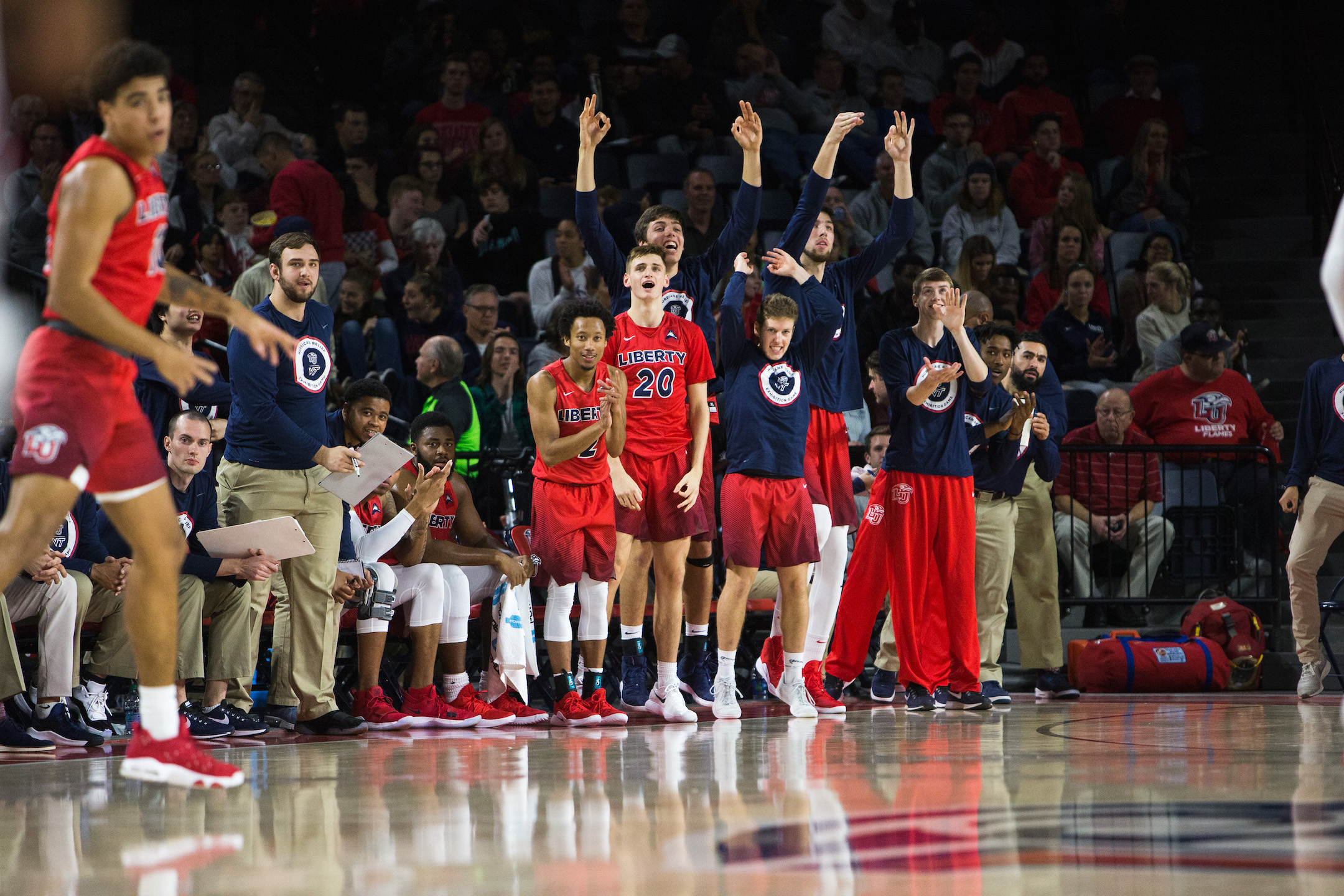 And while Newton is not sure how much, if any, play time he will get this year, he is ready for every opportunity that comes his way. He is working toward getting himself in a prime condition for playing.
As a whole, the team is ready for this season. They want to get past the heartbreaking end to last season and get themselves in a good position to win the Atlantic Sun Conference in their first year in the conference. Newton said the in and out of conference schedule will be a great challenge and test for the team this year, with teams like Florida Gulf Coast and Lipscomb bringing in different competition for the team this year.
"Every game is as important as the next, especially for us and what we're trying to do," Farquhar said. "We don't wanna look over anybody or underestimate any of the opponents, just because we know that in order to win a championship you gotta beat the best in order to be the best. So, we're just trying to get the most that we can out of every opponent for sure."
The team is ready for a new test this year, facing many new teams both in and out of conference. They also have the same end goal as last year, wanting to win a conference championship and make it to the Big Dance.
"Well I think as a team, collectively, obviously the end goal is to win a championship," McGhee said. "But I think for us we take it one day at a time. I think if we can improve on getting better one day at a time and trusting the process, that our end result will be what we want."
While the team hopes to win an ASUN Championship, they know that it cannot happen today. The Flames will take it one day at a time and not take any teams for granted. They are looking to make it to the NCAA Tournament in March for the first time since 2013, when they won their last Big South Conference tournament.
The Flames quest to win the conference tournament and return to the Big Dance continues tonight, Nov. 13, at home against Trevecca Nazarene at 8:30.