A ticket to Broadway
The University Choir, comprised of over 300 voices, surged through "Do you Hear the People Sing," letting the final chord soar through the music hall into silence before carrying on with rehearsal.
During Homecoming weekend, the choir will combine with traveling tenors, local alumni and the Liberty University Symphony Orchestra for a concert of Broadway classics.
Dr. Vernon Whaley, dean of the School of Music, cast the vision for a concert he called spectacular fun. Last year the School of Music homecoming concert premiered the musical "Amazing Grace."
"We wanted something that was going to be every bit as good," Whaley said. "And so, we decided to do an evening of Broadway."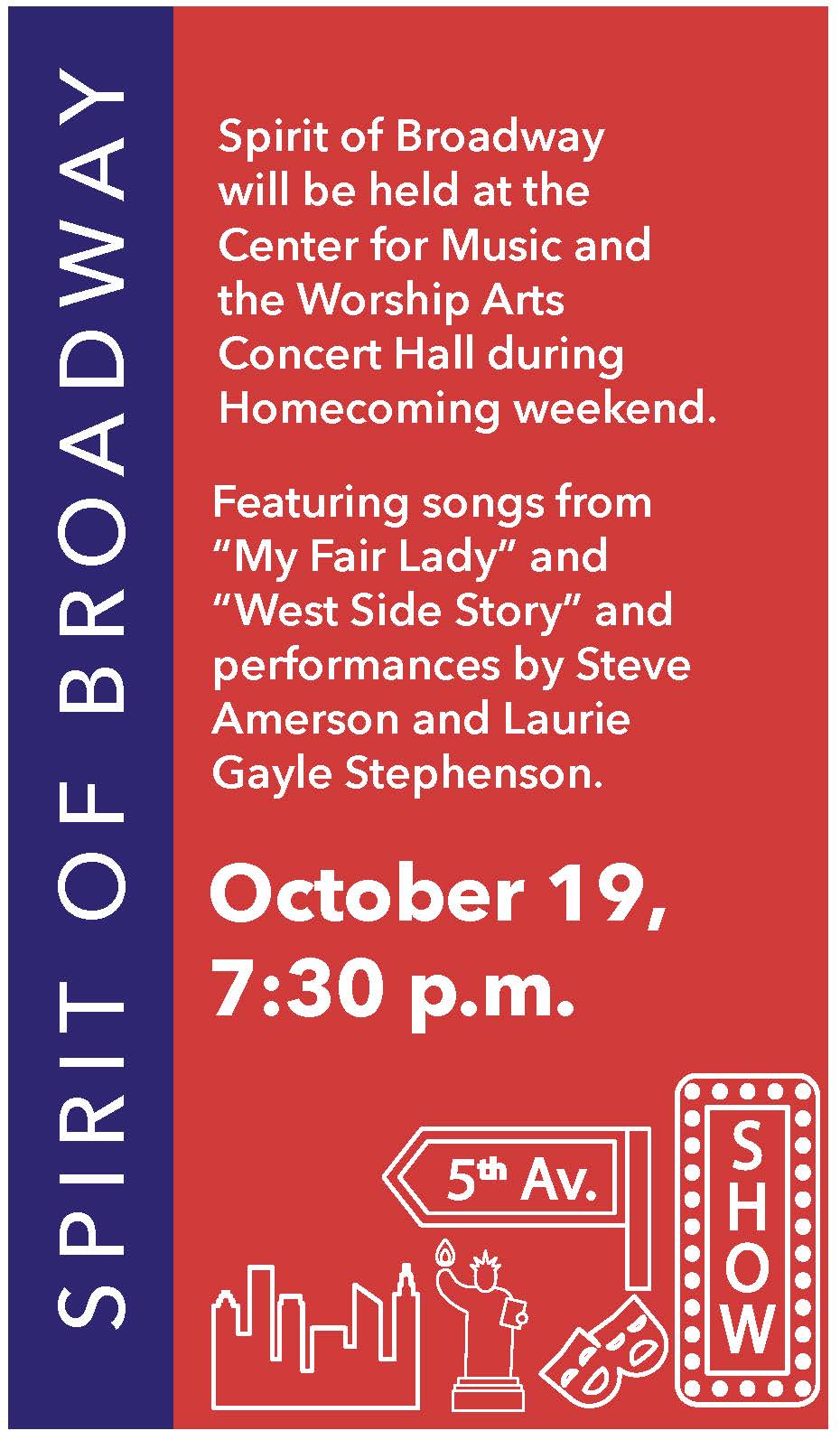 The concert will feature Steve Amerson and Laurie Gayle Stephenson singing
standards from musicals such as "My Fair Lady" and "West Side Story." Amerson has sung for almost 200 movies including "La La Land," "Star Wars: Rogue One" and "Aladdin." He also lends his tenor to ministries and churches across the globe. LU Praise joined his Christmas at the Capitol concert in December.
Stephenson often joins Amerson to sing Broadway favorites. She made her Broadway debut in "The Secret Garden" and starred for two years as Christine Daae in "Phantom of the Opera." Stephenson will perform several solos including "Think of Me" from
"Phantom of the Opera."
Jody McBrayer, a former member of the quartet Avalon and current tenor for Cana's Voice, will sing "One Day More" from "Les Misérables" with seven other
Liberty alumni.
Whaley said students rarely get to work with performers of this quality. 
"I think it's going to bring our whole level of talent up and our level of participation up two or three levels, which is always exciting to see happen," Whaley said. "…The students can really see how a professional handle themselves in these kinds of
situations." 
The School of Music has nine choirs, and their rehearsals often reverberate through the walls and mix in the halls at the music building. They will combine to provide stirring, soaring accompaniment along with the Liberty University Symphony Orchestra, all conducted by Dr. Kathryn Voelker.
Daniel Gray, a senior worship studies major who will sing in the choir, praised Voelker's skill and passion.
"She is amazing to watch onstage," Gray said. "Her energy is contagious, so it's always a pleasure to work with her."
Sarah Day, a senior studying choral music education, sings with the a capella group LU Shine and the University Chorale. She will also sing for Amerson in a small masterclass the day before the concert. Day has been polishing a song from "Shrek: The Musical" and looks forward to an impartial, professional perspective.
"It's intimidating for sure," Day said. "But I think it's so beneficial for a performer and for a vocalist."
As the choir rehearsed behind him, Gray encouraged community members to attend the concert and anticipated the unique energy of so many musicians collaborating.
"There's a real electricity that comes from everybody being together," Gray said.
The Spirit of Broadway concert will be held Oct. 19 at 7:30 p.m. in the Center for Music and the Worship Arts Concert Hall. Tickets can be purchased by calling (434) 582-SEAT.