Liberty Alumnus delivers gifts to others with Hopebox

When Derik Timmerman returned from Iraq in 2006, he had no idea what kind of life God had in store for him.
Following the 9/11 attacks, Timmerman joined the military as an intelligence officer and served two tours in Iraq. Upon returning, he felt called to ministry and decided to pursue seminary.
"I started to feel the bug to move closer to ministry," Timmerman said. "I found that Liberty had the best thing going in terms of online, so I went there."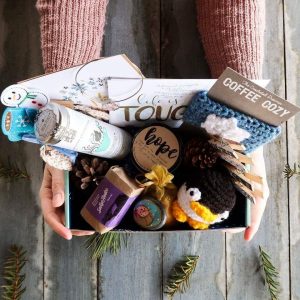 Timmerman received his Master of Divinity from Liberty University's online program and began to search for ways to integrate his love of the gospel with his love for business.
"The idea for me came from a week or two of deep soul searching (and asking), 'What is the thesis of my life?'" Timmerman said. "For me, that was going to be around the idea of hope."
He thought back to his time in Iraq, receiving care packages and letters from family and experiencing the surge of joy they brought.
"When I was over there, I saw the impact of care packages on soldiers," Timmerman said. "What would I be like if everybody could have a taste of this care package magic?"
That is when Timmerman came up with the idea for Hopebox.
Hopebox is a monthly gift subscription company that creates uplifting and encouraging care packages to send to loved ones. Each box contains carefully selected, hand-crafted items designed to bring hope and the message of the gospel.
It works like ordering flowers for someone. It takes less than five minutes to order one, and each includes a personal note and a message of hope for someone who's in need of it.
"I've been amazed by the stories that wash over us every day, the amazing hope and spirit of giving that the body of Christ is capable of," Timmerman said.
As he and his team prepare the care packages, they find encouragement in the letters written to loved ones.
"When we are typing out the notes people write to each other, it's an amazing connection we experience to the power of hope," Timmerman said.
Timmerman believes it is important for others to find their "thesis" in life and figure out how they can glorify God through their work.
"Find your own make up, your own strengths, your own passions … for me that passion was spreading hope," Timmerman said. "The best response to the world's evil is Christ's hope."