SGA Enacts New Representation System for House of Delegates

Liberty University's Student Government Association passed an amendment last semester, changing the way delegates represent the student body by separating the campus into districts.
Officially known as the Bean-Porter Rules, the amendment evenly separates the student body, including residential and commuter students, into 58 sections referred to as districts that have a certain number of delegates to represent them based on how many students are in each district.
One of the creators, David Bean, who used to be a delegate and is now a senator, joked about coincidentally replicating the style of government that was portrayed in the dystopian novel series "The Hunger Games" by Suzanne Collins but said the real goal was to create a more accurate way to represent all of the student body.
"We wanted the delegates to have a better idea of who to represent, but mainly to make sure every demographic on campus is represented," Bean said.
Both Bean and Porter said they were disappointed with the way that representation of the student body had been pushed to the side in the House of Delegates. They felt it had become an after-thought in the way the delegate position was presented.
"Right now, the House, to an extent, doesn't have a direction of what (they're) supposed to be representing," Porter said, "They represent what they believe and any random thing they hear."
Bean and Porter said the problem lies in the way the position is advertised.
"Unfortunately, there is a big focus on the idea of 'Join SGA, join the House, (and) you get (Christian Service hours) — Oh, and you get to represent students, too,'" Bean said. "Not the other way around, which is what it should be."
The new system of representation is not unique to Bean and Porter's amendment, either. It is a goal that many of the members of SGA have been working on for the past couple years.
Speaker of the House Caleb Fitzpatrick said his first experience as a delegate two years ago was "horrifying." With only about 30 delegates and less participating in drafting and voting on legislation, Fitzpatrick felt like nothing was getting done.
"It was heartbreaking for me to think, 'This is the organization that is charged with representing the student body,' … but right now it's essentially just government majors playing Congress," Fitzpatrick said.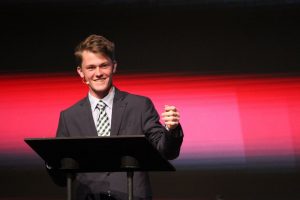 The next semester, he ran for speaker of the House and won. After assuming office, he implemented a new structure based on a system he learned in high school.
Under this new structure, the House has nearly quadrupled in size, and 10 times more legislation has been introduced and passed in the House. Non-government-major delegates say they feel they actually have a voice.
Delegate Constance Schneider was intimidated at first because she came in as a freshman, but she said the atmosphere Fitzpatrick established made her feel comfortable sharing her ideas.
"He always encouraged me to create legislation and helped me develop it to be better, even if it was something he personally didn't necessarily agree with," Schneider said.
Schneider said the amount of legislation that has gone through the House is a testament to the efficiency of Fitzpatrick's system.
But Bean and Porter said that more is not always better. Even with Fitzpatrick's organizational structure producing massive turnover on legislation, Bean and Porter worried that the content being produced was not representing the student body.
"We need to understand the importance of going slow versus how many things can we throw out of one House in an hour," Porter said.
The two admitted that there was still a good deal of work that needed to be done to make the House the most accurate representation of students that it can be, but they hope to develop a system that gradually becomes better. The two also said it takes time.
"And that's the thing about SGA," Bean said. "Everything is in degrees, but eventually we'll get there."