From Mexico City to California to Lynchburg- Flames mens tennis standout shares journey

Eddie Gutierrez, a junior tennis player for Liberty University, never had anything handed to him. He is used to navigating trials and rising above circumstances to achieve goals, no matter what it takes to do so.
Growing up in Mexico City, Gutierrez shared a twin bed with his father, and they would save up money to travel to tennis tournaments. Gutierrez considered it a privilege to be able to have Gatorade, two shirts and a pair of shorts when he played. He and his father spent all of their time together and, as a team, often discussed how huge goals required huge sacrifices.
When he was 16, Gutierrez decided to leave behind his family and everything familiar to enroll as a junior in high school in Fullerton, California, and pursue his dreams of playing collegiate-level tennis. He knew little English and was scared of not knowing what the future held.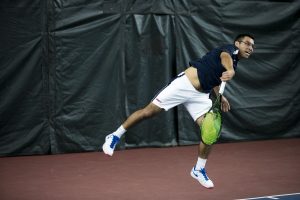 "I ventured out on this journey by myself," Gutierrez said. "It was the sacrifice I had to make to achieve my dreams. I missed my family a lot but, back in Mexico, they didn't have a lot of money. Here a guy was sponsoring me, feeding me, driving me and I lived in a room under the stairs like Harry Potter."
Gutierrez expected to be put in special classes because he did not know English, but instead he was thrown directly into theater, speech and debate, and algebra. He said hearing speeches and listening to his coaches and friends speak in English forced him to learn the language and become immersed in American culture. Eventually relationships developed when the language barrier broke.
"I memorized how to say, 'Professor, I don't know English well,'" Gutierrez said. "I remember feeling very lonely. I was used to living in an environment with people all around me, and America is a completely different world. I would tear up and wonder what I am doing here but I always believed in the future."
An even larger challenge developed when Gutierrez's sponsor informed him midway through his junior year that he could no longer support him. Gutierrez said he stayed positive but wondered how everything would work out. Sure enough, the pieces started to fall into place when his English professor found out about his situation and offered him a place with her family.
"I would always greet her after class, shake her hand and say, 'Thank you for the class, have a great day,'" Gutierrez said. "She never would have offered if I didn't greet her every day. Small gestures can make a huge outcome in your life, and I can see now how God has been holding my hand and walking me through circumstances."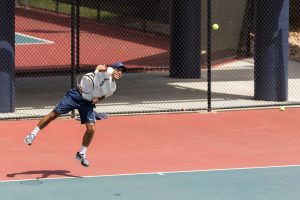 Even though he had found a solution to his loss of sponsorship, Gutierrez said it was easy for him to feel like a burden. He began to lack sleep as a result.
"Sometimes I would go to bed hungry because my teacher didn't have a lot (of food), and I didn't have much to eat," Gutierrez said.
Still, he persevered through his senior year of high school and was encouraged by many neighbors and friends around him to achieve his dream to go to Liberty University.
"Life has surprised me with what it has had for me," Gutierrez said. "I knew great things were ahead and God connected my life in a crazy way. I felt, for some reason, I was supposed to be at Liberty. It felt homey and like a motivational place and here I could become a good tennis player and a good man and person."
Now, almost five years after the journey began, Gutierrez is a junior on Liberty men's tennis team. Gutierrez said he occasionally thought about returning home and forgetting about his goals. In the end, however, the rough journey paid off. According to libertyflames.com, during his sophomore season, Gutierrez scored victories in his first four spring singles matches and even captured a title in the Black doubles flight at the season-opening USC Upstate Fall Classic.
"I am very blessed that tennis gave me the opportunity to be here, and, the way that I look at it, tennis is the means to an end," Gutierrez said. "The end is becoming a better man and person that God wants me to be. I feel like I can use tennis to get to that goal. I always knew that tennis was a trampoline to a better quality of life, to a world of better opportunities."