Prayer Leads Liberty Student to White House Fall Internship

Everyone has their own childhood visions of what they will be when they grow up, but "prayer warrior" isn't usually one of them. Unless, of course, you are Jarryn Bailey.
From leading lunchtime prayer meetings in middle school to interning at the White House last semester, the 2017 Liberty alumna describes prayer as an overarching theme in her journey through life.
"I've always felt drawn to the place of prayer," Bailey said.
In fact, Bailey said it was prayer that set her application process for the White House Internship in motion.
Knowing she needed an internship to finish her degree, Bailey said she started asking the Lord where she should apply.
"Every time I asked him, I just had the White House put on my heart," Bailey said. "It was such a profound impression on my heart, even though in my mind I (was) thinking, 'Oh, that's impossible, it's so competitive, people who are super-into politics do that, I won't stand a chance.'"
Bailey kept these things to herself for months, journaling about the impression as it continued to come to her while she prayed.
Bailey said that her path kept crossing President Donald Trump's and they repetitively aligned in ways that could not be ignored.
"I spontaneously went to (Trump's) inauguration, then he comes to graduation," Bailey said. "Then I was on a trip to Israel right after graduation — it was actually the same time that Trump went to Israel, and we landed in Tel Aviv on the same day. As soon as I got home from Israel, I knew that I needed to apply for the fall internship."
While Bailey was in the process of accepting another internship that had approved her application sooner, the White House called, and Bailey said she knew that was where God wanted to put her.
According to Bailey, the Trump administration was something God had deeply pressed upon her heart from as early as the campaign process. While some were disappointed that Trump was the winner, Bailey was praying for him.
Once she cleared the series of background checks, Bailey began her internship in the fall 2017 semester in the White House Office of Management and Administration.
"Capitol Hill would have been neat and I would have learned a lot, but my passion truly was for the Trump administration," Bailey said.
Though she never worked in the Oval Office or with the president directly, they did exchange an occasional friendly wave as they passed one another in the hallway.
"Every time he needed something, our office was the first to hear about it," Bailey said. "We were the go-to point for every office within the executive office. I had to pinch myself a few times to make sure it was real. Interns don't just get coffee there."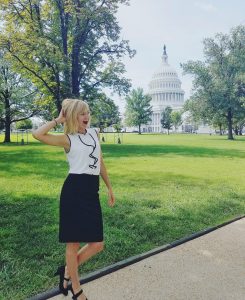 Aside from ensuring the needs of the president were met in a typical day, Bailey answered about a hundred phone calls and welcomed as many walk-in guests.
Bailey said the fast pace of the environment has more fully equipped her to handle high-intensity jobs in the future, and the pressures were fulfilling to her just as they were draining, because through them, she said she saw the power of persistence and giving one's all.
"I thought to myself, 'Yes, the tasks I'm doing are sometimes tedious busywork, but I'm doing this for the president of the United States, not some random company or executive,'" Bailey said. "That added an extra desire to do things excellently. So few people get to be there (in that position), so I really wanted to do my best in every area and leave a good fragrance for Christ in that place."
Bailey also said the inner workings of the executive offices were one of the most beautiful expressions of teamwork she had ever witnessed.
"Everyone so humbly comes every day and works such long hours to support the president in all his tasks," Bailey said. "Everyone puts their personal political opinions aside to work for the American people and their general welfare. It's one of the most beautiful things I've ever been a part of."
So, what is Bailey up to now?
For the last month, she has been travelling to college campuses across the country with a prayer ministry known as The Call.
And once again, prayer itself is what led her there.
According to Bailey's mother, the humility and faithfulness with which Bailey has walked through this journey gives peace to a mother's heart.
"The steps Jarryn is taking are ordained by God," Jane Bailey said. "His plans have taken her further than anything I could have ever dreamed for her…and it's just mind-blowing to me."