Magical Opportunities Await Students at the Disney College Program
Talk to any Liberty student who graduated from the Disney College Program about their experience at Disney, and they will probably use the word "magic" at least once in the conversation.
Steven Honaker certainly will. The senior digital media, social networking and interactive media major spent the fall 2017 semester working at Disney World alongside other college students from around the world.
Like many students, Honaker grew up with Disney.
"I'm a huge Disney person," Honaker said. "I grew up loving it. I've had a passion for Disney my whole life, and so being able to go work there is just automatically a crazy amazing experience."
Honaker said a lot of his love for Disney came from growing up watching the movies and going to the parks.
"I don't think there is anything like going to Disney World as a kid, because it's like a whole other world," Honaker said.
While working at Disney World, Honaker realized that often it was Disney cast members like him who created magic for park guests. It was his turn to make special moments for the children around him.
Once while working retail at Epcot, Honaker struck up a conversation with a mother and her young daughter. While Honaker talked with them, the mother explained that their family had recently moved to the area and had set up a monthly Disney budget so they did not overspend at the parks. The little girl then showed Honaker a "Tangled" Rapunzel hat her mother was going to buy for her next month when the budget renewed.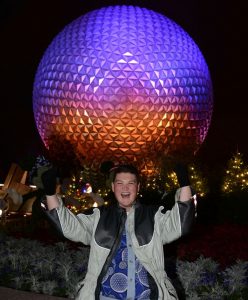 Using a policy Disney has allowing retail workers to give a piece of merchandise as a gift, Honaker gave the little girl the hat.
"(It's) moments like that where you're able to really connect with little kids and show them what Disney is all about," Honaker said.
Kate Thompson, the director of the experimental learning program at the Career Center, lead a workshop about the Disney College Program Feb. 1. According to Thompson, the Disney College Program gives accepted students a semester of work experience, the opportunity to take up to two Disney classes and the opportunity to make professional connections.
Thompson said students work a full-time job, but they also get free access to the Disney parks. The Disney College Program has designated housing, so students do not have to find their own place to live. Students can apply to work at either Disney World in Orlando, Florida, or at Disneyland in Los Angeles, California, but Thompson recommended applying for Disney World.
Thompson said the preliminary application for Fall 2018 is open on the Disney College Program website. Additionally, Liberty had the highest Disney College Program attendance out of all the participating colleges this past semester.
Thompson also said that although Disney does accept students who did not do the Disney College Program into their professional internships, the program often gives students an advantage.
Honaker recently finished applying for a professional Disney internship in social media. He met with members of the Walt Disney World Today team while in Orlando with the Disney College Program.
"While I was on the program, I had the opportunity to meet with the team and gain those connections," Honaker said.
Junior strategic communications major Macie Delnay also did the Disney College Program last semester. She also grew up with and loves all things Disney. Delnay gave a long list of everything she enjoyed about the Disney College Program, but she also said Disney's magic does not make up for the absence of Christ.
"It's a dark place despite being magical," Delnay said.
Delnay said she met only a handful of Christians out of the people she worked with every day. Delnay related how she showed her faith through her actions and how one lady she worked with even stopped and asked her if she was a Christian. Delnay answered that type of question in a way that married Disney's magic to her faith.
"It was really cool to show them why I was different, why I was so joyful," Delnay said. "It's because (of) Jesus… He's the one who really has the joy."