Flames Scorch Winthrop 77-61

Having never trailed throughout the match, the Liberty University men's basketball team took home an impressive win over Winthrop University 77-61 Thursday, Feb. 1, at the Vines Center.
Liberty (14-10, 5-6 Big South) played with a noteworthy effort to drop Winthrop (13-9, 7-4 Big South) for the second time this season, sweeping them for the first time since 2003-04.
The game was defined by the Flames team-wide effort on both ends of the floor, which saw players consistently scrapping for loose balls and contesting every shot. Liberty's Myo Baxter-Bell even dove into the stands at one point in the first half in an attempt to save a Liberty possession.
"I think that we brought it for 40 minutes," sophomore guard Caleb Homesley said. "I thought it was a great team win."
On the scoring front, Liberty was led by sophomore forward Scottie James, who put together an impressive stat line consisting of 21 points and 8 rebounds, both of which were team highs. The 21 points for James also matched his career high.
James was particularly effective in the first half, scoring 15 points on 7-10 from the field, including making his first six shot attempts. After the game, James acknowledged the team's quick start
"We started well at (Presbyterian)," James said. "We knew we had to keep that going, so as a team we just grouped together and threw the first punch."
Having lost five of their last six with only eight games remaining, the Flames knew they needed to pick up the conference win in front of their home fans in order to start making up some ground in the Big South.
Liberty started the night off on the right foot, jumping out to a 6-0 lead in the game's opening minutes. The first half was largely a back-and-forth battle between Liberty's James and Winthrop senior forward Xavier Cooks, with the two often exchanging impressive buckets.
Cooks scored the first 7 points for the visiting Eagles and had 21 points on the night before being ejected late in the second half for picking up his second technical foul. The Winthrop star found success on the offensive end, often getting in the lane and finishing around the rim. He also grabbed 9 rebounds.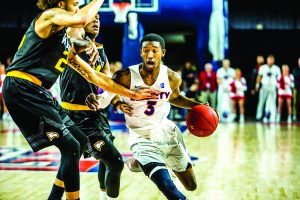 Flames coach Ritchie McKay had high praise for Cooks after the game.
"Xavier Cooks is a problem for anyone who is preparing for him," McKay said.
Besides Cooks, the Eagles were also able to find offense from senior guard Anders Broman, who made four 3-pointers in the game, two of them coming during a second half Winthrop run that cut the Flames lead to 10.
"Defensively, look, (Winthrop's) hard to guard," McKay said. "I felt like we did enough to make them earn, but I'm a coach, and I'm sure when I watch the film, I'll see a little bit more that we have to work on."
Overall, though, the Flames were pleased with their performance. Each time Winthrop was able to make a run, Liberty had an immediate answer.
"They had an answer every single time," Winthrop coach Pat Kelsey told The News & Advance after the game. "It seemed like when we got a little something going, they matched us with a 3 on the other end."
This is the second of back-to-back wins for Liberty, and according to Homesley, it was one of their best to date.
"It was our most complete (game)," Homesley said.
Coach McKay agreed with Homesley's sentiment.
"That's the most complete performance we've had in a while," McKay said. "I thought our guys did a great job offensively of establishing a little bit of a presence inside. I thought we took good shots and valued the basketball. We had a sense of togetherness."
Liberty's next home game takes place Feb. 10 against Gardner-Webb at the Vines Center.