Here comes hockey
Liberty DI Hockey team sets new goals
Entering the 2017-18 season, Head Coach of the Liberty Division I Hockey team Kirk Handy has developed a motto: One Team, One Dream.
"There is a verse in Habakkuk that says to write the vision plain," Coach Handy said.
"We have 'One Team, One Dream' written up on the wall. We want our guys to work hard and have fun and succeed academically. We want them to grow in their faith and to have God, family and team over my personal emotions."
When the motto is broken down, Coach Handy said that the "One Team" pertains to the overall team culture, whereas the "One Dream" part has to do with the overall season goals.
The team has set seven goals in total.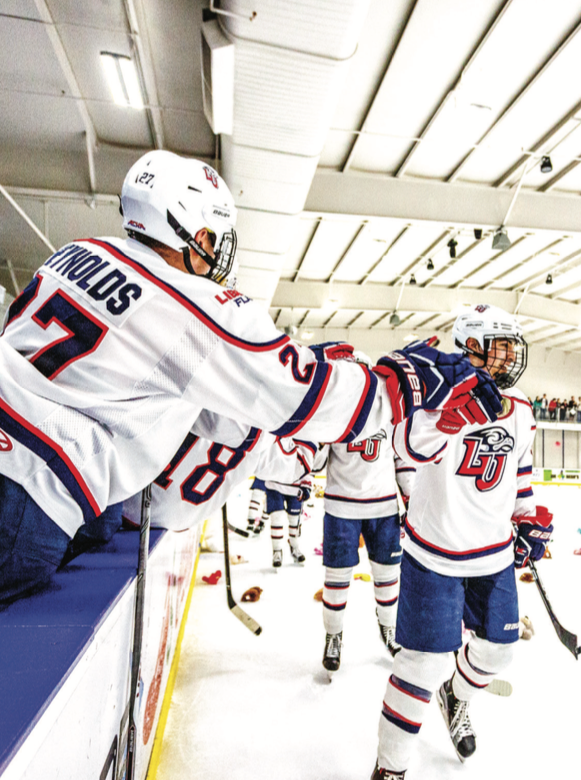 "'One Team, One Dream' for me personally is just trying to be the best physically for the team and being in the best shape on the ice as I can be," Forward Grant Garvin said.
"Mentally and emotionally being the best I can be. With my academics and then spiritually just keep relying on God for strength."
Goals are going to be an integral part to Coach Handy's team this year.
Garvin said everyone has set season, academic and spiritual goals on the team which are visited each day.
A few of the team goals include a team GPA of 3.2, 88 percent power play, goals against average at a 2.20 and winning the championship for the conference.
The Flames have much to boast about from last year's season.
In their first season as an ESCHL team, they won the conference championship game against Stony Brook, the four-time tournament champions.
They then went on to lose to Colorado State in the ACHA national tournament.
But Coach Handy, along with all of his players, thinks this year will be even better as the team has improved in its size, speed and hockey IQ since last season.
With these improvements, the team is confident they could win a championship.
"There are no rookies on this team, we are all one team," sophomore captain Josh Hamilton said.
"Everyone has a goal to reach the national championship and win it which is our 'One Dream.' I think we have the team to do it this year."
Coach Handy capped the team at 25 players this year and out of that total, 15 are forwards.
This will definitely change the pace of the game.
"We had great defense last year, but we had trouble scoring sometimes, so I think the new guys coming in are really going to boost the scoring," sophomore forward Quinn Ryan said.
Adding more offensive players up front and creating consistency in all the lines were a few things that Coach Handy was looking for when selecting the players for the roster.
He also moved Tim Bierema and Ryan Cox up to solidify the center ice position.
"With 15 forwards that means three guys are not going to play," Garvin said.
"That means that every day in practice, guys have to compete for a spot to play. This definitely amps up the competition in practice so you got to want it."
The Flames start the season with a non-conference home game against Alabama Sept. 15.
"We are going to be ready to go," Coach Handy said.
"We are progressing just as we wanted. I feel like it is going to be a great launch to the season. I feel like the guys will be ready to go and ready to make a statement coming out of the gate. When the puck drops opening night, we have to be
ready to go."
As far as conference play, the ESCHL conference will see some changes this year with the addition of Syracuse and New York University.
This will not only raise the total number of teams from six to eight, but will also increase the competition.
"Our schedule is going to be challenging," Coach Handy said.
"It is great being a part of a conference, which we saw the advantage of that last year, and we are looking forward to that again this year. Night in and night out we have to compete and we have to be at our best."
This year the team has two midnight games and urges everyone to come out and support the hockey team this season.
"We are going to be a powerhouse and I am extremely excited about that," Hamilton said.
"Another thing is, I love the fan support here."
The Flames will go head to head with Alabama University at the Lahaye Ice Center Friday, Sept. 15 at 7 p.m.
COPELAND is a sports reporter.