Johnson takes office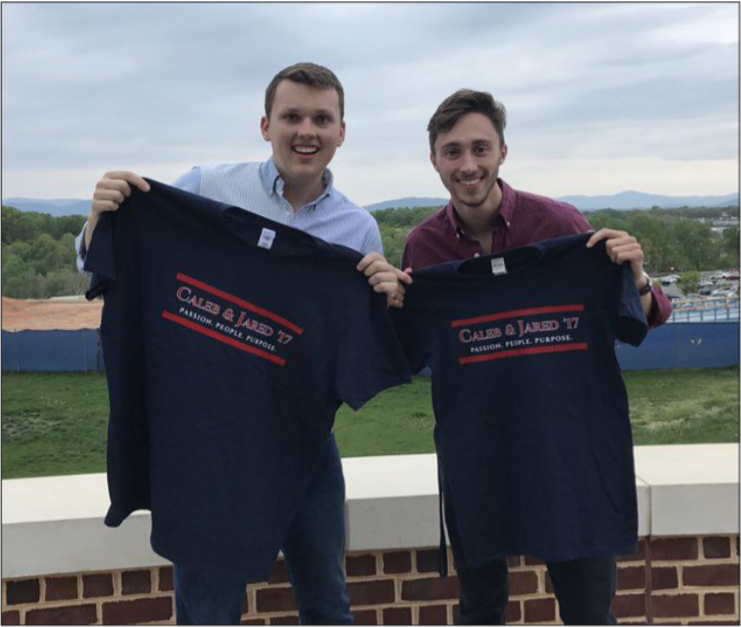 New student body president and vice president prepare for inauguration
Incoming Student Body President Caleb Johnson and Student Body Vice President Jared Cave will be sworn in at the Liberty University Student Government Association (SGA) inauguration Tuesday, May 2 at 6:30 p.m. in the science hall auditorium.
Jacob Broadway, SGA's chief justice, said the inauguration will be a time to say goodbye to several members of the current leadership team and to welcome the
future leaders.
Broadway is graduating with a degree in interdisciplinary studies after being a part of SGA for four years.
"It's a mix of a sendoff for the few of us that are graduating as much as a welcome to the team for the new guys," Broadway said.
Student Body President Jack Heaphy, who is graduating with a degree in economics, said he will miss working with the people in SGA.
"It's honestly been the greatest privilege of my life to be able to come together with
students to find solutions," Heaphy said.
"Luke and I really believe that the success of SGA is dependent on the people that are representatives and helping to serve clubs."
Although last year's inauguration was a formal ceremony located in the Hancock Welcome Center, this year Broadway is hoping to set a more informal tone.
"I would like to set a much more collegial atmosphere and build the community in SGA," Broadway said.
"There will be some pomp and circumstance, but I probably won't wear a tie. To me it's an occasion to celebrate."
Broadway, Johnson and Heaphy will speak at the swearing-in ceremony along with a staff member from student affairs.
"I'm going to explain the vision that I have for SGA, a recap of what we campaigned on, and how we're going to impact the school," Johnson said.
SGA is also hosting its final joint session of the semester to confirm members of the
judicial branch and discuss whether to pass a new constitutional amendment.
Associate Justice Calum Best will be confirmed as SGA's Chief Justice for the next academic year, and Savannah Chaffee will be confirmed as an associate justice
to replace Best.
If the constitutional amendment passes, next year's class officers will be a part of a community service commission to engage the local community through service
projects.
"They will spend the year working with the student body vice president, the
university and the community to represent Liberty students well to the community," Broadway said.
"Christian Service or LU Serve is part of having a degree at Liberty, and every student's going to be a part of that. But we want SGA to be leaders and go above and beyond."
According to Broadway, the constitutional amendment will give class officers a greater role than they had this year.
Under the current SGA constitution ratified in January of 2016, class officers are simply members of the legislative branch which represents the interests of their class.
"We've been working some kinks out (of the constitution), and the first one to change is giving class officers back a rightful place in SGA," Broadway said.
After an election featuring three campaigns with varying views on university
issues, Broadway plans to discuss the importance of including dissenting opinions at the inauguration.
"Jack Heaphy and Caleb Johnson have different ideas about how they would serve students," Broadway said.
"But they come together for the good of the student body. I know that a part of what I will talk about on Tuesday night is diversity of thought and the beauty of that, unity in mission and diversity in ideas."
Dean of Students Robert Mullen, who spoke at the SGA inauguration last year, agreed that healthy debate is an important part of the democratic process in both national and SGA elections.
"I love the fact that we have elections for student government and that our students are able to be actively involved in the process," Mullen said.
"It was good to see what I sensed as good-spirited dialogue and debate done in an appropriate way."
Although he will miss working with SGA, Heaphy is confident that Johnson and Cave can lead SGA to greater successes in the serving the student body.
"I'm very excited for Caleb and Jared," Heaphy said.
"I think that they will be able to bring new perspectives and fresh ideas to SGA. As long as they surround themselves with people that are there for the right reasons and care about the student body, there is no limit to what they can achieve."
Covey is the assistant news editor.