CHAMPION STAFF GOODBYES 2016-2017(1)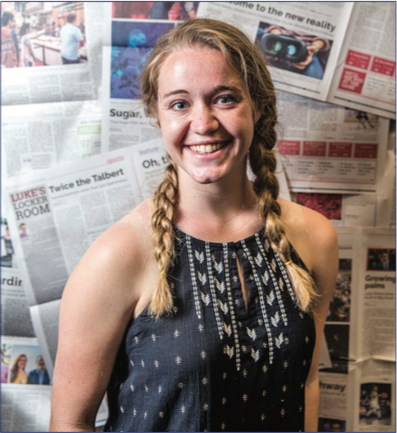 I have written hundreds of thousands of words as a journalist, but I have never had to write what comes next.
Goodbye.
Two-and-a-half years ago, I accepted a position with the Champion as the feature editor after one semester of writing for the newspaper, and what our dear advisor, Mrs. Huff, did not know, is that she was allowing a high-energy, fun-fact filled college sophomore into her office, and she would not get rid of me. Well, until now.
What she also did not know is that the Champion caught me at one of the most difficult times in my life, and the Champion helped save me from myself.
So for weeks, I would work and work in the office, staying late, not because of the heavy work load, but because I loved the comradery and the friends that sat in the desks beside me.
I longed for a family away from home, and the Champion became that. When I was at my worst, when I was trying to run away from some of my emotional problems, the Champion was a safe haven of sorts, and Mrs. Huff was the extra mom I never knew I wanted.
For the two years following, I started to realize that even though I loved my job, I loved the staff more. My fellow editors became my friends, and they really, truly cared about my well-being.
To everyone I have ever worked with at the Champion, you all made the long Mondays worth it, and the hard days were not so bad with all of you around.
The Champion provided me with great insight and incredible work experience in the journalism field, and I will always be grateful for that aspect of the job, but thank you to everyone, to my previous co-workers, leaders at the Champion and writers. You all made the Champion a home.
Much like leaving my own family — who, by the way have been incredibly supportive during everything, and I love you all so much mom, dad and sissy — I will have to leave this home now too, but thanks, Liberty, for allowing me to meet these incredible people, learn and to see the love of Jesus played out in — who would have thought — a newsroom.
May God bless you all and keep you.
A wise man named Gary Johnson once said, "My opinion is worth exactly what you paid for it — nothing." I find his words to be among the truer statements I've heard from any politician.
During my time at the Champion, most recently as the opinion editor, I've realized there is no shortage of opinions in this world. Of course, opinions are made up of words, and words are powerful. With them, you have the power to build somebody up, speak truth and shed light, but you can also do the exact opposite.
Your words have the power to break people, to breed hatred, contempt and division. If I've learned anything significant over the past three years, it's the responsibility that comes with being a writer.
I don't really care if people agree or disagree with my opinions, I just hope they can see that they come from a genuine desire to make the world a better place. Sometimes it means writing about my disdain for a political candidate's ideology. Sometimes it means ranting about the Oakland Raiders' return to glory. Both are necessary and proper.
Coming into college, I chose to study journalism because I loved writing and was pretty good under pressure. Fast forward four years, and I actually stuck with it. With every class I took, I grew a passion for the profession — gaining the ability to tell stories to inform and to enlighten.
Right now is a particularly frustrating time to do this job, but it's also one of the most important times. I don't know exactly what my role will be, but hopefully I'll be able to promote social justice and an awareness of prominent Puerto Rican athletes, all at the same time. Be on the look out.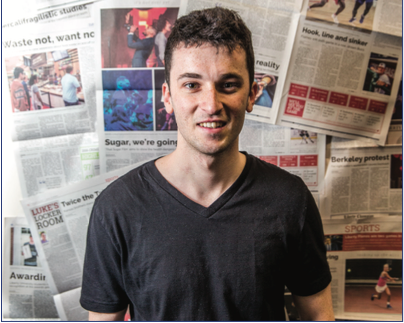 I first joined the Champion staff as a sophomore journalism student, having taken just two classes in the subject. So each weekly story budget I received as a feature reporter brought more fear than excitement. Each week, I would crawl my way through the email, terrified my name would sit next to a story on a subject I had no familiarity with. I just knew it would be a struggle.
Two years later, story budgets are less frightening, and I jump at the chance to dig into a new subject. The Champion has provided me opportunities I never imagined, from hearing the stories of fascinating students on campus, attending events as a member of the media, covering sports from the press box and producing the paper with the best staff I could ever hope for.
Amidst all I have learned as a journalist for the Champion, it's that last one I know I'll appreciate the most looking back. Talking sports with the sports editors, making endless references to our favorite television shows, and keeping up to date on the latest viral memes and videos — the Champion office has become my favorite place on campus. Doing the work I enjoy most with a great group of people around me has been one of the highlights of my college experience.
And to our faculty advisor, Professor Huff: I'll forever be grateful for you bringing me on board at the start and being such a key mentor during my first few years in journalism. Your expertise in covering everything from sports to politics to religion has provided me a tremendous foundation in so many areas of journalism, and I know there are so many others who can say the same.