New classes hit the rocks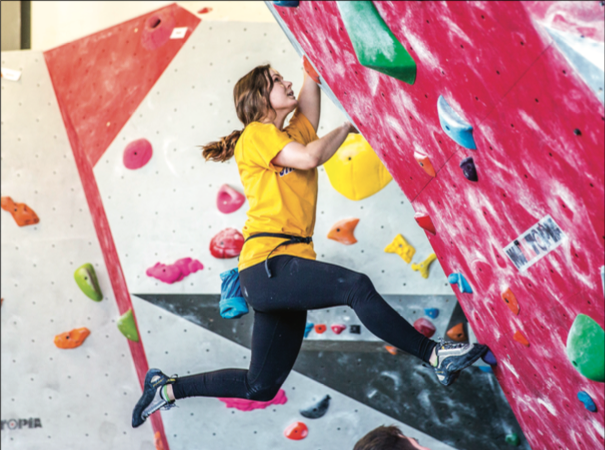 LaHaye Recreation and Fitness Center offers multiple rock-climbing

classes

Liberty University Recreation offers the chance for students to experience the thrills of rock climbing without ever leaving campus.

The LaHaye Recreation and Fitness Center is home to 4,000 square feet of rock wall climbing space as well as a 40-foot rock wall tower.

Rock Wall Coordinator Elliot Gaunt said the addition of the rock wall on campus has brought excitement from students about the sport.

"The climbing community here at Liberty is full of passionate, energetic odd-balls that have a heart for the Lord and everyone around them," Gaunt said.

"I have had great feedback from students about all the events we put on, and they are always expressing a desire to learn more and have more opportunities to climb."

Three different climbing classes are available to students who want to learn more about the sport.

Top Rope class is offered to teach how to tie a knot correctly and how to set up the belay system.

Techniques and skills are taught to ensure that proper precaution is taken when belaying.

"Our bouldering class is more (centered around getting) students acquainted with climbing culture, terms, lingo, movements and safety for boulders," Gaunt said.

The third class offered is a lead climbing class only for more advanced climbers who have taken the previous classes.

This course contains the details of how to safely belay a leader and climb as a lead climber, according to Gaunt.

Each semester, Outdoor Recreation partners with the climbing community and holds an outdoor trip for students.

This trip allows the students to experience climbing on real rock instead of the indoor facility.

Rock climbing is both a unique sport and form of exercise that challenges the physical and mental capabilities of participants.

"There is a vast amount of mental strength and physical strength that has to work together to be successful as a rock climber," Gaunt said.

"It's very personal because it's only up to you to succeed or fail."

Someone who may be physically strong and fit could have trouble moving between holds and struggle with the sport, according to Gaunt.

"If you find the correct balance of technique, strength, power, belief and mental fortitude you will be successful as a rock climber," Gaunt said.

Students wanting to use the rock wall do not need any previous experience or certification.

Those who want to belay must be certified through the class offered or by taking a test to prove they are capable.

The first Liberty club sports rock climbing team was created this year.

Its members travel and compete against other schools.

According to Gaunt, the team had a successful first year and he believes the future is bright.

"The rock wall is one of the best places on campus," Gaunt said.

"I have seen students get together to pray over each other, work together in so many capacities and truly form a welcoming family feel to the area."

Gaunt believes the on-campus interest and participation in this sport will continue to develop.

"We are excited to see the community grow and our impact spread throughout campus and the world of rock climbing," Gaunt said.

WHITTAKER is a feature reporter.