Flames take 10 events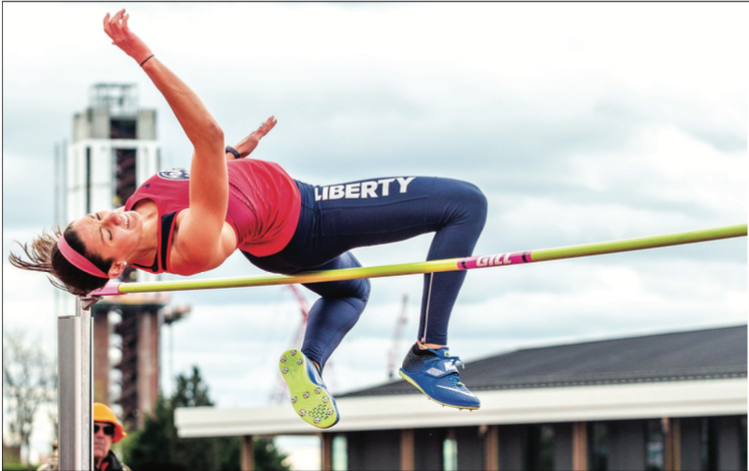 Liberty track and field team dominates in outdoor season opener
The Liberty University track and field team opened its 2017 outdoor season at the Liberty Collegiate Invitational along with 26 other teams, with major wins in both the field and running events and the setting of personal records Friday and Saturday, April 7-8 at the Matthes-Hopkins Track Complex.
The first day of the invitational was cloudy and plagued with strong winds and cold temperatures.
However, that did not stop the Flames. Dasiana Larson, a junior at Liberty, won the women's shot put with a 13.97-meter throw.
Liberty's Holly Arey followed Larson with a 12.55-meter throw.
Larson also won the women's hammer throw on Saturday with a 57.67-meter throw.
Larson, a junior at Liberty, ranks No. 1 in the Big South Conference for 2017 as well as No. 6 in all-time conference history for the women's hammer throw.
A winner of the Big South Field Athlete of the week, she is now ranked 37th in the nation for the women's hammer throw.
Liberty's Kylie Polsgrove achieved her best day-one heptathlon score of 3,107.
She finished strong on day two and won the heptathlon with 4,995 points over Nicolette Serratore of James Madison who came in second with 4,444 points.
Also on the first day, senior Zach Davis finished second in the men's decathlon with 3,392 points.
Coming into the second day of the invitational, Davis was unable to score at the pole vault, keeping him from moving into first.
He took second place with 5,819 points.
Freshman Pablo Romero Gonzales from High Point kept his first-place spot during both days, ending with a total of 6,325 in the men's decathlon.
On the second day of the meet, the clouds cleared and gave the runners a nice day with sunshine and temperatures in the upper 60s.
"This was one of those days where we were coming out thinking that we were not going to run amazing until we got out here and saw that it was perfect weather and a perfect meet here at our own place," Freshman Jahquez Durham said.   
Liberty redshirt freshman Jovaine Atkinson pulled a muscle in his groin Friday in practice, but was still able to win the men's 110-meter hurdles with a time of 14.39 seconds to beat Hampton's Jaelen Williams.
"I got a really good start," Atkinson said.
"I got about mid-way through the race and I felt my groin, so I backed off a bit and I ran a 14.39. It is okay. I am not really happy with my performance, but a win is a win."
Liberty sophomore Nicole Leonzo won the women's 400-meter dash with a time of 54.97 seconds, beating her previous freshman-record of 55.50.
"I think the whole team did really well today," Leonzo said.
"There (were) a lot of (personal records) that happened today. I know on the girls' side there were a lot of great performances. Me personally, I ran a PR for my 400 — it went really well."
Leonzo said that these PRs are great for the team in being able to move forward.
"It makes me more confident knowing that I am capable of getting faster," Leonzo said.
"Last week I did not run so well, so coming out here and pushing myself really is a confidence booster."
Janae Jones, a Liberty redshirt senior, won 40-02.75 (12.26m) in the women's triple jump.
Jones holds an indoor school record for the event at 41-0.5 (12.51m).
Liberty's Mary Witmore won the women's 400-meter hurdles with a time of 1:01.34.
She currently holds the school record for the 400-meter hurdles with a time of 59.92.
Durham, a freshman at Liberty, was second in both the men's 200 and 400.
"Individually for me, I ran a great 400 race and got second in that," Durham said.
"The race itself went amazing. I felt like I was not pressing too hard. I ran my own race, ran in my own lane — and the kid kind of caught me at the end — but I could tell that he was pressing and I was not. It let me know I ran that race smooth and relaxed, and, when it comes to it, I can run faster."
Durham said that the team's performance was great at this invitational.
"This is a great indication of what we can do this year," Durham said.
"Today being on our home track shows what we can do the rest of the season."
Not only did Liberty dominate the sprinting races, they also did well in the long-distance event.
Liberty took four of the top five spots in the men's 5K race.
Liberty's Stanley Langa won the 5000-meter run with a time of 14:33.51, followed by Liberty's James Zentmeyer and Jack Tidball.
For the field events, Brenna Smith of Liberty won the women's javelin with 141-02 (43.04m).
Liberty also took the first four spots in the men's javelin throw with Denzel Pratt, Sam Arter, Alexander Hoffsmith and Caleb Hart.
Last week's Big South Athlete of the Week Liberty's Carson Waters took second in the men's pole vault.
The Flames look forward to their next meet, the Gamecock Invitational, April 15 in Columbia, South Carolina.
"Going into South Carolina, which is (an) SEC school, I am pretty sure there are going to be a lot of big teams," Atkinson said.
"I am definitely looking forward to the competition so I can at least get a PR so I can book a spot for regionals."
Copeland is a sports reporter.