'Eat even mor chikin'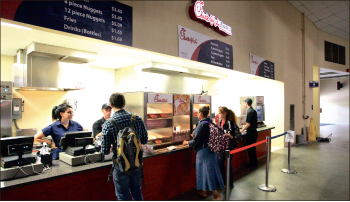 Liberty University and Sodexo Dining Services unveiled new plans to convert all dining locations on campus into Chick-fil-A dining venues by fall 2020.
According to Liberty administration, the dining changes are attached to the major campus renovations in progress.
Due to the overwhelming popularity of the Chick-fil-A location in Green Hall since the new Meal Swipe Plus+ plan was introduced, Liberty Dining Services decided to remove other food venues and focus on the most popular option.
"We've received so many suggestions to add more Chick-fil-A that we decided to give the students what they want," Sodexo District Manager Anthony Delligatti said.
Despite there already being four venues in Lynchburg already, this new plan is projected to add at least 15 more locations. A statue of Chick-fil-A founder Truett Cathy will also be built on top of the DeMoss Hall fountain.
"I'm still waiting for Ashton Kutcher to jump out and say 'we got punk'd,'" Sodexo Unit Marketing Specialist Ryan Wheeler said. "How can they eat this much chicken?"
The transition will result in the closing of all current dining locations, including the main cafeteria, the Reber Thomas Dining Hall.
"We've tried everything to accommodate the students, and apparently all we needed to give them was breaded chicken bits," Sodexo General Manager Duke Davis said. "I give up. Just, no more bananas on the roof please."
Despite the closings, Delligatti said students will still have variety.
"We can still accommodate different dietary needs," Delligatti said. "We have chicken, milkshakes, waffle fries, and I think we had a few celery sticks in the back last time I checked. What more could you need?"
There are talks that the new restaurants could possibly be open on Sundays, but plans are still undecided. Student employees are wary of the potential change in hours.
"I just don't know how we can hold on to our morals and be open on Sundays," Chick-fil-A student employee Jeffery Burns said. "It seems un-Christian."
Despite the drastic changes, students' spirits are high with the change.
"I mean, I really don't eat anything else on campus," student Hannah Bart said. "I like to know what I put in my body, and Chick-fil-A is perfectly fine."
**Happy April Fools' Day!*