Close, but not close enough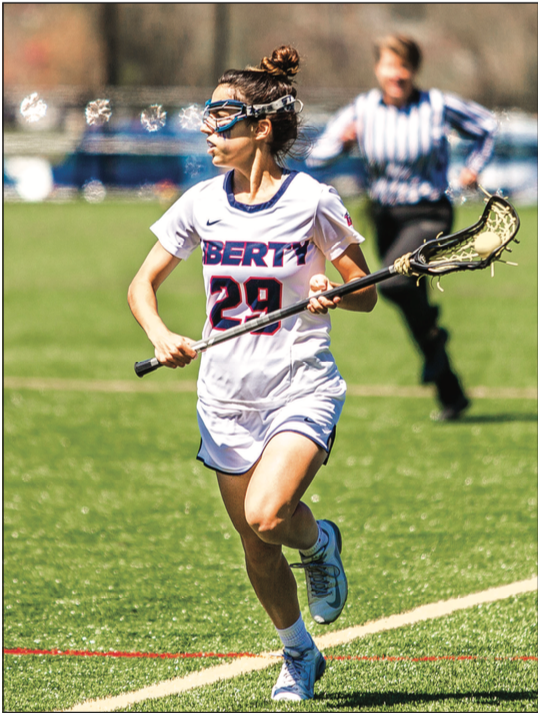 Women's lax falls to Campbell in OT
The Liberty University women's lacrosse team (3-10, 2-1) nearly walked away victorious but suffered a disappointing overtime loss against Campbell University (6-6, 3-0) 12-11 Saturday, April 8 at Liberty's East Campus Field.
With the game tied 10-10 and less than a minute remaining in regulation, the Lady Flames controlled the ball.
During the final minute, Liberty distributed the ball around the fan, being as patient as possible before taking the appropriate shot.
After receiving the ball, Liberty sophomore attackman Kayla Foster passed to freshman midfielder Carly White, who capitalized on the opportunity.
"That was a really good feeling," White said.
"One of the most fun things to me is helping my teammates succeed. Those team goals are the best."
The celebration was short-lived.
With 27 seconds remaining in regulation, Campbell sophomore midfielder Melissa Placek silenced the crowd with her goal, forcing overtime.
Before a minute could pass, Campbell sophomore midfielder Sarah Paul solidified the victory for the Camels with an unassisted goal.
"We knew this was going to be a tight game," Liberty Head Coach Kelly Nangle said.
"I thought we did a really good job, but that last piece didn't really go our way."
During the second half, Liberty sophomore midfielder Brianna McCaffrey received her second yellow card of the game, resulting in permanent suspension from the match.
She finished with two goals and an assist.
"There's not much teams can do to defend her," Nangle said.
"I'm actually really proud of how our girls responded. The fact that we were able to battle back (without McCaffrey) says a lot about this team."
After McCaffrey's second yellow card, the Lady Flames lost momentum and the scoreboard displayed numbers in Campbell's favor 9-7.
Near the end of the second half, Liberty began turning the tide, slowly crawling out from a two-point deficit.
Through offensive aggression, and with the help of three free-position shots, Liberty
regained momentum.
"It's a lot of pressure," White said.
"But you kind of just have to completely take control of your mindset and say 'Whatever it takes. I only have a minute left on this field so leave everything on it.'"
According to Nangle, the best medicine during a tight game is composure.
Before the last minute of regulation, Liberty called a timeout.
"I just told them to relax (during the timeout)," Nangle said. "And we responded well."
White finished with four goals and an assist and sophomore midfielder Paige Britton tallied three goals.
"Our offense is very young," Nangle said.
"We were relying on a lot of freshmen to make big plays near the end of the game, and they did."
With the game tied, the Lady Flames demonstrated strong defensive pressure before taking the lead.
"Katherine played outstanding today," junior defenseman Lindsey McNamara said, referring to Liberty's sophomore goalkeeper.
"That stop was crucial."
Despite the loss, the Lady Flames are looking forward to playing Campbell again.
"We are two very evenly matched teams," Nangle said.
"This is a team we will probably see again."
The Lady Flames next game will be against Gardner-Webb University April 12 in North Carolina.
"It was a tough loss," McNamara said.
"But we will get (Campbell) back when it actually matters — during the tournament."
SMITH is a sports reporter.