This doesn't net-work
Liberty's network crashed March 6 causing a total reboot of the system
Liberty University's network crashed round 12:17 p.m. March 6, creating many inconveniences for both Liberty students and staff.
The crash affected vital aspects of the functionality of Liberty's campus, halting admission to dining venues, shutting down student emails and making the homework center Blackboard unavailable.
The crash lasted until just before 6 p.m.
According to an email sent out by IT Communications, to reboot the system, the entire network needed to be shut down and restarted, which would take an estimated five hours.
"We did an upgrade recently to our underlying Cisco network in that upgrade, and there was a bug in the infrastructure," Director of Enterprise Architecture Joshua Frejosky said.
"We have not had an outage like this in well over two years."
The upgrade was setting up the system for a full Blackboard upgrade, which is scheduled to be online by March 13.
"This was an anomaly due to an upgrade to increase performance for students which is not normal by any stretch," Frejosky said.
"It's a one-time thing."
Although the blackout was relatively short, all time is precious to students and staff, especially during the week before spring break.
"I had a paper that was due that day, and I had gotten all of my research done — it had taken me four days to do it," student Sarah-Kate Peterson said.
"As soon as I was about to submit it, I went on the internet and everything had crashed. I emailed my professor as soon as I could and just told him the situation that was going on and asked for an extension if for some reason the Internet had not (revived) by the end of the day. He was totally fine with that, but it was able to be recovered."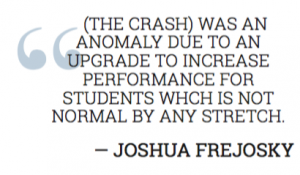 Some students and faculty also only have specific times that they could work on projects. Student Sara Escobar had an essay that had material that needed to be accessed through Blackboard.
"Blackboard crashed, and when it was finally up and running, I was at work," Escobar said.
"I work long hours, so yesterday I worked from 4 to 10, and by the time I got off work, I started working on my paper. I worked on it from 10 until 2 in the morning."
There was also no notification when the network was running again, causing more problems for students.
"The paper would be able to be turned in 24 hours after Blackboard was fixed, but the school never notified people when it was fixed," Escobar said.
A major issue for students without cars was where to go for food, with many venturing off campus for dining options.
"There was no place really to go," Peterson said. "I had to find someone to take me to Chipotle that night."
The Liberty University Help Desk's Twitter page addressed the students when the systems recovered.
"OUTAGE RESOLVED! Thanks to everyone for their patience, prayers, & encouraging words through this time!" the page posted at 4:28 p.m. later the same day.
PANYARd is a sports reporter.