The task at hand
Falwell responds to Dem. opposition to his task force
Six Democratic U.S. senators wrote a letter to Secretary of Education Betsy DeVos Feb. 23 that listed several questions and concerns regarding the higher education task force that Liberty University President Jerry Falwell was asked to lead by President
Donald Trump.
Senators Elizabeth Warren (Mass.), Patty Murray (Wash.), Richard Durbin (Ill.), Tammy Baldwin (Wis.), Sheldon Whitehouse (R.I.) and Margaret Hassan (N.H.) submitted the letter in an attempt to persuade DeVos to keep intact federal regulations on U.S. universities and demand answers on Falwell's task force.
"We were extremely concerned to learn through media reports that Trump has asked Jerry L. Falwell, Jr., president of Liberty University, to lead a new 'task force' to recommend changes to federal regulations, policies and procedures in higher education," the letter said.
Falwell announced in January that Trump asked him to lead a task force with the purpose of deregulating higher education and keeping the Department of Education (DOE) in check.
Falwell said he believes many DOE regulations on higher education are unnecessary, and many hurt rather than help universities trying to help students.
"Several regional accrediting agencies have very competently monitored the operation, governance, academic quality and management of hundreds of non-profit colleges and universities across the nation for generations," Falwell said in a Feb. 5 email to the Liberty Champion.
"In recent years, these accrediting agencies have faced heightened scrutiny and micro-management from the federal government that I believe is
unnecessary."
Falwell specifically pointed to the Borrower's Defense rules in past interviews, which reimburse students who make claims to the Department of Education against the colleges they attended, as an example of DOE overreach.
He said the rules were enacted to reign in for-profit colleges that had low graduation rates and high student loan default rates, but that non-profit colleges performing well in all the metrics were also unfairly punished by the government's shotgun approach.
In the four-page letter, the senators said the Borrowers' Defense rules — passed by the Obama administration in 2016 — are needed protections for students who borrow federal money.
Removing the regulations would open up the higher education system to fraudulent behavior from universities that receive federal funding, according to the
senators' letter.
"Policies have been enacted to protect the millions of Americans seeking opportunities for themselves and their families through postsecondary education and training," the letter said.
"Unfortunately, these policies have become all the more necessary after far too many institutions have not acted in the best interests of their students."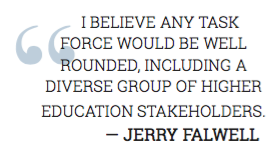 Falwell said in response that he believes the current regulations are far overreaching and should be scaled back in order to allow more freedom to non-profit and well-performing universities, while still restricting for-profit universities and those that do not perform well.
"I believe the rules can be tailored to impact only the bad actors. 
It just so happens that many of the offenders are for-profit schools motivated only by the return they can generate for their shareholders," Falwell said.
"There are already regulations in place like the 90/10 Rule that impact only for-profit universities.  Maybe some of the existing regulations should apply only to for-profit institutions or to universities that have extremely high student loan default rates."
The senators also expressed concern in the letter that naming Falwell to the head of the task force is a flagrant violation of conflict of interest.
Because students from Liberty received $766 million in loans under the Higher Education Act, the letter concluded rolling back on regulations could benefit Liberty directly.
"Using that logic, any president of any university where students using federal student loans and aid attend would have a conflict," Falwell said in an email to the News & Advance in response to conflict of interest charges.
"I believe any task force would be well rounded, including a diverse group of higher education stakeholders, not only college presidents."
Because Liberty is a 501(c)(3) non-profit, private institution, federal funding comes to the school through student loans, not through direct payments from the government.
Falwell maintains that this prevents any conflicts of interest from occurring.
"Liberty students would receive federal financial aid whether they attended Liberty or any other institution of higher learning," Falwell said.
"The aid goes to the student, not to the institution.  It is pure deception for our detractors to claim that Liberty receives federal dollars. 
Those same dollars would go to other universities if Liberty did not exist."
The letter concluded with 17 questions for DeVos that seek to clarify the details of Falwell's task force.
The senators said they see the DOE as the primary convener of any such project and therefore believe DeVos should have full knowledge of the inner workings of the task force.
In the same February email, though, Falwell said the specifics of the task force have yet to be determined, and the task force itself will likely not officially be formed until the Trump administration takes formal action later this year.
The questions for DeVos ask for the names of who will make up the task force, the main responsibility of Falwell as head of the task force and the decision-making process the task force will use among other inquiries.
The senators asked DeVos in the letter to provide answers by March 9 at the very latest.
As of March 8, she has yet to do so. The full letter and list of questions can be viewed online at help.senate.gov.
Young is the news editor.