Making a racquet on the court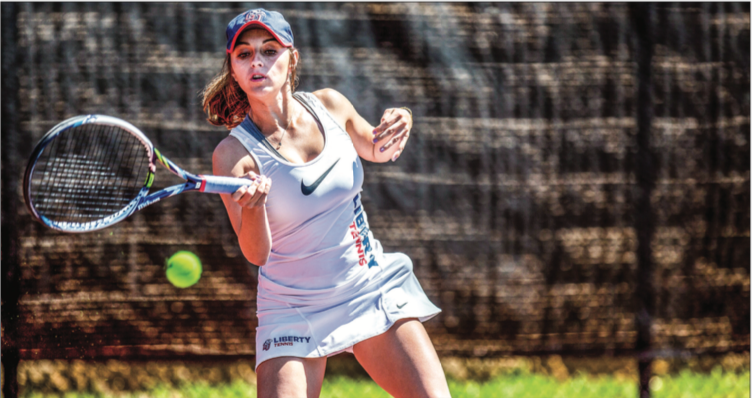 Lady Flames senior hopes to avenge last season's finals loss
Liberty University's women's tennis team boasts a player who did not win just one Big South Athlete of the Week award, but two consecutively.
Senior Mariely Hassey has been 13-6 overall in her 2017 season.
As of now, she is on a winning streak where she has been 8-1 in her last nine games.
Hassey comes from a background deeply rooted in tennis.
Prior to her tennis career at Liberty, she had been playing tennis under her dad's coaching.
"My dad is a tennis coach, so ever since I was born I was put in tennis outfits," Hassey said.
"At the age of two, I started playing. It's been my whole life."
When it came time for her to choose a college, she was almost certain it would be somewhere out West near her friends and family.
Schools out west recruited her harder, and they were closer to her family and friends.
But something about Liberty's program stood out to her more than the schools near her Arizona home.
"I thought it was unique and special that we would pray before matches and classes," Hassey said, "God is completely alive in the atmosphere. I didn't see that in any other school I went to."
When Hassey made the decision to come to Liberty, she set some personal goals that she hoped to accomplish by graduation.
"One of my main goals was to work on my mental strength," Hassey said.
"In the past I would be really scared and not cope with pressure."
Her decision to come to Liberty turned out to benefit her more than she ever thought it would.
Hassey said Liberty's program has strengthened her in more ways than she even knew needed improvement at the time of her recruitment.
"I've seen things about tennis that I've never analyzed before that need to focused on at this level, like my serve by watching myself on video and being recorded," Hassey said.
Hassey has been able to watch herself pick up new habits to take onto the court.
"I didn't use strategy," Hassey said.
"Now I can pick what the opponent's weak point is and attack it. We all play the same and it's about who can be mentally stronger."
Although the game of tennis has played such an important role in Hassey's life, she says tennis is more than just a game for her, and that it opens up opportunities for her to learn new things.
"I feel like sports gives people confidence in leadership," Hassey said.
"I've been able to utilize those qualities to help out in any way I can."
One way Hassey says she likes to help out is by playing tennis with kids.
She says this gives her an opportunity to not only help them with their skills on the court, but also make an impact on their lives.
"You get to help them with tennis and then they start coming to you with other things that you are just amazed at what they're going through," Hassey said.
"You can help them through hard times."
The Liberty women's team advanced to the Big South Championship final last season, falling to Winthrop 3-4 to end the season.
Hassey said that the loss still stings for the team, and they use it for motivation for their current season.
"My match was the clinch match," Hassey said.
"It's a bummer we lost, but it was so close the entire way."
Off the tennis court, Hassey plans to graduate in May and then move to back to Arizona, reuniting her with her West Coast ties.
She said she has a job lined up in human resources at a company back home after earning her undergraduate degree in three years and her master's in just one.
Hassey and the rest of the Lady Flames will host Big South opponent Charleston Southern Saturday, March 11 at the Cook Tennis Center.
Deutsch
 

is a sports reporter.