A Chip off the old block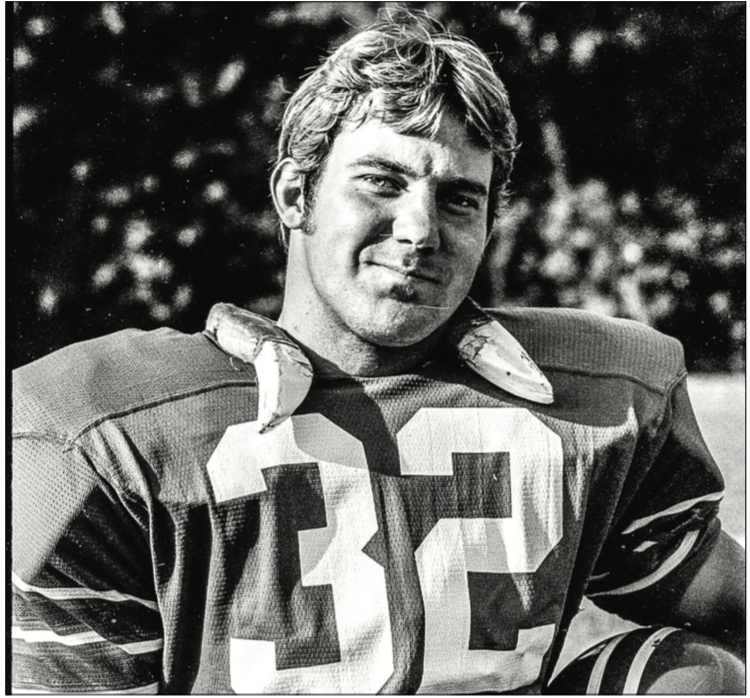 Flames Hall of Fame athlete was personally recruited by Jerry Falwell Sr.
Chip Smith is a forerunner. A man unafraid to tread new ground in the world of sports, his ventures and gumption have greatly rewarded him.
Smith holds the prestige of being the first athlete to ever score a touchdown for Liberty University's football as well as being the first person to hit a ball at bat in Liberty's baseball program.
In his four years at Liberty (73-76) Smith also was the first leading scorer, rusher and letter winner and MVP on the football and baseball teams as well as team captain.
But this description hardly skims the surface of the illustrious career Smith has carved out for himself.
Currently, Smith is an athletic trainer, with notches in his belt like four Heisman Trophy winners and medal winning Olympic athletes.
Carlton "Chip" Smith was raised in Chesepeake, Virginia, the son of a Baptist preacher.
From an early age Smith's athletic prowess was apparent.
Smith was involved in numerous sports, ranging from baseball to tennis to surfing to football.
If there was a physical competition, Smith was bound to be involved.
Smith got a leg-up on the competition in his age group as well, starting weight training very young.
"I started lifting weights when I was 10 or 12 years old," Smith said.
"I played four years of football and I was the strongest player at my school."
As Smith grew up and was recognized for his athletic aptitude as schools sought to recruit him.
Despite wanting to play baseball, schools were offering Smith scholarships to play football.
"The Naval Academy offered me, Virginia Tech offered me and so did North Carolina" Smith said.
"But they wouldn't let me play baseball, and I really wanted to play baseball, but none of the big Division I schools would allow me to do that."
The Naval Academy had vigorously pursued Smith, but he turned down then-coach Rock Royer due to the fact he did not want to make a career out of the Navy during the Vietnam War.
Smith had signed on to play at the University of North Carolina until he came into contact with Jerry Falwell.
Falwell heard of Smith through Smith's aunt and uncle, and he decided he wanted him to help start the football program at Liberty, then called Lynchburg Baptist College.
Falwell contacted Smith and told him he was flying out to take Smith and his basketball playing childhood friend, George Sweet, who he also intended to recruit, to an "I Love America" rally.
During the plane ride to the rally in Little Rock, Arkansas, Falwell told Smith if he played for Liberty he would be able to play both baseball and football.
Falwell told Smith and Sweet that they were going to live on an island, which was where the school was located before moving to the mountain, with beautiful girls with hunting and fishing.
Because of this, when Smith arrived on campus he had packed fishing rods and tennis rackets and even a shotgun in his front seat.
"He was the ultimate salesman," Smith said.
"It was a little bit different on Treasure Island when I got there than what he had represented."
Treasure Island was far from the paradise Smith pictured.
"I remember when I was recruited, most everybody at the school was preacher boys," Smith said.
"I was really the first athlete that was recruited, so I didn't have a lot of people to hang out with. It was pretty lonely to be honest with you. I can recall two or three times that I called my father saying, 'You know what, I want out of here.' … We had
no facilities."
The football program was not established at Liberty when Smith got there, so he was on a baseball scholarship for his first semester.
Smith was elected MVP and batted a .454 average.
When the football program got up and running, Liberty hired former Naval Academy coach, Rock Royer as the first head coach of Liberty football, a familiar face for Smith.
Despite experienced leadership, the football program had many developments to go through first.
"During the spring, they opened it up to anyone who wanted to come and play," Smith said.
"We had guys who tried out that spring who had never played football ever.I used my high school helmet. We had no equipment,.We had no facilities."
But more trials were in store for the fledgling team as tragedy struck when Royer unexpectedly died in a plane accident.
"The weekend of Thanksgiving, that first year, that morning I had devotions with Rock Royer, and he asked me to take him to the airport," Smith said.
"I took him to Falwell airport that morning, and that was on a Friday. Saturday afternoon, Abe Davis (the AD) called me and told me that Rock Royer had been killed in a plane crash. So I was the last person to see him alive from Liberty."
Because Royer recruited almost all of the players on the team at that time, the death made the players question whether they would stay with the program.
"It was devastating because a lot of us during that first year, we had nothing," Smith said.
"They took a bus and they took all of us up to be pallbearers at his funeral. When we got back, I called a team meeting only, and I said 'I need to know, who's staying and who's going,' because a lot of guys were there because of Coach Royer. He recruited them, everybody but me."
Smith said to the players that he was in it for the long haul because he was recruited by and had committed to Falwell, but everyone else on the team had committed to Royer.
"There was a core group of guys who were like brothers to me then and they're like brothers to me today," Smith said.
"God used that to put us together, like a bond that we made number one as brothers in Christ, but more than that, the commitment we made to Lynchburg Baptist College."
The core group stayed together all of their years of football and helped the program grow.
Smith had received invitations to transfer to other, bigger schools with scholarships, but he turned them down to stay committed to Falwell.
"Looking back today, and where Liberty is at, God honored that," Smith said.
According to libertyflames.com, because of the fact the football team did not become full varsity until 1976 some of Smith's performances were not officially counted to
his record.
"Had all of Smith's games officially counted, the standout would have amassed 15 100-yard rushing performances, 208 career points, 33 rushing touchdowns, 3,342 career rushing yards and averaged 101.3 rushing yards per game," libertyflames.com reported in their Athletics Hall of Fame.
"All of these figures would rank in the Flames' Top 5 in each statistical category. He still holds the program mark for the longest touchdown run (86 yards) and highest average rushing yards per carry in a game (19.8), with both records coming against Ferrum on Nov. 13, 1976, his final career outing."
Smith graduated with a BS in physical education, and started working as a physical trainer in the late 70s.
In 1987, Smith said that he applied and was selected as part of President Reagan's cultural exchange program and had the opportunity to travel to Russia to study speed and strength training in the Soviet Union.
Smith worked in the Soviet Sport Institute, where the Russian Olympic athletes lived
and trained.
"What I learned is that, you know sports is so international, and it's international language, and even though I couldn't speak Russian, and they couldn't speak English, I could demonstrate or they could demonstrate a movement, and I knew exactly what they were saying," Smith said.
When Smith returned to the states in 1988, he immediately began applying what he learned overseas and started training athletes at the University of Georgia.
Smith developed his own system of sports training called the MORR System, which is an acronym for movement, overspeed, resistance and reaction.
Smith published a book about his system in 2007, titled "Football Training Like the Pros," which provides an overview of his system and exercises for athletic training.
In 1991, Smith had an athletic agent contact him about training their athletes, and his career exploded from there.
"I was one of the very first sports performance coaches in the U.S., and I was one of the very first guys who started combine prep, and so since 1991 I've actually trained over 1,700 players for the National Football League," Smith said.
"I've had four Heisman Trophy winners. I trained Cam Newton, I trained Jason White, I was the guy that trained Colin Kaepernick. I was with Brian Urlacher for 13 years, I was with Champ Bailey for 16 years. Both of those guys were going to the Hall of Fame. … I've been very blessed and fortunate, I've had tons of pro baseball, basketball,
NFL guys."
Smith has offered his training to Liberty students through the department of
exercise science.
"I developed (the MORR System) for Liberty, so now in the exercise science you can get your masters in my cognate, which is Sports Performance."
Smith has his own state-of-the-art facility in Norcross, Georgia called Chip Smith Performance Systems.
"I have a facility here with 40,000 square feet," Smith said.
"I got 85 yards of indoor turf, I got a big weight room. We provide housing for our players. We provide (a) chef that does all their food. We have doctors. We have PTs, athletic trainers in the facility. We have massage therapy in the facility."
Smith also had another chance to travel overseas to train Olympic athletes in Beijing.
"I got hired by China to oversee 14 of their Olympic teams prior to London, and I spent two years in Beijing, working with 14 Olympic teams, where in London I had 20 Olympic gold medalists that I trained, 10 silver, two bronze," Smith said.
Smith has had a very full career, and it has not finished yet.
"I've been very blessed and fortunate and because of my Liberty education it's taken me around the world," Smith said.
Panyard is a copy editor.