Good for second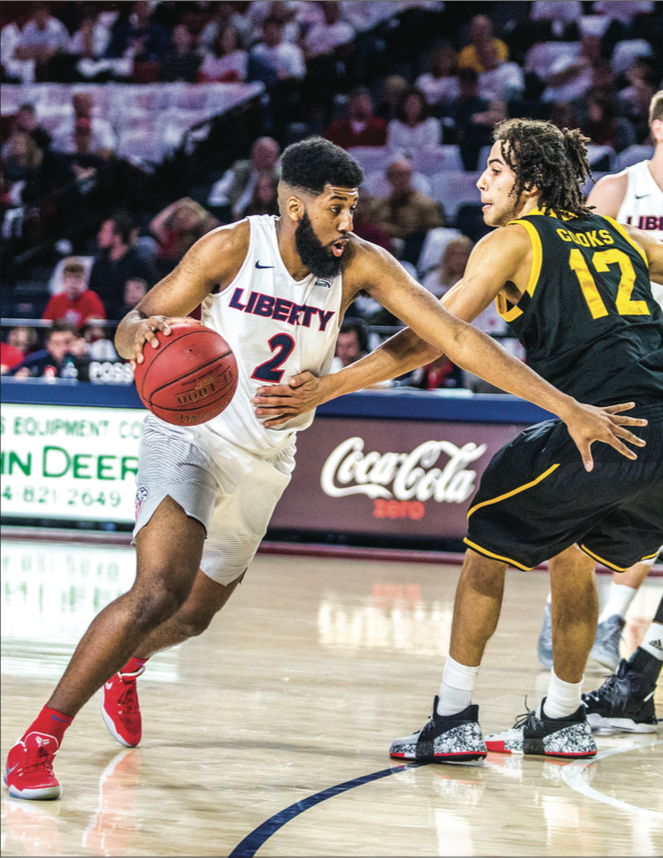 Men's basketball falls short in game for first place
In a matchup of the two teams tied for first place in the Big South standings, the Liberty Flames men's basketball team fell to the Winthrop Eagles 61-48 in a defensive contest Saturday night, Jan. 21 at the Vines Center in front of a crowd of 4,158.
The Flames (11-10, 6-2) were tasked with stopping an Eagles squad (15-4, 7-1) that leads the Big South in scoring at 77.4 points per game, led by the second-leading scorer in the conference — guard Keon Johnson — who averages 20.3 points per game.
Both teams came out of the gates sluggish on offense, as points were at a premium in the first 20 minutes of play.
The Flames held Johnson to just seven points in the first half, but failed to do much of anything offensively, trailing 26-15 at halftime.
The Flames were 5-26 shooting in the first half, including 1-15 from beyond the 3-point line.
The Eagles shot 7-24 from the court and 2-8 from 3-point land.
The only three for the Flames in the first half came on a prayer from sophomore guard Lovell Cabbil as the shot clock expired to give the Flames an early 5-2 lead.
The Flames would not score another field goal until four minutes later when sophomore forward Myo Baxter-Bell powered his way down in the post for a layup.
"We just couldn't find our rhythm," Baxter-Bell said.
"We had some lapses on offense, and we fell into a little slump. We missed some shots today we usually hit, so we just (have) to keep working."
The Eagles defense gave the Flames trouble all night.
Anytime a Flames player tried to drive into the paint, he was immediately surrounded by a swarm of defenders.
"I do think we got some good looks, but tonight certainly wasn't our night," Flames Head Coach Ritchie McKay said.
"I don't want to take anything away from (Winthrop). They were really good on both ends of the floor."
The Eagles started to find their way offensively in the second half, as Johnson scored eight points in the first five minutes.
The offensive spark from Johnson and some timely threes from redshirt junior guard Anders Broman pushed the Eagles lead to 20 with 9:43 left in the game.
The Flames were led in scoring by redshirt junior guard Ryan Kemrite, who finished the game with 15 points.
Cabbil was second on the team with 11 points.
Baxter-Bell finished with nine.
"I felt like there were shots that we usually hit that just weren't going in," Kemrite said.
"We (have) a good shooting team. We played great defense, but we've got to play great on both ends if we want to be first in the conference."
Flames redshirt senior guard John Dawson struggled all night, going 0-8 shooting and finishing with just one point in 32 minutes of play.
Johnson finished with 16 points and six rebounds for the Eagles, while Broman finished with a career-high 19 points, going 6-8 from beyond the arc.
Despite the poor offensive performance, McKay believes his team can still bounce back from the loss as they prepare for the second half of their conference schedule.
"Defensively, I thought we were ok," McKay said.
"There (are) some things we did ok, and that's great and we'll build on that, but we don't get too high, and we don't get too low. It's my job. I take full responsibility. I've got to find a way to keep us in these games."
The Flames will travel to face conference foe Longwood Jan. 26 at 7 p.m.
Dillard is the sports editor.